Some of Our Swimming Pool Services Include:
Pool Opening and Closing Service
Pool Filter Cleaning, Repair and Replacement
Pool Pump Motor Repair, Installation, Replacement
Pool Heater Repair, Installation, Replacement
Pool Light Repair, Installation, Replacement
Pool Salt System Cleaning, Repair, Replacement
Hi! We're AllSpa, your number one choice for trusted repair, cleaning, and maintenance on all quality brands of swimming pools, hot tubs, swim spas, and saunas.
To us, service is everything. That means we'll prioritize your needs, whether it's repairing a broken heater or pump, or replacing a filter. With AllSpa on the job, you'll get it done right.
Residential Swimming Pool Cleaning – Dependable Service
When it's time to clean your family swimming pool, why not consider letting the team at AllSpa take care of it for you? We offer convenient recurring cleaning services designed to keep your home swimming pool clean and healthy.
Cleaning and Maintenance for Commercial Pools
Quality commercial pool services deliver on a promise of dependability and consistency. The Allspa team has earned a reputation for reliability and quality as a commercial pool service company in Oregon and SW Washington.
The Best Pool Service Technicians
We don't just clean pools, we're enthusiasts too! With a passion for great pools, we're proud to exceed expectations with the best service for keeping your water clean, clear, and sanitized, one time, or as part of a monthly or annual plan.
We've been audited, and found to be in total compliance! That means all procedures and guidelines have been followed. Our technicians have been background checked, licensed and bonded. We've been doing business like this since we started and will continue to be there when you need us most!
Want to Learn More About Our Award-Winning Swimming Pool Cleaning Repair and Maintenance Services? Contact Us Here:
• Swimming Pool Repair Services
• Swimming Pool Cleaning Services
• Contact Us About Service
• Schedule a Service or Repair
• Read AllSpa 5 Star Reviews
Connect with Us:
Check Us Out on Facebook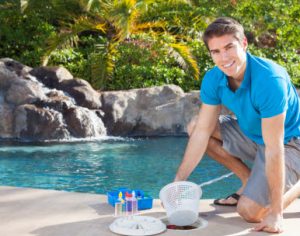 About Banks – Source: https://en.wikipedia.org/wiki/Banks,_Oregon
Banks is a city in Washington County, Oregon, United States which is located in the Tualatin Valley. It is the southern anchor to the Banks–Vernonia State Trail, which is a 21-mile (34 km) long linear trail popular with bicyclists, hikers, and equestrians. The population was 1,777 at the 2010 census.[2] The community was named for John and Nancy Banks, who owned a nearby dairy farm.[5] Incorporated in 1921, it is located in the western part of the county where Oregon Route 6 intersects Oregon Route 47.
Demographics
2010 census
As of the census of 2010, there were 1,777 people, 553 households, and 445 families living in the city. The population density was 4,802.7 inhabitants per square mile (1,854.3/km2). There were 580 housing units at an average density of 1,567.6 per square mile (605.3/km2). The racial makeup of the city was 92.5% White, 0.3% African American, 0.6% Native American, 1.2% Asian, 0.3% Pacific Islander, 1.4% from other races, and 3.8% from two or more races. Hispanic or Latino of any race were 7.0% of the population.[2]
There were 553 households, of which 57.1% had children under the age of 18 living with them, 59.5% were married couples living together, 13.4% had a female householder with no husband present, 7.6% had a male householder with no wife present, and 19.5% were non-families. 14.3% of all households were made up of individuals, and 2.5% had someone living alone who was 65 years of age or older. The average household size was 3.21 and the average family size was 3.54.[2]
The median age in the city was 29.5 years. 37.8% of residents were under the age of 18; 7.4% were between the ages of 18 and 24; 31.7% were from 25 to 44; 19.2% were from 45 to 64; and 3.9% were 65 years of age or older. The gender makeup of the city was 50.6% male and 49.4% female.[2]
Coordinates: 45°36′51″N 123°6′39″W
Map of Banks
Here's more information about Banks
https://www.cityofbanks.org/
https://www.banks.k12.or.us/
http://www.banksfire.org/