Ever find yourself asking, "How do I repair my hot tub?", or "Where's my closest hot tub service center?" Well look no further! You've arrived at the best hot tub repair company in Oregon!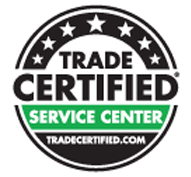 We're the only Trade Certified Service Center in Oregon for Hot Tubs.  That means we've been independently audited and found to comply with strict procedures and guidelines. All technicians are thoroughly background checked, licensed, bonded, and we meet monetary goals that will keep us in business for many years. So relax, we'll be around to help you when you need it most!
Our guarantee: If you have the same issue occur within 30 days, our call-out fee is waived, just pay parts and labor for any new issues. All parts have a 1 year worry-free warranty.
Flat Rate Repair Pricing: We have a $159 diagnostic fee which covers our drive time and the first 30 minutes of work, followed by $39.75 per 15 minutes thereafter. Our success rate of repair completed on the 1st visit is over 85%, one of the best in the industry! We can also schedule your service within the week!
Contact us via the form below, or give us a call at 503-941-9004 during normal business hours and we'll get you back in a working, healthy spa in no time!