Some of Our Beaverton Swimming Pool Services Include: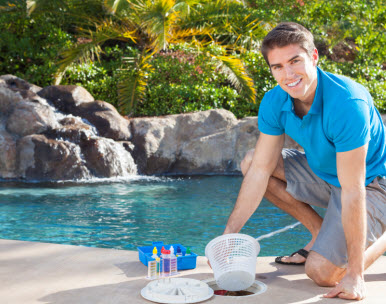 – Pool Opening and Closing Service
– Pool Filter Cleaning, Repair and Replacement
– Pool Pump Motor Repair, Installation, Replacement
– Pool Heater Repair, Installation, Replacement
– Pool Light Repair, Installation, Replacement
– Pool Salt System Cleaning, Repair, Replacement
Locally owned and operated, AllSpa is Oregon's biggest and most trusted hot tub and pool service, cleaning and maintenance company! We're proud to work with all brands of hot tubs, swim spas and saunas.
We've partnered with Oregon Hot Tub, making us the only trade certified hot tub service center in Oregon!
Get it Working Right – Pool Service Beaverton
If you've ever wondered how to repair your hot tub or where the closest hot tub service center is located, look no further!
Here's what makes us the best hot tub repair company in Oregon:
• We're the only Trade Certified Service Center in Oregon for Hot Tubs
• We've been independently audited and found to comply with strict procedures and guidelines
• Every AllSpa technician is background checked, licensed and bonded
• We've been in business since 1979.
We're here to help when you need it most!
We Can Help Your Swimming Pool Clean
Do you need your hot tub, swim spa, sauna, or pool cleaned? We have a wide range of convenient services to keep your water sparkling and healthy, including signature spa care and recurring cleaning services!
Hot Tub Drain and Fill
Want to try our services? Buy a one-time Hot Tub Drain and Fill service and see what you think. If within 14 days, you decide it's for you, we're happy to credit the cost of your service towards an annual care plan of your choice!
Recurring Pool Cleaning
Never worry about forgetting to clean your hot tub, swim spa, sauna, or pool again. Our recurring cleaning care plans eliminate the hassle and guesswork, so you can stay in clean water effortlessly.
Get an Exciting Upgrade
Now is the Perfect Time to Replace an Old, Outdated Hot Tub, Swim Spa or Sauna!
If you love your investment, but you're ready for something new, why not consider an upgrade? We've partnered with Oregon Hot Tub, so we can bring you the best selection of products to fit every design and budget.
Want to Learn More About Our Award-Winning Swimming Pool Cleaning Repair and Maintenance Services? Contact Us Here:
• Swimming Pool Repair Services
• Swimming Pool Cleaning Services
• Contact Us About Service
• Schedule a Service or Repair
• Read AllSpa 5 Star Reviews
Hot Tubs and Swim Spa Services Offered
• Hot Tub, Spa Repair, Service, Maintenance
• Jacuzzi Repair, Service, Maintenance
• Hot Tub, Swim Spa Drain and Fill
• Hot Tub Cleaning Service, Portable Spa Maintenance
• On-Site Water Analysis
• Insurance Claims
• Repair Services
• Spa Service Use Training
• Maintenance Inspections
• Hot Tub and Swim Spa Relocation and Set-Up
• Portable Sauna Relocation and Set-Up
• Crane Moving Services
• Real Estate Inspections
• Construction Design Consulting
About Beaverton Source: https://en.wikipedia.org/wiki/Beaverton,_Oregon
Geography
As of January 2020, Beaveton covers a total area of 19.7 square miles (51 km2), all of it land except for small creeks, ponds, and lakes.[33] The city is located along the eastern edge of the Tualatin Valley just west of the Tualatin Mountains. It borders Portland to the east, Hillsboro to the west, and Tigard to the south. Much of the remaining area surrounding Beaverton in the north and southwest constitutes unincorporated Washington County land.[34] The elevation within city limits rises as high as 698.2 feet (212.8 m) above sea level to as low as 131.7 feet (40.1 m) above sea level. The city averages at 189 feet (58 m) above sea level.[35]
Economy
Company headquarters
Reser's Fine Foods, processor and distributor of fresh prepared foods, has headquartered in Beaverton since 1960. Leupold & Stevens, maker of rifle scopes and other specialty optics, has been located on property adjacent to the City of Beaverton since 1968. The Beaverton City Council annexed that property in May 2005, and Leupold & Stevens challenged that annexation. The company eventually won the legal fight in 2009 with the city, thus the company was de-annexed from the city.[39] Beaverton is home to the world headquarters of Nike, Inc. Its headquarters are located on an unincorporated area inside, but excluded from, Beaverton city limits. Cedar Hills Crossing is a shopping mall within the city of Beaverton.[40]
Phoenix Technologies operates its Northwestern Regional Office in Beaverton.[41]
Technology
As part of the Silicon Forest, Beaverton is the location of numerous technology organizations and companies including[42] Linux Technology Center of IBM,[43] Tektronix, Maxim Integrated Products, VeriWave, and Oregon Technology Business Center (OTBC), a non-profit tech startup incubator.[44]

By M.O. Stevens – Own work, CC BY 3.0, Link
Beaverton, OR Map

Directions from Beaverton to AllSpa, 6205 NW Bethany Ct, Suite 109, Beaverton, OR 97006

Check Out a few of Our 5 Star Review for AllSpa Beaverton, Oregon:

Read Moe K.'s review of AllSpa – Hot Tub, Swim Spa, & Sauna Services on Yelp
For those looking for more information about Beaverton, OR, here are a few helpful links.
https://www.beavertonoregon.gov/
https://beaverton.org/
https://www.beaverton.k12.or.us/
AllSpa
6205 NW Bethany Ct, Suite 109
Beaverton, OR 97006
☎ 503-941-9004
Swimming Pool Service, Cleaning, Maintenance Oregon
Swimming Pool Cleaning
Connect with Us on Facebook