Repair and Maintenance
Warranty Service
Maintenance Inspections
One-Time Cleanings
Monthly and Annual Plans
Water Balancing
Relocation and Set-Up
Same Lot or Cross Town
Crane Service
Trade In – Trade Up
New and Used Options
Shop Multiple Brands
Repair and Maintenance
Warranty Service
Maintenance Inspections
One-Time Cleanings
Monthly and Annual Plans
Water Balancing
Relocation and Set-Up
Same Lot or Cross Town
Crane Service
Trade In – Trade Up
New and Used Options
Shop Multiple Brands
AllSpa 2680 NE Highway 20, Suite 200, Bend, OR, 97701 
 541-383-0977
AllSpa is locally owned and operated and is Oregon's largest and most trusted repair, cleaning, and maintenance company servicing all brands of hot tubs, swim spas, and saunas.
As a service partner of Oregon Hot Tub, we're also the only hot tub service center in Oregon who is trade certified.
What Our Customers Say About Us
I have been very happy with the maintenance program and the outstanding service these folks provide. I highly recommend them.

Proudly Serving Bend, Oregon
and Surrounding areas
AllSpa is Oregon's biggest and most respected hot tub, swim spa, and sauna service company. Since 1979, we've been meeting the needs of our clients, regardless of which brand of hot tub, sauna, or swim spa they have. We're happy to provide spas or service for any need, but we're also trade certified—the only hot tub dealer in Oregon who is. Properly licensed in WA and OR, we're Oregon Hot Tubs of Portland.
Here's How We Can Help
Quality Hot Tub Repair Bend
When you need quality repair work for your hot tub, swim spa, sauna, or pool, turn to us. We're completely certified, licensed and bonded for your protection. And with over 38 years of experience repairing spa systems, we know how to get you back into hot water.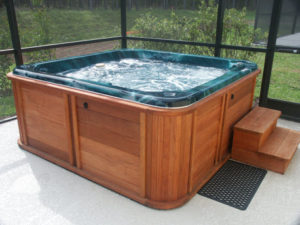 The only Trade Certified Service Center in Oregon for Hot Tubs, we've been independently audited and found to be in complete compliance with all procedures and guidelines. Our professional team of knowledgeable technicians have all been background checked, licensed and bonded—a sure way to stay in business for many years!
Our trusted guarantee: If you experience the same issue within 30 days, we'll waive our call-out fee. You simply need to pay parts and labor for any new issues. Plus, all of our quality parts come with a 1-year worry-free warranty.
Easy Cleaning and Service and Maintenance
Why deal with hassles, when you can keep your hot tub, swim spa or sauna clean and running perfectly without lifting a finger. We're happy to offer a wide range of services to keep you in clean water, including drain and fill, signature spa care and recurring package services.
Safe Relocation and Moving
Moving a spa isn't complicated, but definitely something you should not attempt on your own. It takes years of experience to make the move safely and in the fastest way possible. That's what we have to offer: premium moving services to get your spa where it needs to be!
Find Us Here


Directions to AllSpa 2680 NE Highway 20, Suite 200, Bend, OR, 97701

Check Out Our Recent Bend Review

About Bend – https://en.wikipedia.org/wiki/Bend,_Oregon
Bend is a city in, and the county seat of, Deschutes County, Oregon, United States. It is the principal city of the Bend-Redmond Metropolitan Statistical Area. Bend is Central Oregon's largest city, and despite its modest size, is the de facto metropolis of the region, owing to the low population density of that area. Bend recorded a population of 76,693 at the time of the 2010 U.S. Census, up from 52,029 at the 2000 census. The estimated population of the city as of 2018 is 97,590. The Bend-Red
Check Out These Local Bend Websites
Escape to Bend
https://www.bendbulletin.com/
https://www.ktvz.com/
How to Keep Your Bend Hot Tub and Swim Spa Water Clean

As an Oregon-based company, we provide repair, cleaning, moving, and replacement services for hot tubs, swim spas, and saunas to Portland, Vancouver, Beaverton, Tigard, Tualatin, Wilsonville, West Linn, Oregon City, Happy Valley, Clackamas, Milwaukie, Hillsboro, Bend, and surrounding areas.
Not sure if you are in our service area? Contact us and we'll help you figure it out!