Hot Tub Service Castle Rock, Swim Spa, Sauna Repair
AllSpa is Oregon's biggest and most respected hot tub, swim spa, and sauna service company. Since 1979, we've been working to meet the needs of every one of our clients, regardless of the brand hot tub, sauna, or swim spa they own! We have a spa or service to fit any need, and we're the only hot tub dealer in Oregon who is trade certified. Welcome to the trusted service department at Oregon Hot Tub, properly licensed in WA and OR.
How We Can Help:
Hot Tub, Spa Repair, Service, Maintenance
When it's time to repair your hot tub, swim spa, sauna, or pool, turn to the team at AllSpa. We're certified, licensed and bonded, with over 38 years hands-on experience repairing spa systems. Please read more below to see how we can help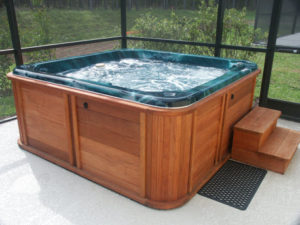 you get back into hot water.
As the only Trade Certified Service Center in Oregon for Hot Tubs, we've been independently audited to ensure strict compliance with procedures and guidelines. All of our friendly technicians are background checked, licensed and bonded—the reason why we continue to meet the goals that will keep us in business. Relax, we'll be around to help you when you need it most!
Our guarantee: If within 30 days, you have the same issue occur, our call-out fee will be waived. You pay only for parts and labor for any new issues. And, all parts have a 1-year worry-free warranty.
Hot Tub, Swim Spa Drain and Fill
Ready to keep your hot tub, swim spa or sauna running perfectly without lifting a finger?  We're happy to offer many services to keep you in clean water, including drain and fill, signature spa care and recurring package services.
Hot Tub Cleaning Service, Portable Spa Maintenance, Moving
Moving a spa can be tricky – and not something to try alone. A safe, easy move takes experience and know how. That's why we're here, to offer you peace of mind and confidence that you can get your spa where it needs to be!
Hot Tub, Swim Spa Watercare
Keep your hot tub, swim spa or sauna clean all year round and never stress about forgetting to clean it. Try out our recurring cleaning and water care plans and eliminate guesswork behind soaking in clean water.
Services Offered
• Hot Tub, Spa Repair, Service, Maintenance
• Jacuzzi Repair, Service, Maintenance
• Hot Tub, Swim Spa Drain and Fill
• Hot Tub Cleaning Service, Portable Spa Maintenance
• On-Site Water Analysis
• Insurance Claims
• Repair Services
• Spa Service Use Training
• Maintenance Inspections
• Hot Tub and Swim Spa Relocation and Set-Up
• Portable Sauna Relocation and Set-Up
• Crane Moving Services
• Real Estate Inspections
• Construction Design Consulting
Learn More About Our Award-Winning Hot Tub, Swim Spa Repair, Service and Maintenance. Contact Us Here:
• Hot Tub and Swim Spa Repair Services
• Hot Tub and Swim Spa Cleaning and Maintenance Services
• Schedule a Service or Repair
• Hot Tub Drain and Fill
• Swim Spa Drain and Fill
• Hot Tub Moving Services
• Hot Tub Sale
About Castle Rock Source: https://en.wikipedia.org/wiki/Castle_Rock,_Washington
Castle Rock is a city in Cowlitz County, Washington, United States. Located between the Willapa Hills and the western base of Mount St. Helens, Castle Rock is at the heart of Washington timber country in the Pacific temperate rain forest. Castle Rock is part of the Longview, Washington Metropolitan Statistical Area; the population was 1,982 as of the 2010 census.
Geography
Castle Rock, the Gateway to Mount St. Helens, is 117 miles south of Seattle, Washington and 58 miles north of Portland, Oregon, 46°16'26″N 122°54'18″W (46.273991, -122.904916).[8] Castle Rock is situated between the Cowlitz River and Interstate 5, one mile south of the confluence of the Cowlitz and the Toutle River. According to the United States Census Bureau, the city has a total area of 1.76 square miles (4.56 km2), of which, 1.59 square miles (4.12 km2) is land and 0.17 square miles (0.44 km2) is water.[9] It is the northernmost city in Cowlitz County.
Transportation
Spirit Lake Memorial Highway (State Route 504) connects the city to the Mount St. Helens National Volcanic Monument, the Spirit Lake recreation area, Seaquest State Park and Silver Lake. The State Route 504 Spur extends to Gifford Pinchot National Forest.
West Side Highway, running north along the Cowlitz River, connects Castle Rock to Cloud Mountain and the communities of Olequa and Vader, Washington. Continuing south, West Side Highway / State Route 411 connects Castle Rock to Longview, Washington, and Ocean Beach Highway (State Route 4), putting Castle Rock 75 miles from Willapa National Wildlife Refuge and the Pacific Ocean.
The Castle Rock Park & Ride is located on Huntington Avenue next to Interstate 5 Exit 49. Bus service is provided by Lower Columbia CAP Rural Public Transit to Longview and Chehalis, via Interstate 5.[10]
The Riverfront Trail, a multi-use off-road trail, runs along both sides of the Cowlitz River. On the east side, the trail begins at Lions Pride Park, runs past the Rock Community Park, and 1.5 miles later reaches the PH10 bridge. On the west side, the trail runs 1100 feet to the Castle Rock Sports Complex. The City of Castle Rock was awarded the Association of Washington Cities 2004 Municipal Achievement Gold Medal Award for the city's trail system.[11]
Coordinates: 46°16'26″N 122°54'18″W
Arkyan, CC BY-SA 3.0, via Wikimedia Commons
Castle Rock, WA Map
For those looking for more information about Castle Rock, WA, here are a few helpful links.
City of Castle Rock – http://ci.castle-rock.wa.us/
The Best of Castle Rock – https://www.tripadvisor.com/Tourism-g58389-Castle_Rock_Washington-Vacations.html