Some of Our Damascus Swimming Pool Services Include: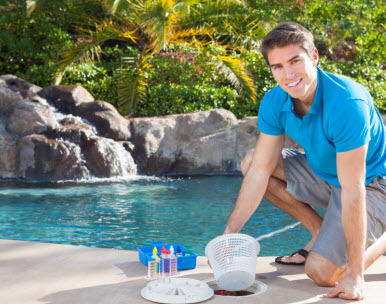 – Pool Opening and Closing Service
– Pool Filter Cleaning, Repair and Replacement
– Pool Pump Motor Repair, Installation, Replacement
– Pool Heater Repair, Installation, Replacement
– Pool Light Repair, Installation, Replacement
– Pool Salt System Cleaning, Repair, Replacement
AllSpa is Oregon's most trusted hot tub and pool service, cleaning and maintenance company. Locally owned and operated, we've been in business since 1979! As a proud partner of Oregon Hot tub, we're the only trade certified hot tub service center in Oregon, and happy to work with all brands of hot tubs, swim spas and saunas.
Let's Get Your Damascus Hot Tub or Pool Working Right
No one wants a hot tub they can't use. If yours isn't working right, let's get it repaired and ready to go!
With trusted repair and competent service technicians, AllSpa is the best hot tub repair company in Oregon:
• We're the only hot tub service center in Oregon that's trade certified.
• We've been audited and found to be in compliance with all procedures and guidelines.
• The AllSpa team have all had background checks and we're licensed and bonded.
• We've been serving our local community since 1979!
Let's get your hot tub working again!
Take the Hassle Out of Cleaning Your Hot Tub or Pool
No one likes the hassle of having to clean a hot tub, swim spa, sauna, or pool. Let us help! We have a wide range of services available to keep your water clean, including signature spa care and recurring cleaning services.
Hot Tub Drain and Fill
Draining and refilling a hot tub is necessary for keeping your investment working as it should. Give our one-time Hot Tub Drain and Fill service a try. If within 2 weeks, you think it's great, we'll happily credit the cost of your service towards an annual care plan of your choice!
Recurring Cleaning
Why worry about cleaning your hot tub, swim spa, sauna, or pool when you can enlist the AllSpa team to get it done. Our recurring cleaning care plans are super convenient and take the guesswork out of maintaining clean water.
Let's Get You in Something New
Now is the Perfect Time to Replace an Old, Outdated Hot Tub, Swim Spa or Sauna!
There's nothing more exciting than upgrading to a newer model. As Oregon Hot Tub's partner, we're happy to provide you with the best selection to fit your needs and budget.
Want to Learn More About Our Award-Winning Hot Tub Repair Services? Contact Us Here:
• Hot Tub and Swim Spa Repair Services
• Hot Tub and Swim Spa Cleaning Services
• Hot Tub Moving Services
• Hot Tub Sale
• Schedule a Service or Repair
About Damascus Source: https://en.wikipedia.org/wiki/Damascus,_Oregon
Damascus /dəˈmæskɪs/ is de facto a census-designated place and on-again, off-again city in Clackamas County, Oregon, United States. Established in 1867, it was first incorporated in 2004 in an effort to enable local land use decision making control by the community. It was ostensibly disincorporated July 18, 2016 under a special Oregon Legislature directed election process where a majority of those voting, voted for the dissolution of the city on May 17, 2016.[6][1] This vote was found to be statutorily wrong and was overturned by the Oregon Appellate Court on May 1, 2019.[7] Damascus is located east of Happy Valley and Interstate 205 and west of Boring. The area that later became the city had a population of 9,022 in 2000.[8] The population was 10,539 residents as of the 2010 census.
Geography
Damascus sits 712 feet (217 m) above sea-level.[5] Located in north-central part of Clackamas County, the former city's northern boundary was the Multnomah County line. Boring lies to the east, and Clackamas to the west.[8]
According to the United States Census Bureau, the city had a total area of 16.14 square miles (41.80 km2), of which, 16.04 square miles (41.54 km2) was land and 0.10 square miles (0.26 km2) was water.[2]
Coordinates: 45°25′48″N 122°26′47″W
Government
Fire protection in the Damascus is provided by the Boring Fire District and by Clackamas County Fire District #1 (CDFD1). One fire station, Boring Fire Station 149 – Damascus, is located in the community, with primary emergency response also from nearby CDFD1 Station 7 – Pleasant Valley and Boring Fire Station 140 – Boring.[citation needed] Damascus is served by the North Clackamas, Oregon Trail, Estacada, Centennial, and Gresham-Barlow school districts. The latter is the second-largest employer in the community.[14]

By Ian Poellet – Own work, CC BY-SA 3.0, Link
Map of Damascus

Directions from Damascus to AllSpa, 6205 NW Bethany Ct, Suite 109, Beaverton, OR 97006

Check Out a 5 Star Review for AllSpa Oregon:
Read Stephen J.'s review of AllSpa – Hot Tub, Swim Spa, & Sauna Services on Yelp
For those looking for more information about Damascus, OR, here are a few helpful links.
https://www.bestplaces.net/city/oregon/damascus
http://www.sunrisechiro.com/
https://villagevet-llc.net/
AllSpa
6205 NW Bethany Ct, Suite 109
Beaverton, OR 97006
☎ 503-941-9004
Swimming Pool Service, Cleaning, Maintenance Oregon
Swimming Pool Cleaning
Connect with Us on Facebook