Dundee Hot Tub Repair, Pool Service, Swim Spa and Sauna Maintenance
AllSpa is Oregon's largest and most competent hot tub, swim spa, and sauna service company. Since 1979, we've been meeting the needs of our clients, regardless of which brand of hot tub, sauna, or swim spa they own. Offering more than the right spa or service to fit any need, we're licensed in WA and OR and the only hot tub dealer in Oregon who is trade certified. The service department at Oregon Hot Tub is on the job!
Here's How We Can Help 
Hot Tub, Spa Repair, Service, Maintenance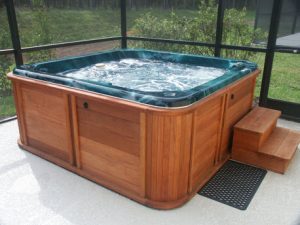 When your hot tub, swim spa, sauna, or pool isn't working, turn to the experts. Our team is fully certified, licensed and bonded with over 38 years of experience repairing spa systems. We can help you get back into hot water.
As the only Trade Certified Service Center in Oregon for Hot Tubs, an independent audit found us to be in complete compliance with all procedures and guidelines. Our technicians are background checked, licensed and bonded to ensure we stay in business for many years to come. That's peace of mind and confidence that we'll be around to help when you need it most!
Our service guarantee: If you have the same issue within 30 days, we promise to waive our standard call-out fee—you simply pay for parts and labor. And of course, all parts come with a 12-month worry-free warranty.
Hot Tub, Swim Spa Drain and Fill
Ready to keep your hot tub, swim spa or sauna running perfectly without lifting a finger? We can make it happen! We have a variety of services to help keep your investment clean, including drain and fill, signature spa care and recurring package services.
Hot Tub Cleaning Service, Portable Spa Maintenance, Moving
Relocating a spa isn't easy, and definitely not something people should attempt alone. A safe, successful move takes experience and know-how to complete quickly and in the easiest way possible. That's what we provide, five-star service to get your spa where it needs to be!
Hot Tub, Swim Spa Watercare
Keep your hot tub, swim spa or sauna clean all year round and never stress about forgetting to clean it. Try out our recurring cleaning and water care plans and eliminate guesswork behind soaking in clean water.
Services Offered
• Hot Tub, Spa Repair, Service, Maintenance
• Jacuzzi Repair, Service, Maintenance
• Hot Tub, Swim Spa Drain and Fill
• Hot Tub Cleaning Service, Portable Spa Maintenance
• On-Site Water Analysis
• Insurance Claims
• Repair Services
• Spa Service Use Training
• Maintenance Inspections
• Hot Tub and Swim Spa Relocation and Set-Up
• Portable Sauna Relocation and Set-Up
• Crane Moving Services
• Real Estate Inspections
• Construction Design Consulting
Learn More About Our Award-Winning Hot Tub, Swim Spa Repair, Service and Maintenance. Contact Us Here:
• Hot Tub and Swim Spa Repair Services
• Hot Tub and Swim Spa Cleaning and Maintenance Services
• Schedule a Service or Repair
• Hot Tub Drain and Fill
• Swim Spa Drain and Fill
• Hot Tub Moving Services
• Hot Tub Sale
About Dundee Source: https://en.wikipedia.org/wiki/Dundee,_Oregon
Dundee /'d?ndi?/ is a city in Yamhill County, Oregon, United States. The population was 3,162 at the 2010 census.
History
The first post office in the area was Ekins, established in 1881. Dundee is named in honor of the birthplace of William Reid, Dundee, Scotland. Reid came to Oregon in 1874 to establish the Oregonian Railway, and made several extensions to the railroad in the western Willamette Valley. The Ekins post office was closed in 1885 and a new office opened in 1887, named "Dundee Junction". The name derived from plans to build a bridge across the Willamette River for the railroad, which would have called for a junction at Dundee between the west railroad and the new east railroad. The bridge was never built, however, and the post office was renamed "Dundee" in 1897.[6]
Geography
According to the United States Census Bureau, the city has a total area of 1.35 square miles (3.50 km2), of which, 1.33 square miles (3.44 km2) is land and 0.02 square miles (0.05 km2) is water.[7]
Dundee is two miles southwest of the city of Newberg.
Government
In 2005, the Dundee City Council voted to disband its police department and contract police services to the Newberg Police Department in nearby Newberg.[citation needed] The Newberg Police Department was then renamed the Newberg-Dundee Police Department.

M.O. Stevens, CC BY 3.0, via Wikimedia Commons
Coordinates: 45°16'36″N 123°0'42″W
https://goo.gl/maps/PES1PfM6vXJe2H3X7
For those looking for more information about Dundee, OR, here are a few helpful links.
Travel Dundee – https://www.traveldundeeoregon.com/
Things to do in Dundee – https://www.tripadvisor.com/Attractions-g51849-Activities-Dundee_Oregon.html
City of Dundee – https://www.dundeecity.org/
Map of Dundee, OR