Some of Our Swimming Pool Services Include:
Pool Opening and Closing Service
Pool Filter Cleaning, Repair and Replacement
Pool Pump Motor Repair, Installation, Replacement
Pool Heater Repair, Installation, Replacement
Pool Light Repair, Installation, Replacement
Pool Salt System Cleaning, Repair, Replacement
Locally owned and operated, we're AllSpa! Proud to be recognized as a trusted repair, cleaning, and maintenance company, we service all major brands of swimming pools, hot tubs, swim spas, and saunas.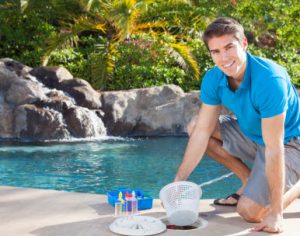 Quality service is our specialty. We're ready to meet your needs, whether you're looking to replace a broken filter, repair a damaged pump or fix a heater. With your satisfaction prioritized, we'll get it done quickly and at an affordable price.
Looking to Get the Family Swimming Pool Cleaned?
Let's get your home swimming pool looking sharp with a wide range of services for sparkling clean water. That's backyard swimming pool care and recurring cleaning services you can trust.
Commercial Pools Need Service Too!
For commercial pool service, cleaning or maintenance, look no further than AllSpa! Our dependable team is one of the reasons we're the best commercial pool service company in Oregon and SW Washington.
Expertise and Professionalism – Only the Best Pool Service Technicians
The AllSpa team of pool technicians is ready to exceed your expectations! Years of hands-on experience means we can offer a higher level of service, keeping your water clean, clear, and sanitized.
Award-winning service, repair and maintenance is what sets us apart, whether you need a one-time cleaning or you choose a recurring monthly or annual plan.
We've been audited! That's right, an independent audit shows that we're in complete compliance with all strict procedures and guidelines. Plus, our technicians are background checked, licensed and bonded for your peace of mind.
Want to Learn More About Our Award-Winning Swimming Pool Cleaning Repair and Maintenance Services? Contact Us Here:
• Swimming Pool Repair Services
• Swimming Pool Cleaning Services
• Contact Us About Service
• Schedule a Service or Repair
• Read AllSpa 5 Star Reviews
Connect with Us:
Check Us Out on Facebook
About Fairview – Source: https://en.wikipedia.org/wiki/Fairview,_Oregon
Fairview is a city in Multnomah County, Oregon, United States. As of the 2010 census, the city population was 8,920.
Geography
According to the United States Census Bureau, the city has a total area of 3.58 square miles (9.27 km2), of which, 3.09 square miles (8.00 km2) is land and 0.49 square miles (1.27 km2) is water.[16]
Government
House District 49 encompasses the city of Fairview, as well as surrounding cities of Troutdale, Wood Village, and parts of Gresham. It is represented by Democrat Chris Gorsek.[17]
As part of House District 49, Fairview is also part of Senate District 25 (composed of House Districts 49 and 50) represented by Democrat Laurie Monnes Anderson.[18]
Education
Fairview is served by the Reynolds School District. Fairview Elementary, Salish Ponds Elementary, Woodland Elementary, and Reynolds Middle School are located in the city.
Transportation
TriMet
Fairview is served by two Trimet bus lines: 21-Sandy Blvd/233rd and 77-Broadway/Halsey.
Major Highways
Interstate 84
U.S. Route 30
Coordinates: 45°32′31″N 122°26′20″W
Map of Fairview
Here's more information about Fairview
https://fairvieworegon.gov/
https://www.bumpersgrill.com/
https://www.chinookwayapts.com/