Some of Our Swimming Pool Services Include:
Pool Opening and Closing Service
Pool Filter Cleaning, Repair and Replacement
Pool Pump Motor Repair, Installation, Replacement
Pool Heater Repair, Installation, Replacement
Pool Light Repair, Installation, Replacement
Pool Salt System Cleaning, Repair, Replacement
A big welcome from AllSpa! We're locally owned and operated, and proud to be your number one choice for trusted repair, cleaning, and maintenance for quality name swimming pools, hot tubs, swim spas, and saunas.
We're happy to assist our local community with all their swimming pool service needs, whether we're fixing a leak, replacing a filter or just keeping your pool water clean and healthy.
Reputable swimming pool cleaning services.
When you're in need of a dependable pool cleaning service, look no further than AllSpa. With exceptional service and reliable cleaning for your home pool, we over deliver. Choose from a wide range of great service options to keep your pool healthy and clean, once or on a recurring basis.
Top commercial pool cleaning and maintenance.
Let the professionals at AllSpa keep your commercial pool clean and tidy. Stay organized with expert pool services you can trust. For reliable commercial pool cleaning or maintenance in Oregon and SW Washington, we've got you covered.
Professional pool service technicians on the job.
With a professional team and a solid reputation, AllSpa is ready to keep your pool water clean, clear, and sanitized.
Award-winning service, repair and maintenance sets us apart, whether we're delivering one-time cleanings, monthly or annual plans and inspections.
We've been independently audited! It's no surprise that we've been found totally compliant with all procedures and guidelines. Our technicians are background checked, licensed and bonded, and ready to help when you need us most!
Want to Learn More About Our Award-Winning Swimming Pool Cleaning Repair and Maintenance Services? Contact Us Here:
• Swimming Pool Repair Services
• Swimming Pool Cleaning Services
• Contact Us About Service
• Schedule a Service or Repair
• Read AllSpa 5 Star Reviews
Connect with Us:
Check Us Out on Facebook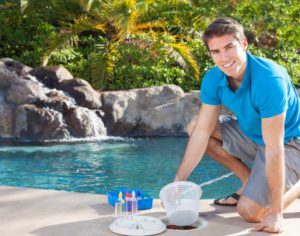 About Forest Grove – Source: https://en.wikipedia.org/wiki/Forest_Grove,_Oregon
Forest Grove is a city in Washington County, Oregon, United States, 25 miles (40 km) west of Portland. Originally a small farm town, it is now primarily a commuter town in the Portland metro area. Settled in the 1840s, the town was platted in 1850, then incorporated in 1872, making it the first city in Washington County. The population was 21,083 at the 2010 census, an increase of 19.1% over the 2000 figure (17,708).[6]
Located in the Tualatin Valley, Oregon routes 8, and 47 pass through Forest Grove with 47 and 8 signed as the Tualatin Valley Highway south and east of the main part of the city, respectively, Oregon Route 8 signed as Gales Creek Road west of the city, and Oregon Route 47 signed as the Nehalem Highway north of the city. Pacific University has been the most distinctive aspect of the town throughout its history. Old College Hall on campus is listed on the National Register of Historic Places along with nine other structures in the city.
Education
Entrance to Pacific University
The principal landmark of Forest Grove is Pacific University, a private school of higher education. Its significant buildings include Old College Hall and Marsh Hall.
Forest Grove, as well as Cornelius, Gales Creek, and Dilley, are all part of the Forest Grove School District.
Public transportation
Forest Grove is within the TriMet district, and public transit service is provided by TriMet's bus line 57-TV Highway/Forest Grove, which operates seven days a week.[22] Line 57 connects the city with Hillsboro and Beaverton, via the Tualatin Valley Highway, and links Forest Grove with the Portland region's light rail system (MAX) in Hillsboro. Yamhill County Transit Area (YCTA) bus line 33-Hillsboro/MAX also stops in Forest Grove weekdays, at the intersection of Pacific Avenue & Highway 47 (Quince Street), and runs from Hillsboro to Gaston, Cove Orchard, Yamhill, Carlton & McMinnville via Highway 47, where riders can transfer to other YCTA buses running throughout Yamhill County.[23] Forest Grove also has a free, non-profit bus service provided by Ride Connection called "GroveLink," which goes through the suburban areas of the city.[24]
Coordinates: 45°31′11″N 123°6′38″W
Map of Forest Park
Here's more information about Forest Grove
https://www.forestgrove-or.gov/
https://www.fgsdk12.org/
https://www.fgrestore.org/