Welcome to AllSpa! As Oregon and Washington's biggest and best hot tub, swim spa, and sauna service company, we've been serving our customers since 1979. We pride ourselves on exceeding expectations, whatever brand of hot tub, sauna, or swim spa you own.
As the only hot tub dealer in Oregon who is trade certified, we meet every need, earning us the reputation as the most trusted service department around. And, Oregon Hot Tub is properly licensed in Washington and Oregon.
Competent Hot Tub Repair in Bend
If you find yourself asking, "How do I repair my hot tub?" or "Where's the nearest hot tub service center?" here's some great news: You've arrived. Welcome to the best hot tub repair company in Oregon!
What makes us great? We're the only Trade Certified Service Center in Oregon for Hot Tubs. And, our technicians comply with every strict procedure and guideline—we've had an independent audit to prove it.
Plus, every one on our team has been thoroughly background checked, licensed and bonded for your protection. There's a reason we've been in business since 1979. So, sit back, relax, and know that when you need us, we'll be here.
Convenient Cleaning Service
We're happy to offer a wide range of convenient services designed to help you keep clean, healthy water, including signature spa care and recurring cleaning services.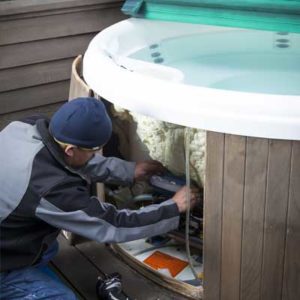 Hot Tub Drain and Fill – Hot tub completely drained, cleaned, and refilled
Swim Spa Drain and Fill – Swim Spa completely drained, cleaned, and refilled
Recurring Cleaning – Own a hot tub, swim spa, sauna, or pool that's crystal clear and clean whenever you need it—all year long. Recurring cleaning care plans make sense—never worry about cleaning again, and let us take the guesswork out of staying in clean water.
Safe, Efficient Moving
When it's time to relocate your hot tub, swim spa or sauna, trust the experts to get it done right. Moving a large item like a hot tub is not something to try alone—and that's why we're here—to provide you with a five-star service each and every time. Let's get your hot tub, swim spa, or sauna where it needs to be!
Want to Learn More About Our Award-Winning Hot Tub Repair Services? Contact Us Here:
• Hot Tub and Swim Spa Repair Services
• Hot Tub and Swim Spa Cleaning Services
• Hot Tub Moving Services
• Hot Tub Sale
• Schedule a Service or Repair
Bend, OR Map

Check Out a few of Our 5 Star Reviews for AllSpa Bend, Oregon:


After a phone call to All Spa requesting a service visit, Bobbie from the Bend shop showed up on time and quickly identified the problem and ordered the replacement part.
All Spa called a few days later and set up a time to install the replacement part, Bobbie showed up on time and installed the new pump, gave me several maintenance tips, was very congenial and professional and cleaned up before leaving.
A great experience, I am very pleased.
Thomas Green
For those looking for more information about Bend, OR here are a few helpful links.
https://www.escapehere.com/destination/12-things-to-see-and-do-in-bend-oregon/?utm_medium=cpc&utm_source=bing&utm_campaign=EH_BNG_US_DESK-Audience&utm_content=o_c_1318315086672309&cus_widget=kwd-82394765969159:loc-190&utm_term=bend%20oregon&cus_teaser=&msclkid=6611d4172d9d1b18db69887a7a88c884
http://www.city-data.com/city/Bend-Oregon.html#b
https://www.bendbulletin.com/
Hot Tub Repair Bend, Spa Service Company