Camas Hot Tub Repair, Swim Spa and Sauna Service
AllSpa is Oregon's biggest and most dependable hot tub, swim spa, and sauna service company since 1979. We're committed to meeting the needs of our customers, whatever brand of hot tub, sauna, or swim spa they own. Not only do we have a spa or service to suit any need, we're also the only Oregon hot tub dealer to be trade certified. We are the trusted service department at Oregon Hot Tub and we're properly licensed in WA and OR.
What We Have to Offer:
Hot Tub, Swim Spa Drain and Fill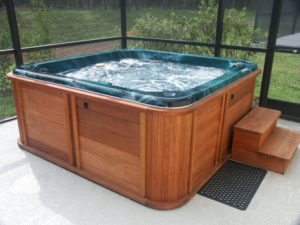 When it's time to fix your hot tub, swim spa, sauna, or pool, turn to the experts at AllSpa. With over 38 years repairing spa systems, the AllSpa team is on the job. Of course, we're fully certified, licensed and bonded for your protection. Read more below about how we can help you get back into hot water.
As the only Trade Certified Service Center in Oregon for Hot Tubs, we've gone through an independent audit process to ensure strict compliance with procedures and guidelines. Everyone on the team has been background checked, and we're all licensed and bonded, ready to meet your goals. So relax, we're here to help when you need us most!
The AllSpa guarantee: If you have the same issue within 30 days, we will happily drop our call-out fee. Simply pay for parts and labor for any new issues. Yes, AllSpa parts have a 1-year worry-free warranty.
Hot Tub, Spa Repair, Service, Maintenance
Keep your hot tub, swim spa or sauna running like new without ever lifting a finger.
With a variety of convenient services to keep you in clean water, including drain and fill,
signature spa care and recurring package services, we have your maintenance needs covered.
Hot Tub Cleaning Service, Portable Spa Maintenance, Moving
Moving a spa is not something people should try and do on their own. With years of experience behind us, we have the skills and know-how to accomplish a move in the safest, fastest and easiest way possible. That's what we're here for, to provide you with top-notch service, getting your spa where it needs to be!
Hot Tub, Swim Spa Watercare
Keep your hot tub, swim spa or sauna clean all year round and never stress about forgetting to clean it.  Try out our recurring cleaning and water care plans and eliminate guesswork behind soaking in clean water.
Services Offered
• Hot Tub, Spa Repair, Service, Maintenance
• Jacuzzi Repair, Service, Maintenance
• Hot Tub, Swim Spa Drain and Fill
• Hot Tub Cleaning Service, Portable Spa Maintenance
• On-Site Water Analysis
• Insurance Claims
• Repair Services
• Spa Service Use Training
• Maintenance Inspections
• Hot Tub and Swim Spa Relocation and Set-Up
• Portable Sauna Relocation and Set-Up
• Crane Moving Services
• Real Estate Inspections
• Construction Design Consulting
Learn More About Our Award-Winning Hot Tub, Swim Spa Repair, Service and Maintenance. Contact Us Here:
• Hot Tub and Swim Spa Repair Services
• Hot Tub and Swim Spa Cleaning and Maintenance Services
• Schedule a Service or Repair
• Hot Tub Drain and Fill
• Swim Spa Drain and Fill
• Hot Tub Moving Services
• Hot Tub Sale
About Camas Source: https://en.wikipedia.org/wiki/Camas,_Washington
Camas /'kæm?s/ is a city in Clark County, Washington, with a population of 19,355 at the 2010 census.[6] The east side of town borders the city of Washougal, Washington, and the west side of town borders Vancouver, Washington. Camas lies along the Washington side of the Columbia River, across from Troutdale, Oregon, and is part of the Portland metropolitan area.
One of the major geographical features of the city is Prune Hill. Prune Hill is an extinct volcanic vent and is part of the Boring Lava Field of northwest Oregon and southwest Washington.[7]
Geography
According to the United States Census Bureau, the city has a total area of 15.25 square miles (39.50 km2) of which 13.49 square miles (34.94 km2) is land and 1.76 square miles (4.56 km2) is water.[11]
There are numerous bodies of water within the city limits, including Lacamas Lake, Lacamas Creek, Round Lake, Fallen Leaf Lake, Tug Lake, the Washougal River, and the Columbia River.
Lacamas Park
US-WA-Camas-lacamas park-main sign-tar.jpg
Lacamas Park encompasses Round Lake and runs against SR 500 on its west side. Across SR 500 is Lacamas Lake. The park is open year-round from 7 a.m. to dusk and includes barbecues, a playground, trails around the park and lake, and access to the Camas Potholes.
The park features a network of trails which lead to the Camas Potholes and the Camas lily fields. A 1.2-mile (1.9 km) trail that loops around Round Lake starts and finishes near the parking lot. The park is a popular destination for geocachers, as it contains numerous caches scattered around the park.[citation needed] Young children may play in a small playground on the west side of the park. Tables are provided for picnicking, as are waste receptacles designed to receive hot coals from grilling. Water activities in Round Lake are also common around summer time. Bathrooms are available on a seasonal basis only.
Heritage Park
US-WA-Camas-heritage park-main sign-tar.jpg
Heritage Park has facilities for launching boats into Lacamas Lake, a playground for young children, much open field, and trails through the trees. The parking lot is large and includes numerous long parking stalls to accommodate vehicles with trailers.
Coordinates: 45°35'28″N 122°24'44″W
https://goo.gl/maps/PGdk2AXfXzMJoWKe6

Sarah McDevitt, CC BY 2.0, via Wikimedia Commons
Camas, WA Map
For those looking for more information about Camas, WA, here are a few helpful links.
City of Camas – http://www.cityofcamas.us/
Downtown Camas – http://downtowncamas.com/