Hot Tub Repair Cannon Beach, Swim Spa Service, Pool Maintenance
AllSpa is Oregon's biggest and most respected hot tub, swim spa, and sauna service company. Since 1979, we've been meeting the needs of our clients, regardless of which brand of hot tub, sauna, or swim spa they have.
We're happy to provide spas or service for any need, but we're also trade certified – the only hot tub dealer in Oregon who is properly licensed in WA and OR, we're Oregon Hot Tubs.
Here's How We Can Help:
Hot Tub, Spa Repair, Service, Maintenance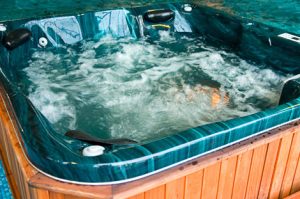 When you need quality repair work for your hot tub, swim spa, sauna, or pool, turn to us. We're completely certified, licensed and bonded for your protection. And with over 38 years of experience repairing spa systems, we know how to get you back into hot water.
The only Trade Certified Service Center in Oregon for Hot Tubs, we've been independently audited and found to be in complete compliance with all procedures and guidelines. Our professional team of knowledgeable technicians have all been background checked, licensed and bonded—a sure way to stay in business for many years!
Our trusted guarantee: If you experience the same issue within 30 days, we'll waive our call-out fee. You simply need to pay parts and labor for any new issues. Plus, all of our quality parts come with a 1-year worry-free warranty.
Hot Tub, Swim Spa Drain and Fill
The key to enjoying your investment is regular maintenance. We're here to help you keep your hot tub, swim spa or sauna running perfectly without lifting a finger. With a wide range of services, including drain and fill, and water maintenance, signature spa care and recurring package services, we have exactly what you need.
Hot Tub Cleaning Service, Portable Spa Maintenance, Moving 
Moving a spa from place to place isn't easy. When you're thinking about moving, turn to the experienced team at Allspa. When fast, safe and easy are your goals, we're here with five-star service to help you get your spa where it needs to be!
Hot Tub, Swim Spa Watercare
Keep your hot tub, swim spa or sauna clean all year round and never stress about forgetting to clean it. Try out our recurring cleaning and water care plans and eliminate guesswork behind soaking in clean water.
Services Offered
• Hot Tub, Spa Repair, Service, Maintenance
• Jacuzzi Repair, Service, Maintenance
• Hot Tub, Swim Spa Drain and Fill
• Hot Tub Cleaning Service, Portable Spa Maintenance
• On-Site Water Analysis
• Insurance Claims
• Repair Services
• Spa Service Use Training
• Maintenance Inspections
• Hot Tub and Swim Spa Relocation and Set-Up
• Portable Sauna Relocation and Set-Up
• Crane Moving Services
• Real Estate Inspections
• Construction Design Consulting
Learn More About Our Award-Winning Hot Tub, Swim Spa Repair, Service and Maintenance. Contact Us Here:
• Hot Tub and Swim Spa Repair Services
• Hot Tub and Swim Spa Cleaning and Maintenance Services
• Schedule a Service or Repair
• Hot Tub Drain and Fill
• Swim Spa Drain and Fill
• Hot Tub Moving Services
• Hot Tub Sale
About Cannon Beach Source: https://en.wikipedia.org/wiki/Cannon_Beach,_Oregon
Cannon Beach is a city in Clatsop County, Oregon, United States. The population was 1,690 at the 2010 census. Cannon Beach is a popular coastal tourist destination in Oregon, famous for Haystack Rock, a 235 ft (72 m) sea stack that juts out along the Pacific Coast.[6] In 2013, National Geographic listed Cannon Beach as "one of the world's 100 most beautiful places."[6]
Geography
According to the United States Census Bureau, the city has a total area of 1.54 square miles (3.99 km2), all land.[15] The Tolovana Park neighborhood is south of the downtown core, adjacent to Tolovana Beach State Recreation Site.
Climate
This region experiences mild, dry summers, with no average monthly temperatures above 71.6 °F (22.0 °C). According to the Köppen Climate Classification system, Cannon Beach has a warm-summer Mediterranean climate, abbreviated "Csb" on climate maps.[16]
Arts and culture
In June, Cannon Beach hosts an annual sand castle-building contest.
Annual cultural events
In June, the city hosts an annual sand castle-building contest.[20]
The city also hosts an annual Fourth of July parade. Parades in recent years have featured a military flyover and a "Lawn Chair Brigade".[21]
"Spring Unveiling" is an annual arts festival, held on the first Sunday in May, hosted by the city's galleries.[22]
There is an annual late-fall festival called the Stormy Weather Arts Festival, held in November, where artists from the Pacific Northwest showcase their artwork in the local galleries. Artwork is available for purchase in an auction held at the end of the event.[23]
Several galleries in town feature the works of local and Northwest artists.
Parks and recreation
Haystack Rock during low-tide.
Cannon Beach is recognized by the well-known landmark Haystack Rock, located southwest of downtown Cannon Beach. This igneous rock has an elevation of 235 feet (72 m) and is often accessible at low tide, especially in the summertime. There is a small cave system that penetrates the rock and can be seen from the coastline. The rock is also protected as part of Oregon Islands National Wildlife Refuge and events are not allowed within 100 feet (30 m) of either side of the rock. Near Haystack Rock are the Needles, two tall rocks rising straight out of the water.
Four parks can be found within city limits: Haystack Hill State Park, Les Shirley Park, John Yeon State Natural Site (closed to visitors) and Tolovana Beach State Recreation Site.
Coordinates: 45°53'21″N 123°57'39″W – https://goo.gl/maps/hE2bf21UK9KcDEzA8

DiscoverWithDima, CC BY-SA 4.0, via Wikimedia Commons
For those looking for more information about Canon Beach, OR, here are a few helpful links.
Complete Guide to Cannon Beach, Oregon USA – https://www.cannon-beach.net/
Trip Advisor – Cannon Beach – https://www.tripadvisor.com/Tourism-g51790-Cannon_Beach_Oregon-Vacations.html