AllSpa is Oregon and Washington's largest and most respected hot tub, swim spa, and sauna service company—and has been for generations. Since 1979, we've been helping customers get the service they need, whatever brand of hot tub, sauna, or swim spa they own.
Not only do we provide service to suit any need, we're also the only hot tub dealer in Oregon who is trade certified. We are the trusted service department at Oregon Hot Tub and we're properly licensed in Washington and Oregon.
Get the Bend Hot Tub Repair You Need
Ever find yourself asking, "How do I repair my hot tub?" Look no further, we've got you covered as the best hot tub repair company in Oregon!
Here's why you'll get the repair work you need quickly and professionally: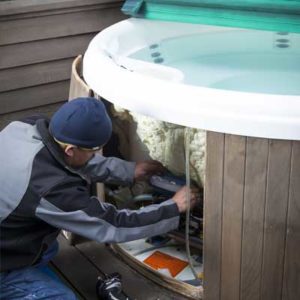 We're a Trade Certified Service Center—the only one in Oregon for Hot Tubs.
We comply with strict procedures and guidelines—an independent audit confirms this.
We're thoroughly background checked, licensed and bonded—for your protection.
We've been in business since 1979—and plan to be here when you need us most!
Have it Cleaned for You
Looking to relax without the work? We're happy to offer some of the best services to keep you in clean, healthy water— including our signature spa care and recurring cleaning services.
Hot Tub Drain and Fill – Hot tub completely drained, cleaned, and refilled
Swim Spa Drain and Fill – Swim Spa completely drained, cleaned, and refilled
Recurring Cleaning – With scheduled recurring cleaning services, it's easy to keep your hot tub, swim spa, sauna, or pool clean 365 days a year. With no stress and no hassles, let our recurring cleaning care plan remove all the guesswork so you can relax in clean water.
Let Us Move it
Why deal with moving your hot tub, swim spa, or sauna when the experts can get it done safely and easily? We've been moving hot tubs for years, and would never recommend trying this on their own. A safe, reliable move requires experience and knowledge—exactly what we provide.
That's what we're here for! To provide you with a reliable, five-star service to get your hot tub, swim spa, or sauna where it needs to be!
Want to Learn More About Our Award-Winning Hot Tub Repair Services? Contact Us Here:
• Hot Tub and Swim Spa Repair Services
• Hot Tub and Swim Spa Cleaning Services
• Hot Tub Moving Services
• Hot Tub Sale
• Schedule a Service or Repair
Bend, OR Map

Check Out a few of Our 5 Star Reviews for AllSpa Bend, Oregon:


We have been using AllSpa for our spa since we moved to Bend.
Chris Pelroy has been caring for our spa for the past few years, and we couldn't be more pleased with his professional, yet personable, service.
He has helped us learn how to better maintain our beloved spa and keep it performing.
Thanks!
Judy Fisher
For those looking for more information about Bend, OR, here are a few helpful links.
https://www.facebook.com/visitbend
https://visitcentraloregon.com/bend-oregon/
https://www.bendsource.com/
Hot Tub Repair Bend, Spa Service Company
Hot Tub Repair Bend, Spa Service Company