Since 1979, AllSpa has been meeting the needs of our customers as Oregon and Washington's largest and most trusted hot tub, swim spa, and sauna service company. We're happy to help all of our customers, regardless of which brand hot tub, sauna, or swim spa they own.
With professional services for every need, we're the only hot tub dealer in Oregon who is trade certified. And, our reliable service technicians are properly licensed in Washington and Oregon.
Repair Your Portland Hot Tub Here
Hot tubs are amazing—until they need service. Forget about wondering what to do—give the experts a call. We'll help you get back in hot, massaging water in no time—the best hot tub repair
company in Oregon!
Why are we so confident? That's easy. We've been audited, and were found to be in complete compliance with every strict procedure and guideline out there. Plus, we're a Trade Certified Service Center for Hot Tubs—the only one in Oregon! Of course, our service technicians are top-notch too—they've all had background checks and are licensed and bonded for your protection.
We've been doing business since 1979, and plan to be around for a long time. So, you can count on us to help you when you need it most!
Clean It
We're happy to offer a great variety of recurring and signature cleaning services.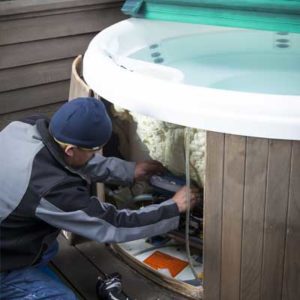 Hot Tub Drain and Fill – Hot tub completely drained, cleaned, and refilled
Swim Spa Drain and Fill – Swim Spa completely drained, cleaned, and refilled
Recurring Cleaning – Who wants to spend time cleaning a hot tub, when you can enjoy it instead? Let us help you maintain your hot tub, swim spa, sauna, or pool clean year round. Our smart recurring cleaning care plans make it super easy—by taking the guesswork out of clean water.
Move It
Moving a hot tub, swim spa, or sauna is serious business, and not something to try at home. Luckily, we've been helping customers move their investments for years in the safest and fastest way possible.
Give us a call! We're happy to provide five-star service and get your hot tub, swim spa, or sauna where it needs to be!
Want to Learn More About Our Award-Winning Hot Tub Repair Services? Contact Us Here:
• Hot Tub and Swim Spa Repair Services
• Hot Tub and Swim Spa Cleaning Services
• Hot Tub Moving Services
• Hot Tub Sale
• Schedule a Service or Repair
Portland, OR Map

Check Out a few of Our 5 Star Reviews for AllSpa Portland, Oregon:

AllSpa was so professional. Terry Lynch was wonderful.
He was so knowledgeable and able to figure out what was the problem right away and had the parts to fix it.
Couldn't have asked for more. Great service.
Wendy Raynor
For those looking for more information about Portland, OR, here are a few helpful links.
https://www.portlandoregon.gov/25782
https://realestate.usnews.com/places/oregon/portland
https://www.oregonlive.com/portland/
Hot Tub Repair Portland, Spa Service Company