Hot Tub Repair The Dalles, Swim Spa Service, Pool Maintenance
AllSpa is Oregon's most trusted and largest hot tub, swim spa, and sauna service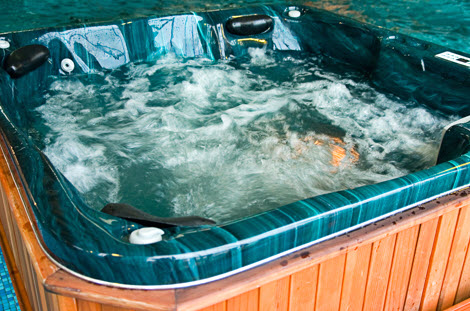 company. Since 1979, we've been happily meeting the needs of all of our clients, with whatever brand hot tub, sauna, or swim spa they own.
We provide spas and services to suit all needs, and we're the only Oregon hot tub dealer who is trade certified. Our service department at Oregon Hot Tub is properly licensed in WA and OR.
Hot Tub, Spa Repair, Service, Maintenance
When you need repair work on your hot tub, swim spa, sauna, or pool, we can help. Completely certified, licensed and bonded, we have over 38 years of experience repairing spa systems. Please read more to see how we can help you get back into hot water.
As the only Trade Certified Service Center in Oregon for Hot Tubs, we've been independently audited and found to comply with strict procedures and guidelines. Our technicians are thoroughly background checked, licensed and bonded—we meet all of the benchmarks that are sure to keep us in business for many years. We'll be around to help you when you need it most!
Here's our guarantee: if the same issue occurs within 30 days, we'll happily waive our call-out fee. Simply pay for parts and labor for any new issues. Plus, all of our parts are backed by a 1-year worry-free warranty.
Hot Tub, Swim Spa Drain and Fill
Keeping your hot tub, swim spa or sauna in perfect running condition is easy with the right help. We offer a variety of convenient maintenance services including drain and fill, signature spa care and recurring package services.
Hot Tub Cleaning Service, Portable Spa Maintenance
Moving a spa from one place to another isn't easy, and requires the right know-how. With years of experience, our trained professionals are equipped to move your investment in the safest, fastest and easiest way possible—five-star service to get your spa where it needs to be!
Hot Tub, Swim Spa Watercare
Keep your hot tub, swim spa or sauna clean all year round and never stress about forgetting to clean it. Try out our recurring cleaning and water care plans and eliminate guesswork behind soaking in clean water.
Services Offered
• Hot Tub, Spa Repair, Service, Maintenance
• Jacuzzi Repair, Service, Maintenance
• Hot Tub, Swim Spa Drain and Fill
• Hot Tub Cleaning Service, Portable Spa Maintenance
• On-Site Water Analysis
• Insurance Claims
• Repair Services
• Spa Service Use Training
• Maintenance Inspections
• Hot Tub and Swim Spa Relocation and Set-Up
• Portable Sauna Relocation and Set-Up
• Crane Moving Services
• Real Estate Inspections
• Construction Design Consulting
Learn More About Our Award-Winning Hot Tub, Swim Spa Repair, Service and Maintenance. Contact Us Here:
• Hot Tub and Swim Spa Repair Services
• Hot Tub and Swim Spa Cleaning and Maintenance Services
• Schedule a Service or Repair
• Hot Tub Drain and Fill
• Swim Spa Drain and Fill
• Hot Tub Moving Services
• Hot Tub Sale
About The Dalles Source: https://en.wikipedia.org/wiki/The_Dalles,_Oregon
The Dalles /'dælz/ is the largest city of Wasco County, Oregon, United States. The population was 13,620 at the 2010 census, and it is the largest city on the Oregon side along the Columbia River outside the Portland Metropolitan area.
Geography
The Dalles and the Columbia River showing surrounding landscape
Highways I-84, U.S. 30, and U.S. 197 meet in the city.
According to the United States Census Bureau, the city has a total area of 20.61 square miles (53.38 km2), of which, 20.35 square miles (52.71 km2) is land and 0.26 square miles (0.67 km2) is water.[17]
Climate
This article needs additional citations for verification. Please help improve this article by adding citations to reliable sources. Unsourced material may be challenged and removed.
Find sources: "The Dalles, Oregon" – news · newspapers · books · scholar · JSTOR (December 2013) (Learn how and when to remove this template message)
The Dalles is usually classified as an arid semiarid (Köppen BSk) climate region. However, it has some characteristics of the midlatitude oceanic climate that dominates west of the Cascade Mountains, combined with seasonal precipitation patterns very similar to those found in Mediterranean climates. The city's location in the eastern Columbia Gorge results in the presence of numerous microclimates within a few miles of town. To the immediate west, the winters are significantly wetter, and summers are significantly cooler. In contrast, upland locations to the south are significantly cooler in all seasons. The generally warm and dry summers near town make it the ideal climate for the numerous Bing cherry orchards in the area.
The summer season runs from mid-June through early September and is quite warm by Pacific Northwest standards; however, summer weather often oscillates between intense heat waves and much cooler and windier periods. Except for the occasional sporadic thunderstorm, there is almost no summer rainfall.
From late September through early November, the area experiences an abrupt autumn during which normal temperatures drop very rapidly and cloudy, wet weather quickly picks up. Prior to the sudden onset of the rainy season in mid- to late fall, there are often days with a very wide disparity between daytime and nighttime temperatures, sometimes exceeding 36 °F or 20 °C. There is far less wind in the fall than in spring and early summer, though passing frontal systems can still bring quick bouts of strong wind.
Winter is the wet season in The Dalles. Despite the rain shadow effect created by the Cascades, there is still enough precipitation most years to support relatively high soil moisture levels for most of the winter. This is a very similar pattern to what happens in classic Mediterranean climates – except that the temperatures are significantly colder. The area receives measurable snowfall virtually every year, but the snow totals fluctuate dramatically from one year to the next; some seasons see only one or two brief light snow events while others get major snowstorms and cumulative totals of 20 inches (0.51 m) or more. The most snowfall in a season has been 85.5 inches (2.17 m) between July 1949 and June 1950. Average winter temperatures are only about 3 to 5 °F (1.7 to 2.8 °C) colder than in cities such as Portland and Seattle, and temperatures below 0 °F or -17.8 °C are very rare, but not unheard of – historically occurring on three mornings out of every five winters, but only once since February 1996.
As in the summer, winter temperatures can vary tremendously from one day to the next. During arctic air events the daytime high temperatures will generally be well below 32 °F or 0 °C, while a strong subtropical push can raise temperatures into the 50s and low 60s F, even in January. It is quite common for relatively cold air to become trapped at low elevations due to an inversion above; depending on the temperature of the surface airmass, depth of the inversion layer, and temperatures above the inversion layer, this can result in snow, sleet, freezing rain or a very cold liquid rain.
Springtime conditions generally run from late February through early June, during which time the overall trend gradually becomes warmer and drier and the landscape briefly turns lush and green. This is the windiest season of all, with a powerful west wind on most afternoons. During stormy periods in spring, conditions are usually cloudy and cool, while most sunny and calm days become intensely warm, especially from April onward. Springtime temperatures often vary more from one week to the next than they do from one month to the next.
The growing season is roughly 200 days in a typical year, generally running from early April through most of October. However, the spring frost dates can range from mid-March to early May, and the fall frost dates can range from late September to mid-November.
Coordinates: 45°36'4″N 121°10'58″W – https://goo.gl/maps/BAHHNjKMTb3H1ekj7

Glenn Scofield Williams, CC BY 2.0, via Wikimedia Commons
For those looking for more information about The Dalles, OR, here are a few helpful links.
City of The Dalles – https://www.ci.the-dalles.or.us/
The Dalles Chamber of Commerce – https://thedalleschamber.com/