Hot Tub Repair McMinnville, Swim Spa Service, Pool Maintenance
AllSpa is Oregon's largest and most respected hot tub, swim spa, and sauna service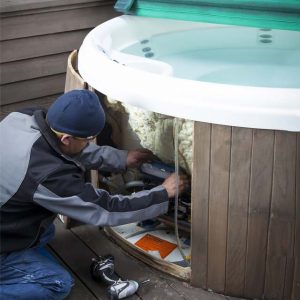 company. Since 1979, we've been meeting the needs of our clients, whatever brand hot tub, sauna, or swim spa they own. 
We provide quality spas and trusted service to fit any need, but we're also the only hot tub dealer in Oregon who is trade certified. Properly licensed in WA and OR, with the dependable team at Oregon Hot Tub by your side, you're in good hands.
Here's How We Can Help
Hot Tub, Spa Repair, Service, Maintenance
Are you in need of competent repair on your hot tub, swim spa, sauna, or pool? We're certified, licensed, bonded. And with over 38 years of experience repairing spa systems, we're more than ready to help you get back into hot water.
As the only Trade Certified Service Center in Oregon for Hot Tubs, we've been independently audited and shown to comply with all strict procedures and guidelines. Plus, each of our technicians has undergone a background check before becoming licensed and bonded.
Here's our guarantee: If the same issue occurs within 30 days, we'll waive our call-out fee. All you need to do is pay for parts and labor for any new issues. Of course, all of our parts are backed by a 1-year stress-free warranty.
Hot Tub, Swim Spa Drain and Fill
Ready to keep your hot tub, swim spa or sauna in perfect condition without lifting a finger? We can help with a variety of services for easy maintenance, including drain and fill,
signature spa care and recurring package services.
Hot Tub Cleaning Service, Portable Spa Maintenance, Moving
Moving a spa isn't easy, and certainly not something to try on your own. With years of practice, and expertise, our team can accomplish a move in the safest, fastest and easiest way possible. We're here for you with award winning, dependable service to get your spa where it needs to be!
Hot Tub, Swim Spa Watercare
Keep your hot tub, swim spa or sauna clean all year round and never stress about forgetting to clean it. Try out our recurring cleaning and water care plans and eliminate guesswork behind soaking in clean water.
Services Offered
• Hot Tub, Spa Repair, Service, Maintenance
• Jacuzzi Repair, Service, Maintenance
• Hot Tub, Swim Spa Drain and Fill
• Hot Tub Cleaning Service, Portable Spa Maintenance
• On-Site Water Analysis
• Insurance Claims
• Repair Services
• Spa Service Use Training
• Maintenance Inspections
• Hot Tub and Swim Spa Relocation and Set-Up
• Portable Sauna Relocation and Set-Up
• Crane Moving Services
• Real Estate Inspections
• Construction Design Consulting
Learn More About Our Award-Winning Hot Tub, Swim Spa Repair, Service and Maintenance. Contact Us Here:
• Hot Tub and Swim Spa Repair Services
• Hot Tub and Swim Spa Cleaning and Maintenance Services
• Schedule a Service or Repair
• Hot Tub Drain and Fill
• Swim Spa Drain and Fill
• Hot Tub Moving Services
• Hot Tub Sale
About McMinnville Source: https://en.wikipedia.org/wiki/McMinnville,_Oregon
McMinnville is the county seat of and largest city in Yamhill County, Oregon, United States. According to Oregon Geographic Names, it was named by its founder, William T. Newby (1820–1884), an early immigrant on the Oregon Trail, for his hometown of McMinnville, Tennessee. As of the 2010 census, the city had a population of 32,187.
McMinnville is at the confluence of the North and South Forks of the Yamhill River in the Willamette Valley. The city is home to Cascade Steel (a Schnitzer Steel Industries company), Oregon Mutual Insurance Company, Linfield University, Organic Valley creamery, Joe Dancer Park, and Evergreen Aviation & Space Museum, the home of Howard Hughes' famed Spruce Goose[6] flying boat.
Geography
McMinnville is 54 miles (87 km) from Lincoln City on the Pacific Ocean, 37 miles (60 km) from Portland, and 26 miles (42 km) from Salem, the state capital.
According to the United States Census Bureau, the city has an area of 10.58 square miles (27.40 km2), all of it land.[9]
Climate
This region experiences warm (but not hot) and dry summers, with no average monthly temperatures above 71.6 °F (22.0 °C). According to the Köppen Climate Classification system, McMinnville has a warm-summer Mediterranean climate, abbreviated "Csb" on climate maps.[18] The normal monthly mean temperature ranges from 39.8 °F (4.3 °C) in December to 66.4 °F (19.1 °C) in August.[19] Annual precipitation averages 39.74 inches (1,009 mm), with normal monthly precipitation peaking in November.[19] The lowest temperature recorded is -7 °F (-22 °C) on January 31, 1950, while the highest is 110 °F (43 °C), most recently on July 9–10, 1926.[19]
Coordinates: 45°12'42″N 123°11'50″W
https://goo.gl/maps/Nf9cUNXqFmBmC7YZ8

M.O. Stevens, CC BY 3.0, via Wikimedia Commons
For those looking for more information about McMinnville, OR, here are a few helpful links.
McMinnville, Oregon – Wikipedia, the free encyclopedia – https://en.wikipedia.org/wiki/McMinnville,_Oregon
Best Places to Live in McMinnville, Oregon – https://www.bestplaces.net/city/oregon/mcminnville