Hot Tub Repair Salem, Sauna, Swim Spa Service Oregon
Welcome to AllSpa, Oregon's largest and most well known hot tub, swim spa, and sauna service company. We've been meeting the needs of our customers since 1979—regardless of the brand hot tub, sauna, or swim spa they own! We have an amazing spa or convenient service for everyone. As the only trade certified hot tub dealer in Oregon, we'd like to welcome you to the service department at Oregon Hot Tub, properly licensed in WA and OR.
Here's a Few Ways We Can Help:
Hot Tub, Spa Repair, Service, Maintenance 
Who needs a hassle when it's time to repair your hot tub, swim spa, sauna, or pool? Trust the team at AllSpa—certified, licensed and bonded professionals. With over 38 years of experience repairing spa systems, we're on the job! Read more below to see how we can help you get back into hot water.
What does it mean to be the only Trade Certified Service Center in Oregon for Hot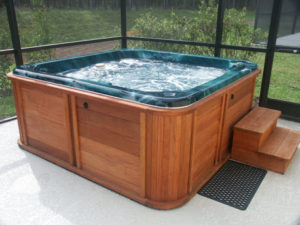 Tubs? It means we've had an independent audit that found us in compliance with all procedures and guidelines. Every technician is background checked, licensed and bonded for your peace of mind. This is how we continue to meet our customers' needs and why we'll be in business for years to come!
Here's our guarantee: If within 30 days, the same issue occurs, we will drop our call-out fee. You pay for parts and labor on any new issues, that's all. Of course, all parts have a 1-year worry-free warranty.
Hot Tub, Swim Spa Drain and Fill
It's not complicated to keep your hot tub, swim spa or sauna running perfectly with the right help. We're pleased to offer a wide range of convenient services to keep your water clean, including drain and fill, signature spa care and recurring package services.
Hot Tub Cleaning Service, Portable Spa Maintenance, Moving
Relocating a spa is never something people should try and accomplish alone. A safe, successful move takes experienced professionals. And that's what we have to offer, hassle free moving services so you can get your spa where it needs to be!
Hot Tub, Swim Spa Watercare
Keep your hot tub, swim spa or sauna clean all year round and never stress about forgetting to clean it. Try out our recurring cleaning and water care plans and eliminate guesswork behind soaking in clean water.
Services Offered
• Hot Tub, Spa Repair, Service, Maintenance
• Jacuzzi Repair, Service, Maintenance
• Hot Tub, Swim Spa Drain and Fill
• Hot Tub Cleaning Service, Portable Spa Maintenance
• On-Site Water Analysis
• Insurance Claims
• Repair Services
• Spa Service Use Training
• Maintenance Inspections
• Hot Tub and Swim Spa Relocation and Set-Up
• Portable Sauna Relocation and Set-Up
• Crane Moving Services
• Real Estate Inspections
• Construction Design Consulting
Learn More About Our Award-Winning Hot Tub, Swim Spa Repair, Service and Maintenance. Contact Us Here:
• Hot Tub and Swim Spa Repair Services
• Hot Tub and Swim Spa Cleaning and Maintenance Services
• Schedule a Service or Repair
• Hot Tub Drain and Fill
• Swim Spa Drain and Fill
• Hot Tub Moving Services
• Hot Tub Sale
About Salem Source: https://en.wikipedia.org/wiki/Salem,_Oregon
Salem /'se?l?m/ is the capital of the U.S. state of Oregon, and the county seat of Marion County. It is located in the center of the Willamette Valley alongside the Willamette River, which runs north through the city. The river forms the boundary between Marion and Polk counties, and the city neighborhood of West Salem is in Polk County. Salem was founded in 1842, became the capital of the Oregon Territory in 1851, and was incorporated in 1857.
Salem had a population of 174,365 in 2019,[7] making it the second-largest city in the state after Portland. Salem is a little under an hour's driving distance away from Portland.[8] Salem is the principal city of the Salem Metropolitan Statistical Area, a metropolitan area that covers Marion and Polk counties[9] and had a combined population of 390,738 at the 2010 census. A 2019 estimate placed the metropolitan population at 400,408, the state's second largest.[10] This area is, in turn, part of the Portland-Vancouver-Salem Combined Statistical Area.
The city is home to Willamette University, Corban University, and Chemeketa Community College. The State of Oregon is the largest public employer in the city, and Salem Health is the largest private employer. Transportation includes public transit from Cherriots (legally known as Salem Area Mass Transit District), Amtrak service, and non-commercial air travel at McNary Field. Major roads include Interstate 5, Oregon Route 99E, and Oregon Route 22, which connects West Salem across the Willamette River via the Marion Street and Center Street bridges.

Oregon Department of Transportation, CC BY 2.0, via Wikimedia Commons
Coordinates: 44°56'21″N 123°2'22″W
https://goo.gl/maps/Yojss65s3JouPc62A
For those looking for more information about Salem, OR, here are a few helpful links.
Travel Salem – http://www.travelsalem.com/
City of Salem Information – http://www.cityofsalem.net/
Salem, OR Map