Hot Tub Repair Seaside, Swim Spa Service, Pool Maintenance
As Oregon's biggest and most trusted hot tub, swim spa, and sauna service company, AllSpa has been here for the community since 1979. We're committed to exceeding the needs of our customers, regardless of the hot tub, sauna, or swim spa brand they own.
We're sure to have a spa or service for everyone, and we're the only hot tub dealer in Oregon who is trade certified. The professional service department at Oregon Hot Tub is properly licensed in WA and OR.
Here's How We Can Help
Hot Tub, Spa Repair, Service, Maintenance
Looking for quality repair work for your hot tub, swim spa, sauna, or pool? We're completely certified, licensed and bonded, with over 3 decades of hands-on experience repairing spa systems. Please read on to learn how we can help you slip back into hot water.
Allspa is the only Trade Certified Service Center in Oregon for Hot Tubs. What does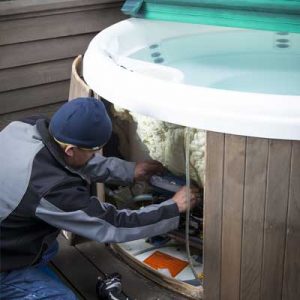 that mean? It means that an independent audit found our business in compliance with strict procedures and guidelines. Every technician is background checked, licensed and bonded. We're sure to be around to help you when you need it most!
Here's our guarantee to you: If you have the same recurring issue occur within 30 days, we'll pick up the call fee, so you only have to pay for parts and labor for any new issues. And, all of our parts have a 1-year no-nonsense warranty.
Hot Tub, Swim Spa Drain and Fill
Keep your hot tub, swim spa or sauna performing like new without lifting a finger.
We're happy to offer a range of services designed to help you keep clean water, including drain and fill, signature spa care and recurring package services.
Hot Tub Cleaning Service, Portable Spa Maintenance, Moving
Transporting a spa is definitely not something you should attempt on your own! Doing it right takes years of experience and knowledge to ensure a safe, fast and easy process. But that's why we're here—to provide top of the line service to get your spa where it needs to be!
Hot Tub, Swim Spa Watercare
Keep your hot tub, swim spa or sauna clean all year round and never stress about forgetting to clean it. Try out our recurring cleaning and water care plans and eliminate guesswork behind soaking in clean water.
Services Offered
• Hot Tub, Spa Repair, Service, Maintenance
• Jacuzzi Repair, Service, Maintenance
• Hot Tub, Swim Spa Drain and Fill
• Hot Tub Cleaning Service, Portable Spa Maintenance
• On-Site Water Analysis
• Insurance Claims
• Repair Services
• Spa Service Use Training
• Maintenance Inspections
• Hot Tub and Swim Spa Relocation and Set-Up
• Portable Sauna Relocation and Set-Up
• Crane Moving Services
• Real Estate Inspections
• Construction Design Consulting
Learn More About Our Award-Winning Hot Tub, Swim Spa Repair, Service and Maintenance. Contact Us Here:
• Hot Tub and Swim Spa Repair Services
• Hot Tub and Swim Spa Cleaning and Maintenance Services
• Schedule a Service or Repair
• Hot Tub Drain and Fill
• Swim Spa Drain and Fill
• Hot Tub Moving Services
• Hot Tub Sale
About Seaside Source: https://en.wikipedia.org/wiki/Seaside,_Oregon
Seaside is a city in Clatsop County, Oregon, United States. The name Seaside is derived from Seaside House, a historic summer resort built in the 1870s by railroad magnate Ben Holladay. The city's population was 6,457 at the 2010 census.[7]
Geography
According to the United States Census Bureau, the city has a total area of 4.14 square miles (10.72 km2), of which 3.94 square miles (10.20 km2) is land and 0.20 square miles (0.52 km2) is water.[10]
360° (scrollable) panoramic view from the beach at Seaside. Tillamook Head at left.
Seaside lies on the edge of the Pacific Ocean, at the southern end of the Clatsop Plains, about 29 km (18 mi) south of where the Columbia River empties into the Pacific. The city is developed on both sides of the Necanicum River, which flows to the ocean at the city's northern edge. Tillamook Head towers over the southern edge of the city.
Harvesting razor clams
The geography associated with the gradual slope of the broad sandy beaches of Clatsop Spit provide excellent conditions for the formation of beds of millions of Pacific razor clams annually. The razor clams attract thousands of visitors to Seaside Beach each year.[11] Waves attract surfers all year round from the challenging point break off the tip of Tillamook Head to the sandy shores at "the cove" parking lot at Ocean Vista Drive.[12][13][14]
Climate
Seaside has an oceanic climate (Köppen Cfb), typical Pacific Northwest climate, bordering very closely on a warm-summer mediterranean climate (Köppen Csb). It receives rainy winters and mild-to-cool summers. Mean high temperature in the warmest month, August, is roughly 68 °F (20 °C). The warmest heatwaves, however, occur in September. The hottest day on record was 95 °F (35 °C), which occurred on both September 23, 1943 and September 24, 1974. The coldest temperature ever recorded was 5 °F (-15 °C) which occurred on December 8, 1972.

M.O. Stevens, Public domain, via Wikimedia Commons
Coordinates: 45°59'34″N 123°55'20″W
https://goo.gl/maps/2gcuvwyzZ3u6jyDEA
 For those looking for more information about Seaside, OR, here are a few helpful links:
Seaside Chamber of Commerce – https://www.seasidechamber.com/
Best of Seaside – https://www.seasideor.com/