Hot Tub Repair, Service Astoria, OR, Swim Spa and Pool Maintenance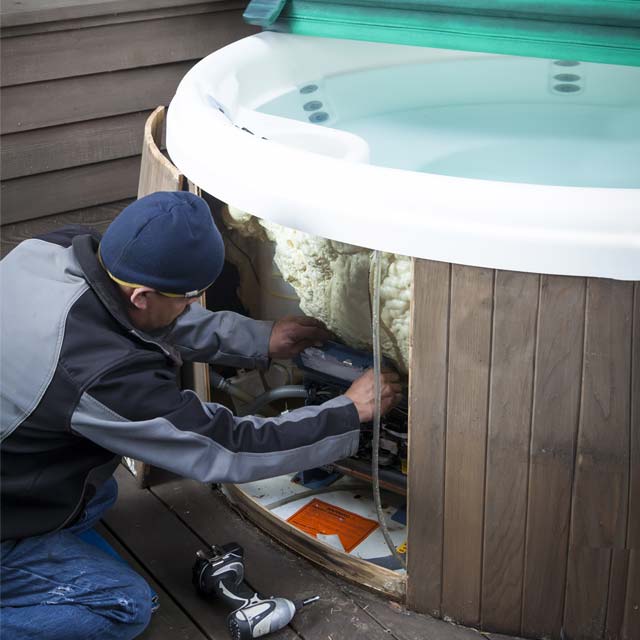 A big hello from Oregon's largest and most trusted hot tub, swim spa, and sauna service company, Allspa! Since 1979, we've been over delivering on a promise to meet the needs of our clients, whatever brand of hot tub, sauna, or swim spa they own.
But we not only provide a spa or service to suit any need, we're also the only hot tub dealer in Oregon who is trade certified. The trusted service departments at Oregon Hot Tub are properly licensed in WA and OR.
Hot Tub, Spa Repair, Service, Maintenance
When it's time to repair your hot tub, swim spa, sauna, or pool, the team at Allspa is certified, licensed and bonded. With over 38 years of tested experience repairing spa systems, we can get the job done. Please read more below to see how we can help you enjoy your investment.
The only Trade Certified Service Center in Oregon for Hot Tubs, Allspa has been independently audited. The result? We comply with strict procedures and guidelines and all of our technicians are background checked, licensed and bonded. With a track record like that, we'll be around to help when you need us most!
The Allspa guarantee: If the same issue occurs within 30 days, our call-out fee will be waived. You just pay for parts and labor for new issues. And remember, all parts have a 1 year worry-free warranty.
Hot Tub, Swim Spa Drain and Fill
Is it possible to keep your hot tub, swim spa or sauna in perfect running shape without lifting a finger? Absolutely! With a variety of services to keep you in clean water, including drain and fill, signature spa care and recurring package services, we are your solution.
Hot Tub Cleaning Service, Portable Spa Maintenance
Relocating a spa isn't easy. But, it can be done in a safe, reliable and efficient way with help from the experts. With years of experience and know-how, we can accomplish a move in the fastest and easiest way possible. And that's what we're known for—five-star service to get your spa where it needs to be!
Hot Tub, Swim Spa Watercare
Keep your hot tub, swim spa or sauna clean all year round and never stress about forgetting to clean it.  Try out our recurring cleaning and water care plans and eliminate guesswork behind soaking in clean water.
Services Offered
• Hot Tub, Spa Repair, Service, Maintenance
• Jacuzzi Repair, Service, Maintenance
• Hot Tub, Swim Spa Drain and Fill
• Hot Tub Cleaning Service, Portable Spa Maintenance
• On-Site Water Analysis
• Insurance Claims
• Repair Services
• Spa Service Use Training
• Maintenance Inspections
• Hot Tub and Swim Spa Relocation and Set-Up
• Portable Sauna Relocation and Set-Up
• Crane Moving Services
• Real Estate Inspections
• Construction Design Consulting
Learn More About Our Award-Winning Hot Tub, Swim Spa Repair, Service and Maintenance. Contact Us Here:
• Hot Tub and Swim Spa Repair Services
• Hot Tub and Swim Spa Cleaning and Maintenance Services
• Schedule a Service or Repair
• Hot Tub Drain and Fill
• Swim Spa Drain and Fill
• Hot Tub Moving Services
• Hot Tub Sale
About Astoria – Source: https://en.wikipedia.org/wiki/Astoria,_Oregon
Astoria is a port city and the seat of Clatsop County, Oregon, United States. Founded in 1811, Astoria is the oldest city in the state of Oregon and was the first American settlement west of the Rocky Mountains.[7] The county is the northwest corner of Oregon, and Astoria is located on the south shore of the Columbia River, where the river flows into the Pacific Ocean. The city is named for John Jacob Astor, an investor and entrepreneur from New York City, whose American Fur Company founded Fort Astoria at the site and established a monopoly in the fur trade in the early nineteenth century. Astoria was incorporated by the Oregon Legislative Assembly on October 20, 1876.[1]
The city is served by the deepwater Port of Astoria. Transportation includes the Astoria Regional Airport. U.S. Route 30 and U.S. Route 101 are the main highways, and the 4.1-mile (6.6 km) Astoria–Megler Bridge connects to neighboring Washington across the river. The population was 9,477 at the 2010 census.[8]
Geography
According to the United States Census Bureau, the city has a total area of 10.11 square miles (26.18 km2), of which 6.16 square miles (15.95 km2) is land and 3.95 square miles (10.23 km2) is water.[40]
Climate
Astoria lies within the Mediterranean climate zone (Köppen Csb), with cool winters and mild summers, although short heat waves can occur. Rainfall is most abundant in late fall and winter and is lightest in July and August, averaging approximately 67 inches (1,700 mm) of rain each year.[41] Snowfall is relatively rare, occurring in only three-fifths of years.[citation needed] Nevertheless, when conditions are ripe, significant snowfalls can occur.
Astoria is tied with Lake Charles, Louisiana, and Port Arthur, Texas, as the city with the highest average relative humidity in the contiguous United States.[citation needed] The average relative humidity in Astoria is 89% in the morning and 73% in the afternoon.[42]
Astoria aerial from Youngs Bay
An aerial view of the city
Annually, there are an average of only 4.2 afternoons with temperatures reaching 80 °F (26.7 °C) or higher, and 90 °F or 32.2 °C readings are rare. Normally there are only one or two nights per year when the temperature remains at or above 60 °F or 15.6 °C.[43] There are an average of 31 mornings with minimum temperatures at or below the freezing mark. The record high temperature was 101 °F (38.3 °C) on July 1, 1942. The record low temperature was 6 °F (-14.4 °C) on December 8, 1972, and on December 21, 1990.
There are an average of 191 days with measurable precipitation. The wettest "water year", defined as October 1 through September 30 of the next year, was from 1915–16 with 108.04 in (2,744 mm) and the driest from 2000–2001 with 44.50 in (1,130 mm). The most rainfall in one month was 36.07 inches (916.2 mm) in December 1933, and the most in 24 hours was 5.56 inches (141.2 mm) on November 25, 1998.[44] The most snowfall in one month was 26.9 in (68 cm) in January 1950,[45][46] and the most snow in 24 hours was 12.5 in (32 cm) on December 11, 1922.[44]
Coordinates: 46°11'20″N 123°49'16″W
https://goo.gl/maps/uKYRLn4PweGyhY1T9

Another Believer, CC BY-SA 3.0, via Wikimedia Commons
For those looking for more information about , here are a few helpful links.
Visitor Information – https://www.astoria.or.us/#menu5
Activities, Dining, Accommodations and Events – https://visittheoregoncoast.com/cities/astoria/