Hot Tub Repair Service Black Butte, Swim Spa, Sauna
AllSpa is Oregon's biggest, most respected hot tub, swim spa, and sauna service company. For over 3 decades we've been serving the needs of all of our clients—whatever brand of hot tub, sauna, or swim spa they own. There's a spa or service for every need, from the only trade certified hot tub dealer in Oregon. Welcome to the trusted service department at Oregon Hot Tub properly licensed in WA and OR.
We're Here to Help:
Hot Tub, Spa Repair, Service, Maintenance
When it's time to repair your hot tub, swim spa, sauna, or pool, look no further than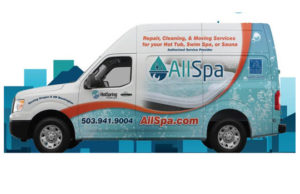 AllSpa. With over 38 years of experience repairing spa systems, we're on the job with certified, licensed and bonded professionals. Read more below to see how we can help you get back into hot water.
As the only Trade Certified Service Center in Oregon for Hot Tubs, we've been through the audits, and are in compliance with strict procedures and guidelines. All technicians has been thoroughly background checked, ready to meet the business goals that will keep us in business for many years. Relax, we're on the job when you need us most!
The AllSpa guarantee: If you have the exact issue occur within 30 days, we will be happy to waive our call-out fee. You just pay parts and labor for any new issues. All parts have a 1-year worry-free warranty.
Hot Tub, Swim Spa Drain and Fill
Ready to keep your hot tub, swim spa or sauna running like new without lifting a finger? We're pleased to offer a great variety of the best services for ensuring you stay in clean water, including drain and fill, signature spa care and recurring package services.
Hot Tub Cleaning Service, Portable Spa Maintenance
When it's time to relocate a spa, don't try and get it done alone. It takes experience and know how to move a spa quickly and efficiently. That's why we're here, with trusted professionals and five-star service to get your spa where it needs to be!
Hot Tub, Swim Spa Watercare
Keep your hot tub, swim spa or sauna clean all year round and never stress about forgetting to clean it.  Try out our recurring cleaning and water care plans and eliminate guesswork behind soaking in clean water.
Hot Tubs and Swim Spa Services Offered
• Hot Tub, Spa Repair, Service, Maintenance
• Jacuzzi Repair, Service, Maintenance
• Hot Tub, Swim Spa Drain and Fill
• Hot Tub Cleaning Service, Portable Spa Maintenance
• On-Site Water Analysis
• Insurance Claims
• Repair Services
• Spa Service Use Training
• Maintenance Inspections
• Hot Tub and Swim Spa Relocation and Set-Up
• Portable Sauna Relocation and Set-Up
• Crane Moving Services
• Real Estate Inspections
• Construction Design Consulting
Learn More About Our Award-Winning Hot Tub, Swim Spa Repair, Service and Maintenance. Contact Us Here:
• Hot Tub and Swim Spa Repair Services
• Hot Tub and Swim Spa Cleaning and Maintenance Services
• Schedule a Service or Repair
• Hot Tub Drain and Fill
• Swim Spa Drain and Fill
• Hot Tub Moving Services
• Hot Tub Sale
About Black Butte Source: https://en.wikipedia.org/wiki/Black_Butte_(Oregon)
Black Butte is an extinct stratovolcano in the U.S. state of Oregon. Located in Jefferson County, it is part of Deschutes National Forest. Black Butte forms part of the Cascade volcanic arc. The butte lies just south of the Metolius Springs, which merge to form the headwaters of the Metolius River. The Metolius River's basin sustains a wide array of plant life, large and small mammals, and more than 80 bird species.
Black Butte last erupted during the Pleistocene; geologists have estimated its age at 0.4, 0.5, and 1.43 ± 0.33 million years ago. The duration of the eruptions that built the volcano remains unclear, though the activity likely coincided with large-scale block faulting in the vicinity of the Metolius Springs. Black Butte has a prominent volcanic cone and is made up of mafic (rich in magnesium and iron) basaltic andesite lava. Despite having a well-preserved, symmetrical shape and an unexposed pyroclastic core, the butte has undergone moderate erosion, with shallow ravines, deep gullies on its sides, and rocks with weathering rinds. A number of cinder cones and a volcanic field also lie nearby the butte.
There was a fire lookout ground house on the butte, which was burned down by the United States Forest Service in 2016. A white cupola structure sits on the top of the butte as well as a more modern fire lookout tower. The resort community Black Butte Ranch lies nearby and offers recreational activities like horseback riding, biking, hiking, canoeing, kayaking, and paddleboarding; during the winter, activities include Nordic skiing and snowshoeing.
Nearby features
The Sixmile Butte lava field, of Pleistocene age, consists of ten cinder cones between Black Butte and Black Crater. These cones erupted basaltic andesite, which was deposited prior to the glacial advance at Suttle Lake.[33] The field encompasses about 25 square miles (65 km2).[34] Lava deposits from nearby Cache Mountain have a normal magnetic polarity, corresponding to an potassium–argon dating age of 0.9 ± 0.05 million years, suggesting they were produced during the Jaramillo normal polarity of the Matuyama period between 0.98 and 1.04 million years ago.[4] There is a chain of Pleistocene cinder cones east of the butte that trends from northwest to southeast, with other Pleistocene cinder cones located to the south.[9] There is also a mafic, well-preserved cinder cone above the Green Ridge fault zone, which produced a Pleistocene lava flow.[14]
Coordinates 44°23'59″N 121°38'08″W
https://goo.gl/maps/37FCX91dqUsB42u99

Aselfcallednowhere, CC BY-SA 3.0, via Wikimedia Commons
Black Butte, OR Map
For those looking for more information about Black Butte, OR, here are a few helpful links.
Hike Black Butte – http://www.oregon.com/recreation/hike-black-butte
Top 50 Black Butte Vacation Rentals – https://www.vrbo.com/vacation-rentals/usa/oregon/central-oregon/black-butte-ranch