Hot Tub Repair, Service Kelso, WA, Swim Spa and Pool Maintenance
AllSpa is Oregon's largest and most reliable hot tub, swim spa, and sauna service company. Since 1979, we've been meeting the needs of our customers, regardless of the brand hot tub, sauna, or swim spa they own. We happily offer a spa or service to suit any need—and as the only hot tub dealer in Oregon who is trade certified, we're competent and dependable. For quality you can trust, the service department at Oregon Hot Tub is fully licensed in WA and OR.
We Can Help.
Hot Tub, Spa Repair, Service, Maintenance
No one likes to deal with repairs on a hot tub, swim spa, sauna, or pool. But if you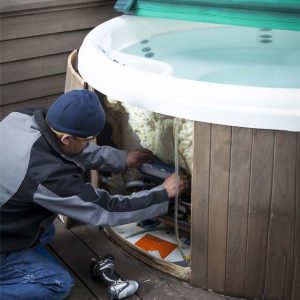 have to, choose experts who are certified, licensed and bonded. With over 38 years of hands-on expertise repairing spa systems, the Allspa team is on the job. Please read more below to learn how we can help you get back into hot water.
Did you know that Allspa is the only Trade Certified Service Center in Oregon for Hot Tubs? We've been through a rigorous independent audit, which concluded that we are in complete compliance with strict procedures and guidelines. Plus, all of our technicians are background checked, licensed and bonded for your protection. Relax, we'll be here to help when you need us most!
Here's our guarantee: If the same issue occurs within one month's time, we will be happy to waive our call-out fee. You simply need to pay for parts and labor for any new issues. And with a 1-year worry-free warranty on all part, we have you covered.
Hot Tub, Swim Spa Drain and Fill
Keeping your hot tub, swim spa or sauna looking and performing like new takes work—and we can do it for you! With a variety of excellent services to keep you in clean water, like drain and fill, signature spa care and recurring package services, we make ownership easy.
Hot Tub Cleaning Service, Portable Spa Maintenance, Moving
Moving a spa from place to place isn't easy – definitely not something to be tackled alone. Our in-house team has been successfully moving hot tubs and spas for years—fast, efficient and safe. That's why we're here, to provide five-star relocation services to get your spa where it needs to be!
Hot Tub, Swim Spa Watercare
Keep your hot tub, swim spa or sauna clean all year round and never stress about forgetting to clean it. Try out our recurring cleaning and water care plans and eliminate guesswork behind soaking in clean water.
Services Offered
• Hot Tub, Spa Repair, Service, Maintenance
• Jacuzzi Repair, Service, Maintenance
• Hot Tub, Swim Spa Drain and Fill
• Hot Tub Cleaning Service, Portable Spa Maintenance
• On-Site Water Analysis
• Insurance Claims
• Repair Services
• Spa Service Use Training
• Maintenance Inspections
• Hot Tub and Swim Spa Relocation and Set-Up
• Portable Sauna Relocation and Set-Up
• Crane Moving Services
• Real Estate Inspections
• Construction Design Consulting
Learn More About Our Award-Winning Hot Tub, Swim Spa Repair, Service and Maintenance. Contact Us Here:
• Hot Tub and Swim Spa Repair Services
• Hot Tub and Swim Spa Cleaning and Maintenance Services
• Schedule a Service or Repair
• Hot Tub Drain and Fill
• Swim Spa Drain and Fill
• Hot Tub Moving Services
• Hot Tub Sale
About Kelso Source: https://en.wikipedia.org/wiki/Kelso,_Washington
Kelso is a city in the southwestern part of the U.S. state of Washington and is the county seat of Cowlitz County.[5] At the 2010 census, the population was 11,925. Kelso is part of the Longview, Washington Metropolitan Statistical Area, which has a population of 102,410. Kelso shares its long western border with Longview. It is near Mount St. Helens.
Geography
Kelso is located on Interstate 5 at Exits 36, 39, 40 and 42, and is 48 miles (77 km) north of Portland, Oregon, 125 miles (201 km) south of Seattle, and 80 miles (130 km) from the Pacific Ocean beaches.
According to the United States Census Bureau, the city has a total area of 8.50 square miles (22.01 km2), of which 8.14 square miles (21.08 km2) is land and 0.36 square miles (0.93 km2) is water.[18]
Three rivers running through Kelso (the Columbia, Cowlitz and Coweeman) were used as part of a historical transportation route from Portland, Oregon and the Puget Sound.[19] Cowlitz steamboats were used as a mode of transportation until 1918.
Kelso and Longview comprise the "Twin Cities" of southwestern Washington.
Neighborhoods
Aldercrest
Butler Acres
Davis Terrace
East Kelso
Hilltop
Lexington
Mt. Brynion
North Kelso
Old Kelso Hill
South Kelso
West Kelso
Rose Valley
Coordinates: 46°8'31″N 122°54'22″W
https://goo.gl/maps/fdvoschVAAxtXiQs9

Arkyan, CC BY-SA 3.0, via Wikimedia Commons
For those looking for more information about Kelso, WA, here are a few helpful links.
Things to do in Kelso – https://www.kelso.gov/Visitors/Things-To-Do
Kelso Attractions – https://www.hotelplanner.com/Attractions/45421-Things-to-do-in-Kelso-Longview-WA#dir-bar