Hot Tub Repair Service Rainier, OR, Swim Spas, Saunas
Welcome to AllSpa, Oregon's biggest and most trusted hot tub, swim spa, and sauna service company! Since 1979, we've been over-delivering on a promise to meet the needs of our community, regardless what brand hot tub, sauna, or swim spa they own. We're sure to have the perfect spa or time saving service for you. As the only hot tub dealer in Oregon who is trade certified, we're happy to help. Meet the service department at Oregon Hot Tub, properly licensed in WA and OR.
Here's How We Can Help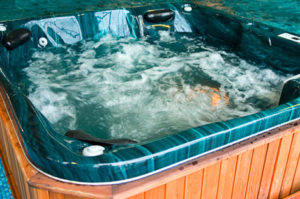 Hot Tub, Spa Repair, Service, Maintenance
Need something fixed on your tub, swim spa, sauna, or pool? You're in good hands at AllSpa. Each of our repair technicians is certified, licensed and bonded. And with over 38 years of experience repairing spa systems, we're sure to be of help. Read more below to see how we can help you get back into hot water.
AllSpa is proud to be the only Trade Certified Service Center in Oregon for Hot Tubs. That means we've gone through the audits, and can say that we meet strict service procedures and guidelines. Plus, with complete background checks, full licensing, bonding and more, we'll be here to help when you need us.
Our guarantee: If within 30 days of repair, you have the same issue, we will happily waive our call-out fee. You pay for parts and labor on new issues, with a 1-year worry-free warranty on all parts.
Hot Tub, Swim Spa Drain and Fill
Why struggle keeping your hot tub, swim spa or sauna in perfect running shape when the team at AllSpa can do it for you? Don't lift a finger, because we have a variety of services to keep you in clean water, including drain and fill, signature spa care and recurring package services.
Hot Tub Cleaning Service, Portable Spa Maintenance, Moving
Are you getting ready to move the spa? Relocating a spa is not something anyone should attempt alone. A safe, reliable move takes experience to accomplish right. We have a five star moving crew who can move your hot tub effortlessly for a happy, stress free move. That's why we're here, to get your spa where it needs to be!
Hot Tub, Swim Spa Watercare
Keep your hot tub, swim spa or sauna clean all year round and never stress about forgetting to clean it. Try out our recurring cleaning and water care plans and eliminate guesswork behind soaking in clean water.
Services Offered
• Hot Tub, Spa Repair, Service, Maintenance
• Jacuzzi Repair, Service, Maintenance
• Hot Tub, Swim Spa Drain and Fill
• Hot Tub Cleaning Service, Portable Spa Maintenance
• On-Site Water Analysis
• Insurance Claims
• Repair Services
• Spa Service Use Training
• Maintenance Inspections
• Hot Tub and Swim Spa Relocation and Set-Up
• Portable Sauna Relocation and Set-Up
• Crane Moving Services
• Real Estate Inspections
• Construction Design Consulting
Learn More About Our Award-Winning Hot Tub, Swim Spa Repair, Service and Maintenance. Contact Us Here:
• Hot Tub and Swim Spa Repair Services
• Hot Tub and Swim Spa Cleaning and Maintenance Services
• Schedule a Service or Repair
• Hot Tub Drain and Fill
• Swim Spa Drain and Fill
• Hot Tub Moving Services
• Hot Tub Sale
About Rainier Source: https://en.wikipedia.org/wiki/Rainier,_Oregon
Rainier is a city in Columbia County, Oregon, United States. The city's population was 1,895 at the 2010 census. Rainier is on the south bank of the Columbia River across from Kelso and Longview, Washington.
Geography
Implosion of Trojan Nuclear plant cooling tower in 2006
According to the United States Census Bureau, the city has a total area of 2.62 square miles (6.79 km2), of which 1.76 square miles (4.56 km2) is land and 0.86 square miles (2.23 km2) is water.[7]
Rainier is surrounded by a number of rural communities. In the past, these places acted as separate communities. Today, most businesses and services have left these rural sites, and the communities are part of a large unincorporated area that receive services out of Rainier. These communities include Fern Hill, Hudson, Alston, Apiary, Goble, and Prescott. Except for Prescott, which is an incorporated city (despite having neither a post office nor a separate telephone exchange), little remains to identify these places today other than left-over identifying signs or historic landmarks, such as abandoned or converted school buildings. Residents here may say they live in Rainier or will alternatively use the name of the individual community.[citation needed]
The Lewis and Clark Bridge spans the Columbia River, linking Rainier to Longview, Washington. It is the only bridge, that spans the entire width of the river, between Portland and Astoria, Oregon.
Coordinates: 46°5'24″N 122°56'33″W
https://goo.gl/maps/ZStn6drfpyu2mbrB6

User:akampfer, CC BY-SA 3.0, via Wikimedia Commons
For those looking for more information about Rainier, OR, here are a few helpful links.
Best of Rainier – https://www.tripadvisor.com/Tourism-g52032-Rainier_Oregon-Vacations.html
City of Rainier – http://www.cityofrainier.com/
Rainier, OR Map