Hot Tub Repair, Service Ridgefield WA, Swim Spa and Pool Maintenance
As Oregon's biggest and most reliable hot tub, swim spa, and sauna service company, Allspa proudly meets the needs of our clients—and has been since 1979. Regardless of the brand of hot tub, sauna, or swim spa you own, we provide service to suit any need. We're also the only hot tub dealer in Oregon who is trade certified. Fully licensed in WA and OR, trust the service department at Oregon Hot Tub for all your needs.
Here's How We Can Help
Hot Tub, Spa Repair, Service, Maintenance
If you need to repair your hot tub, swim spa, sauna, or pool, turn to us. Fully certified, licensed, and bonded, we have over 38 years of hands-on experience repairing spa systems. Please see below to learn more about how we can help you get back into hot water.
As the only Trade Certified Service Center in Oregon for Hot Tubs, Allspa has been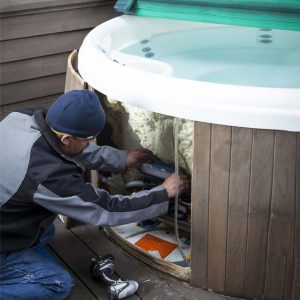 independently audited and is in compliance with strict procedures and guidelines. Our technicians are background checked, licensed and bonded for peace of mind.
Here's our guarantee: If within 30 days, you experience the same issue, we will waive our call-out fee. You pay only parts and labor for new issues. And of course, all parts have a 1-year worry-free warranty.
Hot Tub, Swim Spa Drain and Fill
When you need to keep your hot tub, swim spa or sauna running great, we can help! We offer a wide variety of services to keep you in clean water, including drain and fill, signature spa care and recurring package services.
Hot Tub Cleaning Service, Portable Spa Maintenance, Moving
When it's time to move your spa, turn to the experts. A successful move requires experience and a team that can get it done safely and in the easiest way possible. Allspa is equipped with five-star service to get your spa where it needs to be!
Hot Tub, Swim Spa Watercare
Keep your hot tub, swim spa or sauna clean all year round and never stress about forgetting to clean it. Try out our recurring cleaning and water care plans and eliminate guesswork behind soaking in clean water.
Services Offered
• Hot Tub, Spa Repair, Service, Maintenance
• Jacuzzi Repair, Service, Maintenance
• Hot Tub, Swim Spa Drain and Fill
• Hot Tub Cleaning Service, Portable Spa Maintenance
• On-Site Water Analysis
• Insurance Claims
• Repair Services
• Spa Service Use Training
• Maintenance Inspections
• Hot Tub and Swim Spa Relocation and Set-Up
• Portable Sauna Relocation and Set-Up
• Crane Moving Services
• Real Estate Inspections
• Construction Design Consulting
Learn More About Our Award-Winning Hot Tub, Swim Spa Repair, Service and Maintenance. Contact Us Here:
• Hot Tub and Swim Spa Repair Services
• Hot Tub and Swim Spa Cleaning and Maintenance Services
• Schedule a Service or Repair
• Hot Tub Drain and Fill
• Swim Spa Drain and Fill
• Hot Tub Moving Services
• Hot Tub Sale
About Ridgefield WA Source: https://en.wikipedia.org/wiki/Ridgefield,_Washington
Ridgefield is a city in northern Clark County, Washington, in the United States. The population was 4,763 at the 2010 census. Located within the Portland metropolitan area, Ridgefield is notable for the significant Native American history and connection to the Lewis and Clark Expedition. It is also the headquarters of the Ridgefield National Wildlife Refuge, a primary reserve for migrating waterfowl on the Pacific Flyway, and the home of the Ridgefield High School "Spudders" (reflecting the area's potato-farming heritage).
Geography
According to the United States Census Bureau, the city has a total area of 7.18 square miles (18.60 km2), of which 7.08 square miles (18.34 km2) is land and 0.10 square miles (0.26 km2) is water.[9][10]
Parks in Ridgefield include Abrams Park, Community Park, Davis Park, and Overlook Park. The Ridgefield Veterans Memorial is adjacent to Community Park. Jefferson Davis Park, a private park just outside Ridgefield, serves as a Confederate memorial.
Government
Ridgefield has a council–manager form of government, with a city manager who is appointed by a city council with seven elected members. The city council also selects a mayor from among themselves.[11] The current city manager is Steve Stuart, a former county commissioner who was hired in 2014.[12] Don Stose has served as mayor since 2018, replacing ten-year mayor Ron Onslow after his retirement.[13]

Jeff Silverstein / Jeffsilverstein at en.wikipedia, Public domain, via Wikimedia Commons
Coordinates: 45°48'55″N 122°43'40″W
https://goo.gl/maps/jwPQTfmqVHDvrWF4A
 For those looking for more information about Ridgefeild, WA, here are a few helpful links.
Things to Do in Ridgefeild – https://ridgefieldwa.us/things-to-do/
Community Events in Ridgefeild – https://ridgefieldwa.us/things-to-do/community-events/community-events-calendar/
City of Ridgefield – https://ridgefieldwa.us/