Hot Tub Repair, Service St Helens, Swim Spas, Saunas, Pools Maintenance
Oregon's largest and most respected hot tub, swim spa, and sauna service company, Allspa has been satisfying customers since 1979. We take pride in meeting your needs, whatever brand of hot tub, sauna, or swim spa you own. Not only that, we're also the only hot tub dealer in Oregon who is trade certified. Trusted and competent, the service departments at Oregon Hot Tub are properly licensed in WA and OR.
Here's How We Can Help
Hot Tub, Spa Repair, Service, Maintenance 
Need a repair on your hot tub, swim spa, sauna, or pool? We can help! Fully certified, licensed, and bonded, we have over 38 years of hands-on experience repairing spa systems. Learn more below and see how we can help you enjoy hot water again.
The only Trade Certified Service Center in Oregon for Hot Tubs, Allspa has been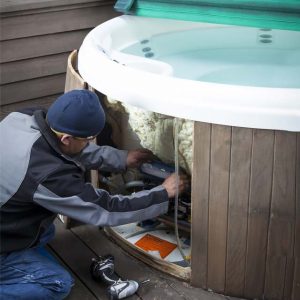 independently audited and found to comply with strict procedures and guidelines. Our technicians are background checked, licensed and bonded for your protection. And, we meet business goals that will keep us in business for many years. We'll be around to help you out when you need it most!
The Allspa guarantee: Within 30 days, if the same issue occurs, we will happily waive our call-out fee. Simply pay for parts and labor on any new issues and enjoy a 1-year worry-free warranty.
Hot Tub, Swim Spa Drain and Fill 
Keep your hot tub, swim spa or sauna running like new with consistent, dependable maintenance. We offer a wide range of convenient services to help you keep clean water, including drain and fill, signature spa care and recurring package services.
Hot Tub Cleaning Service, Portable Spa Maintenance, Moving
Moving a spa is not something people should try and do on their own. It takes years of experience and knowledge to complete a move in the safest, fastest and easiest way possible. That's what we offer: five-star service to get your spa where it needs to be!
Hot Tub, Swim Spa Watercare
Keep your hot tub, swim spa or sauna clean all year round and never stress about forgetting to clean it. Try out our recurring cleaning and water care plans and eliminate guesswork behind soaking in clean water.
Services Offered
• Hot Tub, Spa Repair, Service, Maintenance
• Jacuzzi Repair, Service, Maintenance
• Hot Tub, Swim Spa Drain and Fill
• Hot Tub Cleaning Service, Portable Spa Maintenance
• On-Site Water Analysis
• Insurance Claims
• Repair Services
• Spa Service Use Training
• Maintenance Inspections
• Hot Tub and Swim Spa Relocation and Set-Up
• Portable Sauna Relocation and Set-Up
• Crane Moving Services
• Real Estate Inspections
• Construction Design Consulting
Learn More About Our Award-Winning Hot Tub, Swim Spa Repair, Service and Maintenance. Contact Us Here:
• Hot Tub and Swim Spa Repair Services
• Hot Tub and Swim Spa Cleaning and Maintenance Services
• Schedule a Service or Repair
• Hot Tub Drain and Fill
• Swim Spa Drain and Fill
• Hot Tub Moving Services
• Hot Tub Sale
About St Helens, OR Source: https://en.wikipedia.org/wiki/St._Helens,_Oregon
St. Helens is the county seat of Columbia County, Oregon. It was founded by Captain Henry Montgomery Knighton, a native of New England, in 1845, as "Plymouth". The name was changed to St. Helens in the latter part of 1850 for its view of Mount St. Helens, roughly 39 miles (63 km) away in Washington. The city is about 28 miles (45 km) northwest of Portland. Its population was 12,883 at the 2010 census.[6]
History
St. Helens was established as a river port on the Columbia River in the 1840s. The original town was surveyed and platted by Scottish-born Peter Crawford.[7] In 1853, the Pacific Mail Steamship Company tried to make the city their only stop on the Columbia River.[8] Portland's merchants boycotted this effort, and the San Francisco steamship Peytona helped break the impasse.[8] St. Helens was incorporated as a city in 1889.[9]
The Lewis and Clark Expedition passed through and camped in the area that is now St. Helens on the night of November 5, 1805, while on their way to the Pacific Ocean. While there, the party encountered Native Americans and Clark observed "low rockey clifts".[10]
Geography
U.S. Route 30 passes through the city.[11]
According to the United States Census Bureau, the city has a total area of 5.51 square miles (14.27 km2), of which 4.53 square miles (11.73 km2) is land and 0.98 square miles (2.54 km2) is covered by water.[12]
Tourism
In October, the town embraces the Halloween spirit with a month-long celebration of spooky events and decorations geared toward entertaining crowds of families. The Riverfront District in St. Helens, Oregon served as the backdrop for the 1998 Disney Channel Original Movie Halloweentown.[22] The film adaptation of Stephanie Meyer's novel Twilight also filmed in the town.[23]

Gary Halvorson, Oregon State Archives, Attribution, via Wikimedia Commons
Coordinates: 45°51'34″N 122°49'1″W
https://goo.gl/maps/H6ACA5Hdj6gb1doa8
For those looking for more information about St Helens, OR, here are a few helpful links.
The Best of St. Helens – https://www.tripadvisor.com/Tourism-g52051-Saint_Helens_Oregon-Vacations.html
Visitor Information – https://www.ci.st-helens.or.us/community/page/visit-st-helens