A big hello from AllSpa! We're locally owned and operated, and proud to be one of the largest and most reliable repair, cleaning, and maintenance company in Oregon and Washington. We happily service all top brands of hot tubs, swim spas, and saunas.
We're also the only trade certified hot tub service center in Oregon and a proud service partner of Oregon Hot Tub.
Hot Tub, Swim Spa Repair and Service – Warranty Service, Inspections
If you've ever wondered how to repair your hot tub at home, or struggled to find a hot tub service center you can trust, we can help! As a competent and trusted hot tub repair company, we're pleased to get you back in hot water.
We're a Trade Certified Service Center – The Only One in Oregon for Hot Tubs.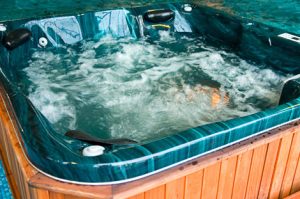 What does it mean to be 'trade certified'? It means we've been audited, and we were found to comply with strict procedures and guidelines. Our service team is top notch too. They've all been background checked, licensed and bonded for your protection. With a reputation like this, it's easy to see why we've been in business since 1979!
Hot Tub, Swim Spa Cleaning and Maintenance
One-Time Cleanings, Monthly and Annual Plans, Water Balancing. Ready to make your hot tub, swim spa or sauna shine? We have a great selection of in-demand cleaning services, including signature spa care and recurring cleaning services.
Hot Tub, Swim Spa Watercare
Ensure your hot tub, swim spa and sauna stays clean and healthy all year long, without having to worry about it!
Smart and convenient, recurring cleaning and water care plans take away the guesswork, so you can enjoy your investment.
Hot Tub, Swim Spa Drain and Fill
Consider purchasing our one-time hot tub drain and fill service for a trial. If you love it, we'll be happy to deduct the cost of your service from an annual care plan of your choice within 14 days!
Services Offered
• Hot Tub, Spa Repair, Service, Maintenance
• Jacuzzi Repair, Service, Maintenance
• Hot Tub, Swim Spa Drain and Fill
• Hot Tub Cleaning Service, Portable Spa Maintenance
• On-Site Water Analysis
• Insurance Claims
• Repair Services
• Spa Service Use Training
• Maintenance Inspections
• Hot Tub and Swim Spa Relocation and Set-Up
• Portable Sauna Relocation and Set-Up
• Crane Moving Services
• Real Estate Inspections
• Construction Design Consulting
Learn More About Our Award-Winning Hot Tub, Swim Spa Repair, Service and Maintenance. Contact Us Here:
• Hot Tub and Swim Spa Repair Services
• Hot Tub and Swim Spa Cleaning and Maintenance Services
• Schedule a Service or Repair
• Hot Tub Drain and Fill
• Swim Spa Drain and Fill
• Hot Tub Moving Services
• Hot Tub Sale
About Sunnyside Source: https://en.wikipedia.org/wiki/Sunnyside,_Clackamas_County,_Oregon
Sunnyside is a former census-designated place in Clackamas County in the U.S. state of Oregon. Located in the Portland metropolitan area along Interstate 205, the population was 6,791 at the 2000 census. The area was not recorded as a distinct place for the 2010 census.
Geography
Location of Sunnyside, Oregon
According to the United States Census Bureau, the CDP had a total area of 2.6 square miles (6.7 km2), all land.
Demographics
As of the census[1] of 2000, there were 6,791 people, 2,751 households, and 1,735 families residing in the CDP. The population density was 2,620.9 people per square mile (1,012.4/km2). There were 2,900 housing units at an average density of 1,119.2/sq mi (432.3/km2). The racial makeup of the CDP was 84.91% White, 1.38% African American, 0.69% Native American, 7.05% Asian, 0.31% Pacific Islander, 2.12% from other races, and 3.53% from two or more races. Hispanic or Latino of any race were 4.56% of the population.
There were 2,751 households, out of which 30.9% had children under the age of 18 living with them, 49.1% were married couples living together, 10.4% had a female householder with no husband present, and 36.9% were non-families. 25.2% of all households were made up of individuals, and 2.8% had someone living alone who was 65 years of age or older. The average household size was 2.47 and the average family size was 3.01.
In the CDP, the population was spread out, with 23.5% under the age of 18, 15.3% from 18 to 24, 31.3% from 25 to 44, 23.1% from 45 to 64, and 6.7% who were 65 years of age or older. The median age was 31 years. For every 100 females, there were 98.1 males. For every 100 females age 18 and over, there were 99.9 males.
The median income for a household in the CDP was $45,395, and the median income for a family was $52,500. Males had a median income of $37,435 versus $31,284 for females. The per capita income for the CDP was $25,276. About 8.3% of families and 8.5% of the population were below the poverty line, including 10.0% of those under age 18 and 7.0% of those age 65 or over.

M. O. Stevens, CC BY-SA 3.0, via Wikimedia Commons
Coordinates: 45.432022°N 122.556986°W –
https://goo.gl/maps/ZPRTjLnkouUbuqcW9
https://www.mapquest.com/us/oregon/sunnyside-or-283441468
Here's more information about Sunnyside
https://en.wikipedia.org/wiki/Sunnyside,_Oregon
https://www.sunnysideinnandsuites.com/
https://oregonhottub.com/sunnyside-hot-tub-dealer/