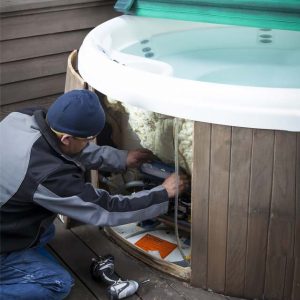 Welcome to AllSpa! We're locally owned and operated, and proud to be one of the biggest and most competent repair, cleaning, and maintenance companies in Oregon and Washington, servicing all brands of hot tubs, swim spas, and saunas.
We're also the only trade certified hot tub repair service center in Oregon, and a proud service partner of Oregon Hot Tub.
Hot Tub, Swim Spa Repair and Service – Warranty Service, Inspections
When it's time for hot tub, sauna or swim spa repair, don't struggle! Why DIY when we can help! Look no further than the talented team at AllSpa for the best hot tub repair in the area!  Oregon's ONLY Trade Certified Service Center for Hot Tubs.
Let the results speak for themselves! We've been audited, and are in total compliance with every procedure and strict guideline. Never worry, because each of our technicians are thoroughly background checked, licensed and bonded! This is how we do business and have been since 1979.
Hot Tub, Swim Spa Cleaning and Maintenance
One-Time Cleanings, Monthly and Annual Plans, Water Balancing. Looking for a new way to clean your hot tub, swim spa or sauna? Turn to the team at AllSpa for a variety of services to keep clean, healthy water, including signature spa care and recurring cleaning services.
Hot Tub, Swim Spa Watercare
Oh no! Did you forget to schedule time to clean your hot tub, swim spa or sauna? Let us help you keep clean water year-round with our recurring cleaning and water care plans! Remove the guesswork and make it easy to stay in clean, healthy water.
Hot Tub, Swim Spa Drain and Fill
Ready to try out our hot tub drain and fill service? Purchase a one-time service, and if you love it, we'll credit what you paid towards an annual care plan of your choice within 14 days!
Services Offered
• Hot Tub, Spa Repair, Service, Maintenance
• Jacuzzi Repair, Service, Maintenance
• Hot Tub, Swim Spa Drain and Fill
• Hot Tub Cleaning Service, Portable Spa Maintenance
• On-Site Water Analysis
• Insurance Claims
• Repair Services
• Spa Service Use Training
• Maintenance Inspections
• Hot Tub and Swim Spa Relocation and Set-Up
• Portable Sauna Relocation and Set-Up
• Crane Moving Services
• Real Estate Inspections
• Construction Design Consulting
Learn More About Our Award-Winning Hot Tub, Swim Spa Repair, Service and Maintenance. Contact Us Here:
• Hot Tub and Swim Spa Repair Services
• Hot Tub and Swim Spa Cleaning and Maintenance Services
• Schedule a Service or Repair
• Hot Tub Drain and Fill
• Swim Spa Drain and Fill
• Hot Tub Moving Services
• Hot Tub Sale
About Tigard Source: https://en.wikipedia.org/wiki/Tigard,_Oregon
Tigard /'ta?g?rd/ is a city in Washington County, Oregon, United States. The population was 48,035 at the 2010 census.[5] As of 2007, Tigard was the state's 12th largest city.[6] Incorporated in 1961, the city is located south of Beaverton and north of Tualatin, and is part of the Portland metropolitan area. Interstate 5 and Oregon Route 217 are the main freeways in the city, with Oregon Route 99W and Oregon Route 210 serving as other major highways. Public transit service is provided by TriMet, via several bus routes and the WES Commuter Rail line.
Local attractions
Lincoln Tower at Lincoln Center
The John Tigard House, constructed by the son of Wilson M. Tigard in 1880 at the corner of SW Pacific Hwy and SW Gaarde St, remains, having been saved from demolition in the 1970s by the Tigard Area Historical and Preservation Association. It became registered as a National Historic Place in 1979, and now stands at the corner of SW Canterbury Lane and SW 103rd.
During the Portland Rose Festival every summer, the Tigard Festival of Balloons is held at Cook Park near Tigard High School.[19] The tallest building in both the city and county is a 12-story building at Lincoln Center.[20]
Broadway Rose Theatre Company is a professional musical theatre company based in Tigard. The company performs at their home theatre, The New Stage (located just west of downtown Tigard) and at Tigard High School during the summer months. It was founded in 1991 by Dan Murphy, Sharon Maroney and Tigard native Joseph Morkys. What began as a small summer stock theatre has grown into a large, nonprofit organization, and has received many regional theatre awards including several Drammys,[21] Portland Area Musical Theatre Awards[22] and BroadwayWorld Portland Awards.[23]
Education
The city of Tigard falls mostly under the jurisdiction of the Tigard-Tualatin School District; however, some of the northwesternmost part of the city falls under the jurisdiction of the Beaverton School District. The Tigard-Tualatin School District contains ten elementary schools, three middle schools and two high schools. Tigard is home to Tigard High School, Fowler Middle School, Twality Middle School, Alberta Rider Elementary, CF Tigard Elementary, Durham Elementary, Mary Woodward Elementary, Deer Creek Elementary and Templeton Elementary. The district also operates the alternative school Durham Education Center.
Private schools include Gaarde Christian School,[24] Oregon Islamic Academy and Westside Christian High School. Higher education includes a branch of Everest Institute, a branch of the University of Phoenix, and a branch of National American University. The closest traditional four-year college is Lewis & Clark College in Portland. The city operates the Tigard Public Library, which started in 1963.[25]
From the 1980s until 1992 the Portland Japanese School, a weekend Japanese educational program for Japanese citizens and Japanese Americans, was held at Twality Middle School.[2]

M.O. Stevens, Public domain, via Wikimedia Commons
Coordinates: 45°25'40″N 122°46'44″W – https://goo.gl/maps/os8M3oBTKKvmsrxV6
Here's more information about Tigard
https://www.tigard-or.gov/
https://www.ttsdschools.org/ths
https://tigardmusic.com/