Hot Tub Repair Tillamook, Swim Spa Service, Pool Maintenance
Since 1979, AllSpa has been serving the community as Oregon's largest and most trusted hot tub, swim spa, and sauna service company. We take pride in exceeding the expectations of all of our clients, whatever hot tub, sauna, or swim spa brand they own.
We're recognized for exceptional service, and we're the only hot tub dealer in Oregon who is trade certified. For trusted sales and service, Oregon Hot Tub is here for all your needs.
Here's How We Can Help
Hot Tub, Spa Repair, Service, Maintenance
No one likes to have to repair a hot tub, swim spa, sauna, or pool. But with over 38 years of experience, full certification, licensing and bonding, we're trusted professionals. Read more below to see how we can help you get back into hot water.
We're the only Trade Certified Service Center in Oregon for Hot Tubs. What does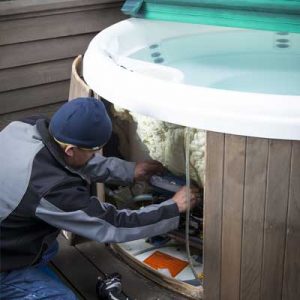 that mean? Simply that we've had an independent audit, which found that we comply with all procedures and guidelines. Our technicians are background checked, licensed, bonded, and ready to go. We'll here when you need us most!
The Allspa guarantee: If you find the same issue returns within 30 days, we'll waive our call-out fee so you only need to pay for parts and labor from new issues. Of course, all parts have a 1-year warranty.
Hot Tub, Swim Spa Drain and Fill
Keeping your hot tub, swim spa or sauna in perfect running shape is the key to maximum enjoyment. Ready for maintenance without effort? We're happy to offer a wide range of services to keep your water clean, including drain and fill, signature spa care and convenient package services.
Hot Tub Cleaning Service, Portable Spa Maintenance, Moving
Don't try and move your spa alone! Relocating a spa takes experience and know-how to do it safely. For fast, reliable relocation, we can provide peace of mind in a 5-star service guaranteed to get your spa where it needs to be!
Hot Tub, Swim Spa Watercare
Keep your hot tub, swim spa or sauna clean all year round and never stress about forgetting to clean it. Try out our recurring cleaning and water care plans and eliminate guesswork behind soaking in clean water.
Services Offered
• Hot Tub, Spa Repair, Service, Maintenance
• Jacuzzi Repair, Service, Maintenance
• Hot Tub, Swim Spa Drain and Fill
• Hot Tub Cleaning Service, Portable Spa Maintenance
• On-Site Water Analysis
• Insurance Claims
• Repair Services
• Spa Service Use Training
• Maintenance Inspections
• Hot Tub and Swim Spa Relocation and Set-Up
• Portable Sauna Relocation and Set-Up
• Crane Moving Services
• Real Estate Inspections
• Construction Design Consulting
Learn More About Our Award-Winning Hot Tub, Swim Spa Repair, Service and Maintenance. Contact Us Here:
• Hot Tub and Swim Spa Repair Services
• Hot Tub and Swim Spa Cleaning and Maintenance Services
• Schedule a Service or Repair
• Hot Tub Drain and Fill
• Swim Spa Drain and Fill
• Hot Tub Moving Services
• Hot Tub Sale
About Tillamook Source: https://en.wikipedia.org/wiki/Tillamook,_Oregon
The city of Tillamook /'t?l?m?k/ is the county seat of Tillamook County, Oregon, United States. The city is located on the southeast end of Tillamook Bay on the Pacific Ocean. The population was 4,935 at the 2010 census.
Geography
According to the United States Census Bureau, the city has a total area of 1.7 square miles (4.40 km2), all of it land.[7] The Tillamook area is also home to five rivers, the Tillamook, Trask, Wilson, Kilchis, and the Miami just north of the city.
Economy
Historically, the Tillamook economy has been based primarily on dairy farms. The farmland surrounding the city is used for grazing the milk cattle that supply the Tillamook County Creamery Association's production of cheese, particularly cheddar, gourmet ice cream and yogurt, and other dairy products. Approximately one million people visit the cheese factory (located north of Tillamook on Highway 101) each year.[10]
The lumber industry also is experiencing a comeback from the replanting that followed the Tillamook Burn forest fires of the mid-20th century. Burned remains of some of the trees can still be found in the forests surrounding Tillamook.
Tillamook also serves tourists on their way to the ocean beaches and as a location for second homes.
Arts and culture
Museums and other points of interest
Tillamook Creamery and Museum
Inside the Tillamook Cheese Factory
Tillamook plant small cheese block processing lines
The Tillamook Air Museum, which features over 15 aircraft, an Exhibit Hall with rare wartime and aviation-themed artifacts, is located just south of the city. It is housed in a wooden WWII blimp hangar that was once a part of Naval Air Station Tillamook. In 1991, illusionist David Copperfield filmed a train car disappearance illusion for a TV special in Hangar B.[11] Its sister hangar (Hangar A) was destroyed by a fire in 1992. The hangars were built with old-growth trees and one can see the huge seamless beams inside the buildings.
The Tillamook Cheese Factory is the Tillamook County Creamery Association's original cheese production facility. The Tillamook Cheese Factory also serves as a Visitor Center and hosts over 1 million tourists each year. Visitors can learn about the cheese-making process, cheese-packaging process, and the ice cream-making process from a viewing gallery over the main production floor. Tours are self-guided and self-paced, and are augmented by video presentations and interactive kiosks.[12] Tours inside the actual cheese-processing area of the plant were discontinued in 1967 due to health and safety regulations.[13]
The Tillamook County Fair is world-famous for the annual Pig-N-Ford race where contestants have to catch a pig and race stripped Model T Fords around an oval track with the pig under one arm.

Amos Meron, CC BY-SA 3.0, via Wikimedia Commons
Coordinates: 45°27'19″N 123°50'33″W
https://goo.gl/maps/SSApBterK3dVXNBA8
For those looking for more information about Tillamook, OR, here are a few helpful links.
Essential Tillamook Coast Destinations – https://tillamookcoast.com/
OREGON COAST VISITORS ASSOCIATION – https://visittheoregoncoast.com/cities/tillamook/