Hot Tub Repair Woodburn, Swim Spa Service, Pool Maintenance
AllSpa is Oregon's biggest and most exciting hot tub, swim spa, and sauna service company. For over three decades, we've been serving the needs of our community, regardless of which brand hot tub, sauna, or swim spa they own.
We offer incredible spas and reliable service to meet all needs, and we're the only Oregon hot tub dealer who is trade certified. Of course, the competent service department at Oregon Hot Tub is properly licensed in WA and OR.
Here's How We Can Help
Hot Tub, Spa Repair, Service, Maintenance 
Repair work is never fun, but when you need trusted expertise, we can help. Completely certified, licensed and bonded to repair hot tubs, swim spas, saunas and pools, we have over 38 years of hands-on experience. Please read more below to see how we can help you get back into hot water.
As the only Trade Certified Service Center in Oregon for Hot Tubs, we're proud to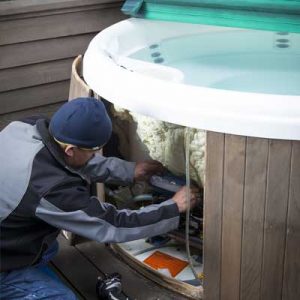 share the results of an independent audit—we were found to be in compliance with all strict procedures and guidelines. Plus, our technicians are thoroughly background checked, licensed and bonded—we meet every benchmark we set to stay in business for years to come.
Check out our service guarantee: if the same issue shows up within 30 days, we'll waive the call-out fee for you! Simply pay parts and labor for any new issues. And of course, our parts are backed by a 1-year warranty.
Hot Tub, Swim Spa Drain and Fill 
The key to ensuring your hot tub, swim spa or sauna works perfectly is proper maintenance. We offer a wide range of hassle free maintenance services including drain and fill, signature spa care and recurring package services.
Hot Tub Cleaning Service, Portable Spa Maintenance, Moving
Transporting your spa from on location to another can be tough. With qualified professionals by your side, you have peace of mind that your spa will be moved fast, safely and with the utmost care. Our skilled team is ready to provide five-star service to get your spa where it needs to be!
Hot Tub, Swim Spa Watercare
Keep your hot tub, swim spa or sauna clean all year round and never stress about forgetting to clean it. Try out our recurring cleaning and water care plans and eliminate guesswork behind soaking in clean water.
Services Offered
• Hot Tub, Spa Repair, Service, Maintenance
• Jacuzzi Repair, Service, Maintenance
• Hot Tub, Swim Spa Drain and Fill
• Hot Tub Cleaning Service, Portable Spa Maintenance
• On-Site Water Analysis
• Insurance Claims
• Repair Services
• Spa Service Use Training
• Maintenance Inspections
• Hot Tub and Swim Spa Relocation and Set-Up
• Portable Sauna Relocation and Set-Up
• Crane Moving Services
• Real Estate Inspections
• Construction Design Consulting
Learn More About Our Award-Winning Hot Tub, Swim Spa Repair, Service and Maintenance. Contact Us Here:
• Hot Tub and Swim Spa Repair Services
• Hot Tub and Swim Spa Cleaning and Maintenance Services
• Schedule a Service or Repair
• Hot Tub Drain and Fill
• Swim Spa Drain and Fill
• Hot Tub Moving Services
• Hot Tub Sale
About Woodburn Source: https://en.wikipedia.org/wiki/Woodburn,_Oregon
Woodburn is a city in Marion County, Oregon, United States. Incorporated in 1889, the community had been platted in 1871 after the arrival of the railroad. The city is located in the northern end of the Willamette Valley between Portland and Salem. Interstate 5 connects it to major cities to the north and south. Oregon routes 211, 214, 219, and 99E also serve the city, as do Union Pacific and Willamette Valley Railway freight rail lines.
Woodburn is part of the Salem Metropolitan Statistical Area. With a population of 24,080 at the 2010 census, it is the third-most populous in that metropolitan area after Salem and Keizer.[7] Those who identify as Hispanic or Latino make up a majority of the population in the city. The Woodburn area also has a significant historic population of Russian Orthodox Old Believers, whose ancestors settled here after the October Revolution of 1917.
Economy
In August 1999, Woodburn Premium Outlets, known as the Woodburn Company Stores until June 2013, opened in Woodburn. This is an outlet mall with many name-brand clothing companies represented, including Adidas, Nike, Gap, and Banana Republic.
MacLaren Youth Correctional Facility is on Oregon Route 99E on the outskirts of Woodburn, in which young delinquent and criminal males are incarcerated.
Arts and culture
Willamette Ballet
Chris Klein filming Hallmark Hall of Fame Production The Valley of Light in downtown Woodburn
Wooden Shoe Tulip Festival in 2007
Willamette Ballet Academy was founded in 1982.
Scenes from 2007 Hallmark Hall of Fame production The Valley of Light, starring Chris Klein, were filmed in Woodburn.[17]
Museums and other points of interest
Listed in 1974 on the National Register of Historic Places,[18] the Jesse H. Settlemier House is a museum located on Settlemier Avenue. The World's Berry Center Museum was founded in the early 1980s. The World's Berry Center Museum occasionally produces plays by Miracle Theatre.
La Fiesta Mexicana is the most important Hispanic event in the area. Each fiesta should include a queen; Francisca Gonzalez was the first selected to receive this honor in the first fiesta in 1964. It was a one-day event that was held in downtown Woodburn. Forty-five years later, the event has grown more popular and now it currently lasts close to a week. One of the main reasons this event happened was that the ranchers and merchants recognized the importance of the new bicultural relationship with the increased Hispanic population in the area.
Sports
The Woodburn Dragstrip is a 1/4-mile National Hot Rod Association (NHRA) dragstrip that hosts an annual event on the NHRA Lucas Oil Series.[19] It is located about 2 miles (3 km) west of Woodburn on Oregon Highway 219.
The Oregon Golf Association (OGA) Golf Course in Woodburn is a public course, rated by Golf Digest in 1996 as one of the top 10 affordable courses in the United States.[20] It routinely hosts many large amateur and high school events in the state.
Education
Woodburn is served by the Woodburn School District, which includes four elementary schools and two middle schools.[21] Woodburn High School includes the following small schools: the Wellness, Business and Sports School, the Woodburn Academy of Art, Science and Technology, the Academy of International Studies at Woodburn, and the Woodburn Arts and Communications Academy. Woodburn Success High School is the district's alternative high school, serving grades 7–12.[22]
Chemeketa Community College has a satellite campus in Woodburn.[23]
Pacific University opened a College of Education satellite campus in 2012.[24]

Hrystiv, Public domain, via Wikimedia Commons
Coordinates: 45°8'50″N 122°51'30″W
https://goo.gl/maps/fc1t1ScLyC7Y7xqS9
For those looking for more information about Woodburn, OR, here are a few helpful links.
Woodburn – MapQuest – https://www.mapquest.com/maps?city=Woodburn&state=OR
City of Woodburn – https://www.woodburn-or.gov/