As Oregon and Washington's largest and best-known hot tub, swim spa, and sauna service company, Allspa has been making customers happy since 1979. We're excited to serve all our customers – even those with a different brand of hot tub, sauna, or swim spa.
What makes us unique? First, we're the only hot tub dealer in Oregon who's trade certified. And, our service department is second to none. We're the trusted service department at Oregon Hot Tub, properly licensed in Washington and Oregon.
Bend Hot Tub Repair Services
How do smart home owners repair their investments? They call in the professionals. Welcome to Oregon Hot Tub—the best hot tub repair company in Oregon!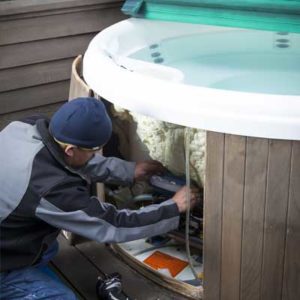 We're proud to be the only Trade Certified Service Center in Oregon for Hot Tubs.
We also comply with all procedures and guidelines—no questions asked.
For your safety and peace of mind, all of our technicians are thoroughly background checked, licensed and bonded.
Since 1979, we've been striving to be the best, and we're ready to help when you need it most!
Clean It
Choose from a variety of convenient services to keep you in clean healthy water, including signature spa care and recurring cleaning services.
Hot Tub Drain and Fill – Hot tub completely drained, cleaned, and refilled
Swim Spa Drain and Fill – Swim Spa completely drained, cleaned, and refilled
Recurring Cleaning – Keep your hot tub, swim spa, sauna, or pool clean and ready to use all year long. With a recurring cleaning care plan, you'll never have to worry about forgetting again.
Move It
Moving a large home luxury item like a hot tub, swim spa, or sauna isn't easy, and definitely not something to try on your own. With years of hands-on experience and knowledge, we can move your possession in the safest, fastest, and easiest way possible.
That's what we do best! Take advantage of our five-star service and get your hot tub, swim spa, or sauna where it needs to be!
Want to Learn More About Our Award-Winning Hot Tub Repair Services? Contact Us Here:
• Hot Tub and Swim Spa Repair Services
• Hot Tub and Swim Spa Cleaning Services
• Hot Tub Moving Services
• Hot Tub Sale
• Schedule a Service or Repair
Bend, OR Map

Check Out a few of Our 5 Star Reviews for AllSpa Bend, Oregon:

We have been using AllSpa for our spa since we moved to Bend.
Chris Pelroy has been caring for our spa for the past few years, and we couldn't be more pleased with his professional, yet personable, service.
He has helped us learn how to better maintain our beloved spa and keep it performing.
Thanks!
Judy Fisher
For those looking for more information about Bend, OR, here are a few helpful links.
https://www.go-oregon.com/Bend/
https://www.oregonlive.com/bend/
https://bendchamber.org/