As Oregon and Washington's largest and most reliable hot tub, swim spa, and sauna service company, Allspa has been meeting the needs of our customers since 1979—regardless of which brand of hot tub, sauna, or swim spa they own.
We're happy to provide a wide range of excellent services to suit any need, and we're properly licensed in Washington and Oregon. Plus, we're the only hot tub dealer in Oregon who is trade certified!
Quick & Reliable Portland Hot Tub Repair Service
When something goes wrong with your hot tub, you want it fixed fast, right? Of course you do. But, you also want to know that it's fixed right. That's where we come in—as the best hot tub repair company in Oregon.
Here are just a few of the reasons why we're the best:
– We're the only Trade Certified Service Center in Oregon for Hot Tubs.
– We comply with all procedures and guidelines (and had an independent audit).
– Our technicians have all had background checks and are licensed and bonded.
– We've been in business since 1979.
So, relax, we'll be around to help you when you need it most!
Efficient, Recurring Cleaning
We're excited to offer a wide range of the best recurring services to help you keep your investment looking and running great! Plus, we offer a signature spa care package too!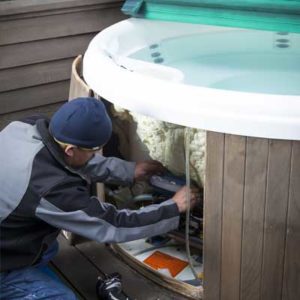 Hot Tub Drain and Fill – Hot tub completely drained, cleaned, and refilled
Swim Spa Drain and Fill – Swim Spa completely drained, cleaned, and refilled
Recurring Cleaning – Never worry about keeping your hot tub, swim spa, sauna, or pool clean again. With our recurring services, you get year-round service. Recurring cleaning care plans remove all the guesswork, so you can stay comfortable in healthy, clean water.
Trusted, Safe Moving Service
When it's time to move, and you want to take your hot tub, swim spa, or sauna, give us a call. We're experienced, trusted and competent at moving tough to handle, heavy items like a spa. With years of expertise, we'll get your favorite home leisure item where it needs to be in the safest, fastest, and easiest way possible.
That's our promise: five-star service to get your hot tub, swim spa, or sauna out one door and in the next safe and sound!
Want to Learn More About Our Award-Winning Hot Tub Repair Services? Contact Us Here:
• Hot Tub and Swim Spa Repair Services
• Hot Tub and Swim Spa Cleaning Services
• Hot Tub Moving Services
• Hot Tub Sale
• Schedule a Service or Repair
Portland, OR Map

Check Out a few of Our 5 Star Reviews for AllSpa Portland, Oregon:

AllSpa was so professional. Terry Lynch was wonderful.
He was so knowledgeable and able to figure out what was the problem right away and had the parts to fix it.
Couldn't have asked for more. Great service.
Wendy Raynor
For those looking for more information about Portland, OR, here are a few helpful links.
https://www.weather.gov/pqr/
https://www.reddit.com/r/Portland/comments/1qy59y/what_are_the_pros_and_cons_of_living_in_portland/?utm_source=BD&utm_medium=Search&utm_name=Bing&utm_content=PSR1
https://www.travelandleisure.com/travel-guide/portland-oregon