Hot Tub Repair Service Redmond, Swim Spa and Sauna Maintenance
AllSpa is Oregon's finest hot tub, swim spa, and sauna service company. Since 1979, we've worked with one goal in mind: to exceed our customers' expectations, regardless of the brand hot tub, sauna, or swim spa they own. As the only hot tub dealer in Oregon who is fully trade certified, we have a spa or service to suit any need. Welcome to the trusted service department at Oregon Hot Tub, properly licensed in WA and OR.
How We Can Help: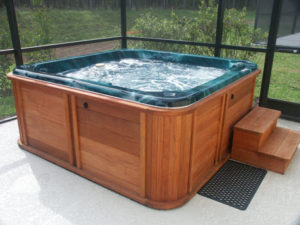 Hot Tub, Spa Repair, Service, Maintenance
For trusted hot tub, swim spa, sauna, or pool repair, look no further than AllSpa. Fully certified, licensed, and bonded with nearly 40 years of experience repairing spa systems, we get the job done. Please take a look below at how we can help you get back into hot water.
AllSpa is the only Trade Certified Service Center in Oregon for Hot Tubs. We've had the audits and easily comply with strict procedures and guidelines. All of our professional technicians have been background checked, licensed and bonded for your protection. That's peace of mind that we'll be here to help when you need it most!
Here's our service guarantee: If the same issue occurs within 30 days, we'll waive our call-out fee! You only pay for parts and labor for new issues. All parts have a 1-year worry-free warranty.
Hot Tub, Swim Spa Drain and Fill
The best sauna or hot tub experience is the result of regular maintenance. Keep your investment in perfect running shape without lifting a finger and choose from a variety of convenient services, like drain and fill, signature spa care and recurring package services.
Hot Tub Cleaning Service, Swim Spa Maintenance, Moving
Looking to move your spa? Don't try this alone! With years of hands-on experience moving, we can get your spa where it needs to be in the safest, fastest and easiest way possible. Let the experts handle your complicated move, call the AllSpa team!
Hot Tub, Swim Spa Watercare
Keep your hot tub, swim spa or sauna clean all year round and never stress about forgetting to clean it. Try out our recurring cleaning and water care plans and eliminate guesswork behind soaking in clean water.
Services Offered
• Hot Tub, Spa Repair, Service, Maintenance
• Jacuzzi Repair, Service, Maintenance
• Hot Tub, Swim Spa Drain and Fill
• Hot Tub Cleaning Service, Portable Spa Maintenance
• On-Site Water Analysis
• Insurance Claims
• Repair Services
• Spa Service Use Training
• Maintenance Inspections
• Hot Tub and Swim Spa Relocation and Set-Up
• Portable Sauna Relocation and Set-Up
• Crane Moving Services
• Real Estate Inspections
• Construction Design Consulting
Learn More About Our Award-Winning Hot Tub, Swim Spa Repair, Service and Maintenance. Contact Us Here:
• Hot Tub and Swim Spa Repair Services
• Hot Tub and Swim Spa Cleaning and Maintenance Services
• Schedule a Service or Repair
• Hot Tub Drain and Fill
• Swim Spa Drain and Fill
• Hot Tub Moving Services
• Hot Tub Sale
About Redmond Source: https://en.wikipedia.org/wiki/Redmond,_Oregon
Redmond is a city in Deschutes County, Oregon, United States. Incorporated on July 6, 1910, the city is on the eastern side of Oregon's Cascade Range, in the High Desert in Central Oregon. From Redmond there is access to recreational opportunities. Redmond is a full-service municipality and one of the fastest-growing industrial and residential communities in Oregon. Redmond had a population of 32,421 in 2019,[citation needed] and the population continues to grow at a rate of about 6.7 percent each year.
The city encompasses 15.5 square miles (40 km2) and is on a plateau, at an elevation of 3,077 feet (938 m). Redmond is 15 miles (24 km) north of Bend—the county seat of Deschutes County—144 miles (232 km) from Portland, 129 miles (208 km) from Salem—the capital of Oregon—and 126 miles (203 km) from Eugene.
Geography
The Horse Lava Tube System enters the city at the point of the Redmond Caves. The lava flow that created the system continues into the Redmond Canyon and beyond.[7][8]
Economy
A major employer is Redmond Air Center, at the Redmond Airport. This is a Forest Service smoke-jumping, firefighting and training installation.
T-Mobile USA had a call center in Redmond which employed more than 700.[18] T-Mobile made plans to close this facility in June 2013,[19] but Oregon-based Consumer Cellular moved to sublease the call center and rehire some of T-Mobile's former employees.[20] The Consumer Cellular call center currently employs more than 200 people, with plans to grow the facility to 650 employees.[21][22]
The Redmond Spokesman newspaper is the city's oldest continuously operating business, printing its first issue July 14, 1910. Publishers Henry and Clara Palmer moved their press for the Laidlaw Chronicle to Redmond, competing with the existing Oregon Hub and Enterprise newspapers, now defunct.[23]
The Eagle Crest Resort, 6 miles (10 km) west of Redmond, is one of eight destination resorts as defined by Oregon's Department of Land Conservation and Development. Eagle Crest is one of Redmond's major employers, and one of Deschutes County's largest corporate tax payers.[24]
Coordinates: 44°16'8″N 121°11'1″W
https://goo.gl/maps/q2CTfYim16NrCZp39

Doug Kerr, CC BY-SA 2.0, via Wikimedia Commons
 For those looking for more information about Redmond, OR, here are a few helpful links.
Visitor Information on Redmond – https://www.visitredmondoregon.com/
The Best of Redmond – https://www.tripadvisor.com/Tourism-g52033-Redmond_Central_Oregon_Oregon-Vacations.html
Redmond City Information – http://www.ci.redmond.or.us/
Redmond, OR Map