Hot Tub Repair Service Raymond, WA Swim Spa, Sauna
We're Oregon's largest and most respected hot tub, swim spa, and sauna service company—AllSpa! Since 1979, we've been helping our friends and family, regardless of which brand hot tub, sauna, or swim spa they own. We have an incredible spa and trusted service for every need, and we're the only hot tub dealer in Oregon who is trade certified. Welcome to the reliable service department at Oregon Hot Tub, properly licensed in WA and OR.
How We Can Help
Hot Tub, Spa Repair, Service, Maintenance 
No one likes to think about repairs. But when you need work done on your hot tub, swim spa, sauna, or pool, it's good to know that AllSpa technicians are prepared—certified, licensed and bonded with over 38 years expertise repairing spa systems. Take a minute to read more below on how we can help you get back into hot water.
AllSpa has been independently audited and found to be in complete compliance with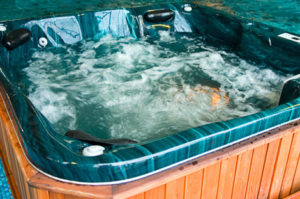 all procedures and guidelines. That makes us the only Trade Certified Service Center in Oregon for Hot Tubs! All technicians have been background checked, licensed and bonded for your security. We'll be here when you need us most!
Here's the AllSpa guarantee: If you've had a repair, but the same issue occurs within 30 days, we will waive our call-out fee no questions asked. You pay only for parts and labor on new issues, with a 1-year worry-free warranty of course.

Hot Tub, Swim Spa Drain and Fill
Why hassle with maintenance on your hot tub, swim spa or sauna, when the team at AllSpa can keep it running perfectly for you? Sit back and relax, we have a variety of convenient services for clean water, including drain and fill, signature spa care and recurring package services.
Hot Tub Cleaning Service, Portable Spa Maintenance, Moving
When it's time to move a spa, turn to the experienced team at AllSpa for a safe, reliable move. Relocating a spa isn't something to take lightly. With years of hands-on experience, we can move your spa safely and in the fastest way possible. That's why we're here! We're ready to help with a five-star moving service to get your spa where it needs to be!
Hot Tub, Swim Spa Watercare
Keep your hot tub, swim spa or sauna clean all year round and never stress about forgetting to clean it. Try out our recurring cleaning and water care plans and eliminate guesswork behind soaking in clean water.
For those looking for more information about Raymond, WA, here are a few helpful links.
Best of Raymond – https://www.tripadvisor.com/Tourism-g58700-Raymond_Washington-Vacations.html
Top 5 Things to Do in Raymond – https://www.tripadvisor.com/Attractions-g58700-Activities-Raymond_Washington.html
City of Raymond – http://cityofraymond.com/
Services Offered
• Hot Tub, Spa Repair, Service, Maintenance
• Jacuzzi Repair, Service, Maintenance
• Hot Tub, Swim Spa Drain and Fill
• Hot Tub Cleaning Service, Portable Spa Maintenance
• On-Site Water Analysis
• Insurance Claims
• Repair Services
• Spa Service Use Training
• Maintenance Inspections
• Hot Tub and Swim Spa Relocation and Set-Up
• Portable Sauna Relocation and Set-Up
• Crane Moving Services
• Real Estate Inspections
• Construction Design Consulting
Learn More About Our Award-Winning Hot Tub, Swim Spa Repair, Service and Maintenance. Contact Us Here:
• Hot Tub and Swim Spa Repair Services
• Hot Tub and Swim Spa Cleaning and Maintenance Services
• Schedule a Service or Repair
• Hot Tub Drain and Fill
• Swim Spa Drain and Fill
• Hot Tub Moving Services
• Hot Tub Sale
About Raymond Source: https://en.wikipedia.org/wiki/Raymond,_Washington
Raymond is a city in Pacific County, Washington, United States. The population was 2,975 at the 2000 census and decreased 3.1% to 2,882 at the 2010 census. The town's economy has traditionally been based on logging and fishing, together with a limited amount of tourism.[6][citation needed]
Geography
The Raymond Theatre is one of three buildings in Raymond listed on the National Register of Historic Places, along with the city's library and post office.
Raymond is located at 46°40'47″N 123°44'17″W (46.679599, -123.738091).[10]
According to the United States Census Bureau, the city has a total area of 4.62 square miles (11.97 km2), of which, 4.06 square miles (10.52 km2) is land and 0.56 square miles (1.45 km2) is water.[11]
Demographics
2010 census
At the 2010 census there were 2,882 people, 1,151 households, and 698 families living in the city. The population density was 709.9 inhabitants per square mile (274.1/km2). There were 1,279 housing units at an average density of 315.0 per square mile (121.6/km2). The racial makeup of the city was 75.9% White, 0.9% African American, 2.5% Native American, 6.8% Asian, 10.1% from other races, and 3.9% from two or more races. Hispanic or Latino of any race were 16.2%.[2]
Of the 1,151 households 29.4% had children under the age of 18 living with them, 42.9% were married couples living together, 10.4% had a female householder with no husband present, 7.3% had a male householder with no wife present, and 39.4% were non-families. 33.4% of households were one person and 15.2% were one person aged 65 or older. The average household size was 2.46 and the average family size was 3.10.
The median age was 41 years. 23.4% of residents were under the age of 18; 8.6% were between the ages of 18 and 24; 22.2% were from 25 to 44; 27.5% were from 45 to 64; and 18.4% were 65 or older. The gender makeup of the city was 49.9% male and 50.1% female.
Coordinates: 46°40'47″N 123°44'17″W – https://goo.gl/maps/DLDKZP7LLUca7Jyk7

Joe Mabel, CC BY-SA 3.0, via Wikimedia Commons
Raymond, WA Map