Some of Our Swimming Pool Services Include:
Pool Opening and Closing Service
Pool Filter Cleaning, Repair and Replacement
Pool Pump Motor Repair, Installation, Replacement
Pool Heater Repair, Installation, Replacement
Pool Light Repair, Installation, Replacement
Pool Salt System Cleaning, Repair, Replacement
AllSpa has been providing trusted repair, cleaning, and maintenance, servicing all leading brands of swimming pools, hot tubs, swim spas, and saunas.
Locally owned and operated, we deliver trusted, competent service and can repair or replace filters, pumps, salt systems, heaters and more! Our technicians are skilled and our services are affordable and dependable.
Competent Residential Swimming Pool Cleaning
We're dedicated to providing a wide range of trusted services to keep your pool water healthy and clean. From one time cleaning services for backyard swimming pools, to recurring plans, we get it done right!
Trusted, Professional Commercial Pool Cleaning and Maintenance
For consistent, reliable commercial pool cleaning services, look to the team at AllSpa. We'll sanitize, clean and maintain your commercial pool, and give you peace of mind that your guests are in good hands in Oregon and SW Washington.
Fully Licensed, Bonded and Trained Pool Service Technicians
Our professional team of pool technicians is highly skilled and ready to exceed expectations. With award-winning service prioritized, we'll make certain your pool water is clean, healthy, and ready to use.
For best-in-class service, repair and maintenance, one-time, monthly or annual plans, AllSpa is on the job.
We've been independently audited, and proudly met all strict procedures and guidelines. We'll be here when you need us most!
Want to Learn More About Our Award-Winning Swimming Pool Cleaning Repair and Maintenance Services? Contact Us Here:
• Swimming Pool Repair Services
• Swimming Pool Cleaning Services
• Contact Us About Service
• Schedule a Service or Repair
• Read AllSpa 5 Star Reviews
Connect with Us:
Check Us Out on Facebook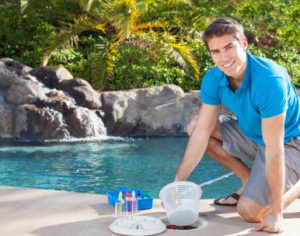 About Johnson City – Source: https://en.wikipedia.org/wiki/Johnson_City,_Oregon
Johnson City is a city in Clackamas County, Oregon, United States. The population was 566 at the 2010 census. Because of its small area, its population density is over 8,000 per square mile, making it the most densely populated city in Oregon.[5]
History
On June 16, 1970, the residents of a trailer court owned by Delbert Johnson voted 49-to-10 to incorporate. Johnson had started the development in 1959, and in 1968 was unsuccessful in having the area annexed to Gladstone. The 55th Oregon Legislative Assembly in 1969 established a boundary review board to prevent an increase in small incorporated cities, but proponents of Johnson City's incorporation had filed for an election before the law took effect.[6]
Geography
According to the United States Census Bureau, the city has a total area of 0.07 square miles (0.18 km2), all of it land.[7]
Demographics
2010 census
As of the census of 2010, there were 566 people, 268 households, and 141 families living in the city. The population density was 8,085.7 inhabitants per square mile (3,121.9/km2). There were 278 housing units at an average density of 3,971.4 per square mile (1,533.4/km2). The racial makeup of the city was 84.3% White, 0.4% African American, 1.4% Native American, 1.9% Asian, 7.4% from other races, and 4.6% from two or more races. Hispanic or Latino of any race were 15.4% of the population.[2]
There were 268 households, of which 19.8% had children under the age of 18 living with them, 36.9% were married couples living together, 13.1% had a female householder with no husband present, 2.6% had a male householder with no wife present, and 47.4% were non-families. 40.3% of all households were made up of individuals, and 14.9% had someone living alone who was 65 years of age or older. The average household size was 2.09 and the average family size was 2.84.[2]
The median age in the city was 47.1 years. 18.7% of residents were under the age of 18; 6.2% were between the ages of 18 and 24; 22.8% were from 25 to 44; 33.8% were from 45 to 64; and 18.6% were 65 years of age or older. The gender makeup of the city was 48.8% male and 51.2% female.[2]
Coordinates: 45°24′17″N 122°34′51″W
Map of Johnson City
Here's more information about Johnson City
https://www.city-data.com/city/Johnson-City-Oregon.html
https://www.johnsoncity.us/
https://www.oregoncities.us/johnsoncity/