Locally owned and operated, AllSpa offers trusted repair, cleaning, and maintenance for all brands of hot tubs, swim spas and saunas in Oregon and Washington.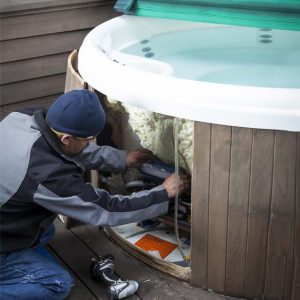 We're proud to be a service partner of Oregon Hot Tub, and we're the only hot tub service center in Oregon who can say we're "trade certified".
Hot Tub, Swim Spa Repair and Service – Warranty Service, Inspections
If you've ever wondered how to repair your hot tub or found yourself looking for a hot tub service center near you, we can help! Look no further than All Spa – the area's best hot tub repair company!
As the ONLY trade Certified Service Center in Oregon for Hot Tubs, we've had an independent audit, and were found to comply with every strict procedure and guideline. Each one of our service technicians are background checked, licensed and bonded for your protection. We've been in business since 1979, for peace of mind and confidence when you need us most.
Hot Tub, Swim Spa Cleaning and Maintenance
One-Time Cleanings, Monthly and Annual Plans, Water Balancing
Ready to have your hot tub, swim spa or sauna cleaned?
We provide comprehensive services to ensure you stay in clean water, including signature spa care and recurring cleaning services.
Hot Tub, Swim Spa Watercare
Never forget to clean your hot tub, swim spa or sauna again! We'll keep your investment clean all year round with recurring cleaning and water care plans. Let us remove the guesswork and make it simple for you to relax.
Hot Tub, Swim Spa Drain and Fill
Buy a one-time hot tub drain and fill service to give us a try. Love it? We'll happily credit the cost of your service and apply it to an annual care plan of your choice within 14 days!
Services Offered
• Hot Tub, Spa Repair, Service, Maintenance
• Jacuzzi Repair, Service, Maintenance
• Hot Tub, Swim Spa Drain and Fill
• Hot Tub Cleaning Service, Portable Spa Maintenance
• On-Site Water Analysis
• Insurance Claims
• Repair Services
• Spa Service Use Training
• Maintenance Inspections
• Hot Tub and Swim Spa Relocation and Set-Up
• Portable Sauna Relocation and Set-Up
• Crane Moving Services
• Real Estate Inspections
• Construction Design Consulting
Learn More About Our Award-Winning Hot Tub, Swim Spa Repair, Service and Maintenance. Contact Us Here:
• Hot Tub and Swim Spa Repair Services
• Hot Tub and Swim Spa Cleaning and Maintenance Services
• Schedule a Service or Repair
• Hot Tub Drain and Fill
• Swim Spa Drain and Fill
• Hot Tub Moving Services
• Hot Tub Sale
About La Pine Source: https://en.wikipedia.org/wiki/La_Pine,_Oregon
La Pine is a city in Deschutes County, Oregon, United States, incorporated on December 7, 2006.[5]
La Pine is part of the Bend, Oregon Metropolitan Statistical Area. The population was 1,653 at the 2010 census. La Pine is in an isolated area of Central Oregon, consisting of a loose collection of homes and businesses along U.S. Highway 97 about 30 miles (48 km) southwest of Bend. Several peaks of the Cascade Range are prominently visible from the community.
La Pine is in the valley of the Little Deschutes River, a tributary of the Deschutes River. The river provides recreational opportunities such as fishing, swimming, canoeing and other leisure activities.
Geography
According to the United States Census Bureau, the city has a total area of 6.98 square miles (18.08 km2), all of it land.[9]
Demographics
2010 census
At the 2010 census, there were 1,653 people in 698 households, including 412 families, in the city. The population density was 236.8 inhabitants per square mile (91.4/km2). There were 942 housing units at an average density of 135.0 per square mile (52.1/km2). The racial makeup of the city was 93.5% White, 0.2% African American, 1.1% Native American, 0.2% Asian, 0.1% Pacific Islander, 1.8% from other races, and 3.0% from two or more races. Hispanic or Latino of any race were 5.8% of the population.[2]
Of the 698 households 28.5% had children under the age of 18 living with them, 42.6% were married couples living together, 11.6% had a female householder with no husband present, 4.9% had a male householder with no wife present, and 41.0% were non-families. 31.2% of households were one person and 15.5% were one person aged 65 or older. The average household size was 2.30 and the average family size was 2.87.[2]
The median age was 43.6 years. 22.4% of residents were under the age of 18; 6.8% were between the ages of 18 and 24; 22.7% were from 25 to 44; 30.4% were from 45 to 64; and 17.8% were 65 or older. The gender makeup of the city was 48.4% male and 51.6% female.[2]

Orygun, CC BY-SA 4.0, via Wikimedia Commons
Coordinates: 43°43'9″N 121°31'41″W
https://goo.gl/maps/iepDesb2dkmN9qAp7
Here's more information about La Pine
https://www.lapineoregon.gov/
https://www.diamondstone.com/
https://www.bend.k12.or.us/lapinehigh