Looking for a trusted hot tub, swim spa and sauna repair, cleaning, and maintenance company in Oregon and Washington? Meet AllSpa! Locally owned and operated, we're one of the and biggest and most respected,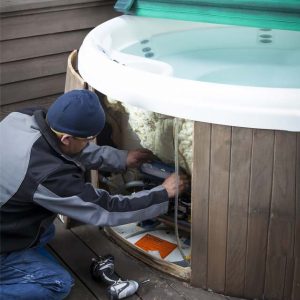 servicing all top brands.
Proud to be a service partner of Oregon Hot Tub, we're also the only hot tub service center in Oregon who is trade certified!
Hot Tub, Swim Spa Repair and Service – Warranty Service, Inspections
Even the best hot tubs need occasional service. When you're in need of repair, look no further than AllSpa! As the best hot tub repair company in the area, we're ready to make you happy.
We are the only Trade Certified Service Center in Oregon for Hot Tubs. Get peace of mind in knowing we've been independently audited, and found to be in compliance with strict procedures and guidelines. Plus, all of our technicians have completed a background check and are licensed and bonded. Happily doing business since 1979, we'll be around to help you when you need it most!
Hot Tub, Swim Spa Cleaning and Maintenance
One-Time Cleanings, Monthly and Annual Plans, Water Balancing
Tired of cleaning your hot tub, swim spa or sauna?
We're proud to offer a great selection of top-notch services to keep your water clean, including signature spa care and recurring cleaning services.
Hot Tub, Swim Spa Watercare
Don't worry about forgetting to clean your hot tub, swim spa or sauna. We offer recurring cleaning and water care plans! Let us remove the guesswork in maintaining clean water.
Hot Tub, Swim Spa Drain and Fill
Consider a one-time hot tub drain and fill service. Give us a try. If you love it, we'll credit what you paid towards an annual care plan of your choice within 14 days!
Services Offered
• Hot Tub, Spa Repair, Service, Maintenance
• Jacuzzi Repair, Service, Maintenance
• Hot Tub, Swim Spa Drain and Fill
• Hot Tub Cleaning Service, Portable Spa Maintenance
• On-Site Water Analysis
• Insurance Claims
• Repair Services
• Spa Service Use Training
• Maintenance Inspections
• Hot Tub and Swim Spa Relocation and Set-Up
• Portable Sauna Relocation and Set-Up
• Crane Moving Services
• Real Estate Inspections
• Construction Design Consulting
Learn More About Our Award-Winning Hot Tub, Swim Spa Repair, Service and Maintenance. Contact Us Here:
• Hot Tub and Swim Spa Repair Services
• Hot Tub and Swim Spa Cleaning and Maintenance Services
• Schedule a Service or Repair
• Hot Tub Drain and Fill
• Swim Spa Drain and Fill
• Hot Tub Moving Services
• Hot Tub Sale
About Longview Source: https://en.wikipedia.org/wiki/Longview,_Washington
Longview is a city in Cowlitz County, Washington, United States. It is the principal city of the Longview, Washington Metropolitan Statistical Area, which encompasses all of Cowlitz County. Longview's population was 36,648 at the time of the 2010 census, making it the largest city in Cowlitz County. The city is located in southwestern Washington, at the junction of the Cowlitz and Columbia rivers. Longview shares a border with Kelso to the east, which is the county seat.
The Cowlitz Indian Tribe, a federally recognized tribe of Cowlitz people, is headquartered in Longview.[5]
The Long-Bell Lumber Company, led by Robert A. Long, decided to buy a great expanse of timberland in Cowlitz County in 1918. A total of 14,000 workers were needed to run the two large mills as well as lumber camps that were planned. The number of workers needed was more than a lumber town, or the nearest town, could provide. Long planned and built a complete city in 1921 that could support a population of up to 50,000 and provide labor for the mills as well as attracting other industries. Several buildings in the city were built from Long's private funds.[6]
Parks and recreation
A former slough, Lake Sacajawea was created during the construction of Longview
Longview has a variety of parks and recreation facilities. Longview Parks and Recreation[17] maintains the local parks, including Lake Sacajawea. Dozens of other parks exist within city limits with walking trails, sport fields, dog-friendly areas, children's play areas, and other features. Both Longview and its neighbor city, Kelso, are home to skateparks.[18] Two athletic clubs exist, including the YMCA and Mint Valley Racquet and Fitness. Golf clubs in the local area include Longview Country Club and Mint Valley. The Longview parks and Recreation also works with youths of different ages with programs such as the elementary and middle schools after-school programs, The Boulevard for youths of grades 6–12, and Youth and Family link.[citation needed]
Education
Mark Morris High School
Longview is served by Longview Public Schools, which operates eight public elementary schools (Columbia Heights, Columbia Valley Gardens, Kessler, Mint Valley, Northlake, Olympic, Robert Gray, and Saint Helens), three public middle schools (Cascade, Monticello, and Mount Solo), and two public high schools (R. A. Long and Mark Morris).
Longview is also served by two religious based schools. The St. Rose Catholic school serves kindergarten through eighth grade. Three Rivers Christian School currently operates under two campuses: one at Northlake Baptist serving preschool through sixth grade, and one at New Life Fellowship which serves seventh through twelfth grades.
Lower Columbia College (LCC), based in Longview, was established in 1934.

khiara jones, Public domain, via Wikimedia Commons
Coordinates: 46°08'24″N 122°56'15″W – https://goo.gl/maps/aUMmKjHv7Jtd5WRp6
Here's more information about Longview
https://www.mylongview.com/
https://tdn.com/
https://www.portoflongview.com/