Meet AllSpa! One of the area's largest and most competent hot tub, swim spa, and sauna repair, cleaning, and maintenance company. Locally owned and operated in Oregon and Washington, AllSpa is proud to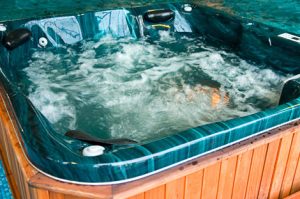 service all brands. We're also a trusted service partner of Oregon Hot Tub – and the only hot tub service center in Oregon who is trade certified.
Hot Tub, Swim Spa Repair and Service – Warranty Service, Inspections
If you've ever asked yourself, "How do I repair my hot tub?" or wondered where the closest hot tub service center is located, we can help. Look no further than AllSpa, the absolute best hot tub repair company around!
It's worth repeating, we are the only Trade Certified Service Center in Oregon for Hot Tubs. An independent audit found our business to be in total compliance with every procedure and guideline.
Our technicians are top of the line too, thoroughly background checked, licensed and bonded for your protection.  Proudly doing business since 1979, we'll be around to help when you need us most!
Hot Tub, Swim Spa Cleaning and Maintenance
One-Time Cleanings, Monthly and Annual Plans, Water Balancing
Ready for your hot tub, swim spa or sauna to be cleaned?
Learn more about our signature spa care and recurring cleaning services to keep you in healthy water.
Hot Tub, Swim Spa Watercare
Why deal with the hassle of having to remember to clean your hot tub, swim spa or sauna?
Our recurring cleaning and water care plans remove every bit of guesswork, so you have clean water all year long.
Hot Tub, Swim Spa Drain and Fill
Ready to try our hot tub drain and fill service? Purchase a one-time trial. If you love it, we'll apply what you paid towards an annual care plan of your choice within 14 days!
Services Offered
• Hot Tub, Spa Repair, Service, Maintenance
• Jacuzzi Repair, Service, Maintenance
• Hot Tub, Swim Spa Drain and Fill
• Hot Tub Cleaning Service, Portable Spa Maintenance
• On-Site Water Analysis
• Insurance Claims
• Repair Services
• Spa Service Use Training
• Maintenance Inspections
• Hot Tub and Swim Spa Relocation and Set-Up
• Portable Sauna Relocation and Set-Up
• Crane Moving Services
• Real Estate Inspections
• Construction Design Consulting
Learn More About Our Award-Winning Hot Tub, Swim Spa Repair, Service and Maintenance. Contact Us Here:
• Hot Tub and Swim Spa Repair Services
• Hot Tub and Swim Spa Cleaning and Maintenance Services
• Schedule a Service or Repair
• Hot Tub Drain and Fill
• Swim Spa Drain and Fill
• Hot Tub Moving Services
• Hot Tub Sale
About Molalla Source: https://en.wikipedia.org/wiki/Molalla,_Oregon
Molalla /m?'l??l?/ is a city in Clackamas County, Oregon, United States. The population was 8,108 at the 2010 census.
Geography
Molalla is located in the foothills of the Cascade Range, near the Mount Hood National Forest, 15 miles (24 km) south of Oregon City and 13 miles (21 km) from Interstate 5. Molalla is surrounded by farms and rural residential development. There are many rock quarries, and thousands of acres of private timberlands, that feed natural resource materials into the economy. Several of the tree farms are managed for totally maintained and sustained forest.
According to the United States Census Bureau, the city has a total area of 2.26 square miles (5.85 km2), of which, 2.21 square miles (5.72 km2) is land and 0.05 square miles (0.13 km2) is water.[6]
Economy
Molalla's economy was traditionally based on logging and agriculture, but with the downturn in the timber industry, the city is turning to commerce to revitalize its economy.[10][11] Major employers in Molalla include the Molalla River School District and RSG Forest Products. Natural resource recovery still stands out in Molalla. Many logging, road construction, quarrying and trucking companies provide services to the timber land managers in the timber rich area. Rapid growth species of trees have been planted and cultivated for timber and fiber. Aggregate, mined in the foothills, provides gravel for roads, asphalt highways and roads throughout the region. An expanding agritourism industry is currently taking root in the more pastoral parts of the small lumber town, with the most promising examples being Posse Acres Elk Farm and Petting Zoo, The Abbey Farm Creamery and Out In The Garden Nursery, and the American Wildlife Foundation.
Arts and culture
Annual cultural events
Molalla is the home of the Molalla Buckeroo rodeo (it began in 1913, the same time as the city was founded) and the Apple Festival. The Pacific Coast Freestyle Championships, a model airplane aerobatic tournament, has been held there for 14 years in late July. Several Latino rodeos are held at the rodeo facility by "LaFortuna" in spring, mid-summer, late summer and fall, bringing tens of thousands of Latino families to celebrate in the community.[citation needed] The Fourth of July Parade, sponsored by the Molalla Area Chamber of Commerce, often sports 50,000 spectators. Many other minor festivals—Halloween on Main Street, Christmas in the City, Spring Fling, Easter Egg Hunt in the Park, Fishing Derbies, Trail Rides, The Brew Fest, The North Valley High School Rodeo—all add to the quality of life in Molalla.[citation needed]
Museums and other points of interest
There is a miniature steam train, the Shady Dell Pacific Railroad, in Molalla Train Park three miles east of Molalla.[12] An interesting and free exhibit of Rodeo History Honors the "Heroes" of Rodeo memorialized in large brass plaques placed in the sidewalks of Molalla's city core. The Horace L. Dibble House and the Fred Vonder Ahe House and Summer Kitchen are buildings in Molalla on the National Register of Historic Places (NRHP) that have been preserved by the Molalla Area Historical Society.[13][14][15] The NRHP-listed Rock Creek Methodist Church and William Hatchette Vaughan House are also in the Molalla area.[16]

Tedder, CC BY 3.0, via Wikimedia Commons
Coordinates: 45°9'N 122°35'W – https://goo.gl/maps/bHMmLHRoUsoEH5mZ7
Here's more information about Molalla
https://www.cityofmolalla.com/
https://www.molallaretreat.com/
https://www.hopeanimalhospitalmolalla.com/