Newberg Hot Tub Repair, Swim Spa Service
As Oregon's largest and most respected hot tub, swim spa, and sauna service company, AllSpa is committed to meeting your needs, regardless of the brand hot tub, sauna, or swim spa you own. Since 1979, we've been providing amazing hot tubs and spas and professional service to our community. We're also trade certified—the only spa business in Oregon who is. The trusted, competent service department at Oregon Hot Tub is on the job, and properly licensed in WA and OR. 
Here's How We Can Help
Hot Tub, Spa Repair, Service, Maintenance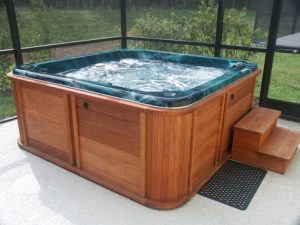 If you're in need of repair on your hot tub, swim spa, sauna, or pool, we can help. Fully certified, licensed and bonded with over 38 years of experience repairing spa systems, our team is ready to help you get back into hot water.
AllSpa maintains the only Trade Certified Service Center in Oregon for Hot Tubs. An independent audit found us to be in compliance with all procedures and guidelines. Our technicians are also fully background checked, licensed and bonded. So, relax, we'll be here to help you when you need it most!
Here's our guarantee: If the same issue occurs within 30 days, we'll waive our call-out fee. You just pay parts and labor for any new issues. Of course, all parts have a 1-year warranty.
Hot Tub, Swim Spa Drain and Fill
Ready to keep your hot tub, swim spa or sauna running great without lifting a finger?
We're excited to provide services that keep your spa water clean, including drain and fill, Signature Spa care and recurring package services.
Hot Tub Cleaning Service, Portable Spa Maintenance, Moving
Moving a spa from one place to another isn't something you should try to do on your own. Completing a move in the safest, easiest way takes experience. And that's what we can provide—trusted, experienced, and friendly help—five-star service to get your spa where it needs to be!
Hot Tub, Swim Spa Watercare
Keep your hot tub, swim spa or sauna clean all year round and never stress about forgetting to clean it. Try out our recurring cleaning and water care plans and eliminate guesswork behind soaking in clean water.
Services Offered
• Hot Tub, Spa Repair, Service, Maintenance
• Jacuzzi Repair, Service, Maintenance
• Hot Tub, Swim Spa Drain and Fill
• Hot Tub Cleaning Service, Portable Spa Maintenance
• On-Site Water Analysis
• Insurance Claims
• Repair Services
• Spa Service Use Training
• Maintenance Inspections
• Hot Tub and Swim Spa Relocation and Set-Up
• Portable Sauna Relocation and Set-Up
• Crane Moving Services
• Real Estate Inspections
• Construction Design Consulting
Learn More About Our Award-Winning Hot Tub, Swim Spa Repair, Service and Maintenance. Contact Us Here:
• Hot Tub and Swim Spa Repair Services
• Hot Tub and Swim Spa Cleaning and Maintenance Services
• Schedule a Service or Repair
• Hot Tub Drain and Fill
• Swim Spa Drain and Fill
• Hot Tub Moving Services
• Hot Tub Sale
About Newberg Source: https://en.wikipedia.org/wiki/Newberg,_Oregon
Newberg is a city in Yamhill County, Oregon, United States. Located in the Portland metropolitan area, the city is home to George Fox University. As of the 2010 census, the city population was 22,110[6] making it the second most populous city in the county.
Geography
Newberg is located on Oregon Route 99W about 25 miles (40 km) southwest of Portland, Oregon. Springbook, once a separate community, is now considered part of Newberg.
According to the United States Census Bureau, the city has a total area of 5.81 square miles (15.05 km2), all of it land.[14] It averages 176 feet (54 m) in elevation.
Economy
George Fox University campus
As of 2002, dental equipment manufacturer A-dec was the city's largest employer with 832 employees, and George Fox University was second with 400.[26] The next largest employers were SP Newsprint Co., Suntron Corp., and Providence Newberg Medical Center.[26] Upon opening in September 2009,[27] The Allison Inn and Spa, a 77-room destination hotel, spa, and restaurant employs approximately 200 full-time workers. A Hazelden Betty Ford Foundation inpatient addiction treatment center is located in the city.[28]
Museums and other points of interest
Ewing Young Historical Park
Hoover-Minthorn House Museum
Education
Newberg is served by the Newberg School District, which has six elementary schools, two middle schools, and two high schools, Newberg High School and Catalyst Alternative High School. The town also has two private Christian schools (Veritas School and C. S. Lewis Academy). The city also is home to George Fox University, and a new campus of Portland Community College opened in fall 2011.
Coordinates: 45°18'18″N 122°58'2″W
https://goo.gl/maps/Cq8jQxG2fDXoy2HB6

M.O. Stevens, CC BY-SA 3.0, via Wikimedia Commons
For those looking for more information about Newberg, OR, here are a few helpful links.
Travel Information – https://traveloregon.com/cities-regions/willamette-valley/newberg/
The Best of Newberg – https://www.tripadvisor.com/Tourism-g51991-Newberg_Oregon-Vacations.html
Newberg, OR

City of Newborn – https://www.newbergoregon.gov/