Newport Hot Tub Repair, Service, Oregon Swim Spa Maintenance
As Oregon's most respected hot tub, swim spa, and sauna service company, AllSpa has been over delivering on the needs of our customers since 1979. No matter which brand hot tub, sauna, or swim spa you own, we have a spa or service to suit your need. We're also trade certified, and as the only hot tub dealer in Oregon who is, we're proud to maintain a trusted service department at Oregon Hot Tub, properly licensed in WA and OR.
Here's How The AllSpa Team Can Help
Hot Tub, Spa Repair, Service, Maintenance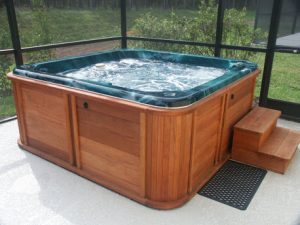 Reliable and trusted repair for your hot tub, swim spa, sauna, or pool is important. With over 38 years combined experience repairing spa systems, the technicians at AllSpa can help. We're certified, licensed and bonded for your protection, and fully prepared to get back into hot water.
As the only Trade Certified Service Center in Oregon for Hot Tubs, an independent audit found us to be compliant with all strict guidelines and procedures. Plus, each of our technicians are thoroughly background checked, licensed and bonded. We plan on staying in business for many years to come. So relax, we'll be here to help when you need us most!
Here's our guarantee: If you have the same issue occur within 30 days, we'll take care of our call-out fee! You simply pay for any new parts and labor. And of course, all of our parts come with a 1-year worry-free warranty.
Hot Tub, Swim Spa Drain and Fill
When it's time to keep your hot tub, swim spa or sauna running, turn to the team at AllSpa for easy, hassle free help. We're happy to provide an exciting variety of convenient services designed to help you maintain crystal clean water, including drain and fill, Signature Spa Care and recurring package services.
Hot Tub Cleaning Service, Portable Spa Maintenance, Moving
Moving a spa is complicated, and needs to be done by an experienced crew. A safe, reliable move is possible. And that's exactly why we're here, to offer you premium service to get your spa where it needs to be!
Hot Tub, Swim Spa Watercare
Keep your hot tub, swim spa or sauna clean all year round and never stress about forgetting to clean it. Try out our recurring cleaning and water care plans and eliminate guesswork behind soaking in clean water.
Services Offered
• Hot Tub, Spa Repair, Service, Maintenance
• Jacuzzi Repair, Service, Maintenance
• Hot Tub, Swim Spa Drain and Fill
• Hot Tub Cleaning Service, Portable Spa Maintenance
• On-Site Water Analysis
• Insurance Claims
• Repair Services
• Spa Service Use Training
• Maintenance Inspections
• Hot Tub and Swim Spa Relocation and Set-Up
• Portable Sauna Relocation and Set-Up
• Crane Moving Services
• Real Estate Inspections
• Construction Design Consulting
Learn More About Our Award-Winning Hot Tub, Swim Spa Repair, Service and Maintenance. Contact Us Here:
• Hot Tub and Swim Spa Repair Services
• Hot Tub and Swim Spa Cleaning and Maintenance Services
• Schedule a Service or Repair
• Hot Tub Drain and Fill
• Swim Spa Drain and Fill
• Hot Tub Moving Services
• Hot Tub Sale
About Newport Source: https://en.wikipedia.org/wiki/Newport,_Oregon
Newport is a city in Lincoln County, Oregon, United States. It was incorporated in 1882, though the name dates back to the establishment of a post office in 1868. As of the 2010 census, the city had a total population of 9,989, an increase of nearly 5% over its 2000 population; as of 2019, it had an estimated population of 10,853.[6]
Newport has been the county seat of Lincoln County since 1952, when voters approved a measure to move the center of government from nearby Toledo to Newport.[7] It is also home of the Oregon Coast Aquarium, Hatfield Marine Science Center, Nye Beach, Yaquina Head Light, Yaquina Bay Light, Pacific Maritime Heritage Center and Rogue Ales.
Geography
According to the United States Census Bureau, the city has a total area of 10.59 square miles (27.43 km2), of which 9.05 square miles (23.44 km2) is land[6] and 1.54 square miles (3.99 km2) is water.[8]
Economy
Harbor in Yaquina Bay, Newport
In August 2011, the National Oceanic and Atmospheric Administration moved its base for research ships from Seattle to Newport. The base boasts about 110 marine officers and a total of 175 employees. It bases four ships, including the NOAAS Bell M. Shimada and the NOAAS Rainier, and it provides support for up to two itinerant vessels.[17] NOAA has personnel at the Hatfield Marine Science Center which support the fisheries science centers for Alaska and the Northwest. The ships join the R/V Oceanus and R/V Elakha research vessels based at the center.
Education
Lincoln County voters established Oregon Coast Community College in 1987, in which year the college held its first classes.[18] The public schools in Newport are part of the Lincoln County School District, and include Newport High School, Newport Preparatory Academy, Newport Intermediate School, and Sam Case Primary School.
Newport is also home to the Hatfield Marine Science Center, operated by Oregon State University in collaboration with state and federal agencies. The center conducts research and educational programs associated with the marine environment and serves as a primary field station for the university's College of Oceanic and Atmospheric Sciences.
Coordinates: 44°36'N 124°3'W
https://goo.gl/maps/HN4HEHaFAgfGa63k9

Becherka, Public domain, via Wikimedia Commons
For those looking for more information about , here are a few helpful links.
Discover Newport – https://discovernewport.com/
Top 10 Things to Do in Newport – https://www.tripadvisor.com/Attractions-g51992-Activities-Newport_Oregon.html
Newport, OR Map