Some of Our Swimming Pool Services Include:
Pool Opening and Closing Service
Pool Filter Cleaning, Repair and Replacement
Pool Pump Motor Repair, Installation, Replacement
Pool Heater Repair, Installation, Replacement
Pool Light Repair, Installation, Replacement
Pool Salt System Cleaning, Repair, Replacement
We're AllSpa, your number one choice for trusted repair, cleaning, and maintenance for all top brands of swimming pools, hot tubs, swim spas, and saunas.
We recognize the value of great service and quality results, whether we're fixing a broken heater, or just relacing a filter. With a top-rated team, and a wide range of pool cleaning and repair services, we get it right every time.
Hassle Free Residential Swimming Pool Cleaning
When it comes to cleaning and maintaining your backyard pool, trust the team at AllSpa to get it done. A convenient solution, we'll help you spend more time enjoying your pool and less time cleaning it. We can set you up one time, or put you on a recurring plan to keep your home swimming pool clean and healthy.
Competitively Priced, Professional Commercial Pool Cleaning and Maintenance
When you need dependable commercial pool cleaning and maintenance services, AllSpa can get the job done and at a fair price. All of our service technicians are top rated, and have been background checked, licensed and insured. AllSpa is an award-winning, trusted commercial pool service team in Oregon and SW Washington.
The Industry's Best Pool Service Technicians
At AllSpa, we love what we do and it shows! We exceed expectations every day, with highly rated skills and services that go above and beyond.
Professional swimming pool service, repair and maintenance is our mission, whether we help you out just one time or you depend on us for a recurring monthly or annual plan.
Proudly compliant with all procedures and guidelines, it's no wonder we've been in business for as long as we have, and will continue to be here for you when you need us most!
Want to Learn More About Our Award-Winning Swimming Pool Cleaning Repair and Maintenance Services? Contact Us Here:
• Swimming Pool Repair Services
• Swimming Pool Cleaning Services
• Contact Us About Service
• Schedule a Service or Repair
• Read AllSpa 5 Star Reviews
Connect with Us:
Check Us Out on Facebook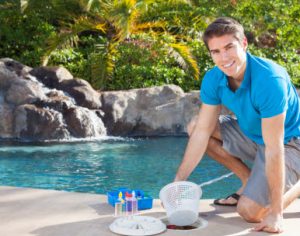 About Oregon City – Source: https://en.wikipedia.org/wiki/Oregon_City,_Oregon
Oregon City is the county seat of Clackamas County, Oregon, United States, located on the Willamette River near the southern limits of the Portland metropolitan area. Established in 1829 by the Hudson's Bay Company, in 1844 it became the first U.S. city west of the Rocky Mountains to be incorporated.
As of the 2010 census, the city population was 31,859.
Economy
Willamette Falls and a paper mill at Oregon City, on the Willamette River
For much of its existence, Oregon City's economy has been dominated by the forestry industry, until the decline of the Pacific Northwest lumber industry started in the 1980s. At its height, several mills operated in the city and surrounding communities. The last paper mill in the immediate vicinity closed in 2017.[18]
With the growth of the Portland Metro region, Oregon City has become largely a suburb of Portland. Tourism is a growing sector with the emphasis on the city's history and the major renovation of the Willamette Falls into a public-access mixed-use space through the Willamette Falls Legacy Project.
Government
Oregon City is governed by a Mayor and a City Commission composed of the Mayor and four Commissioners elected from the City at large for terms of four years each.[19]
Oregon City was the capital of the Oregon Territory until 1851; the following governors served during that time:
George Abernethy, provisional governor of the Oregon Country 1845–48
Joseph Lane, first governor of the Oregon Territory, 1848–50
Kintzing Prichette, 2nd Territorial Governor of Oregon, 1850
John P. Gaines, 3rd Territorial Governor of Oregon, 1850–53. During his term (and against his wishes), the territorial capital of Oregon moved to Salem.
Education
The city, and several surrounding communities, is served by the Oregon City School District,[20] a public school district consisting of 7 elementary schools, two middle schools, a traditional four-year high school (Oregon City High School), and an alternative secondary school. Several schools in the district offer bilingual English/Spanish programs. Oregon City High School is the third most populated high school in Oregon, and is a state and national power in girls' basketball, winning three consecutive USA Today girls' national championships in the 1990s.[21]
The city also is the home of Clackamas Community College, numerous private and parochial schools, and a public library that is part of the Library Information Network of Clackamas County.
Map of Oregon City

Here's more information about Oregon City
https://www.ocsd62.org/
https://orcityfarmersmarket.com/
https://historicoregoncity.org/