Otis Hot Tub Repair, Service Swim Spas, Pools
Welcome to AllSpa, Oregon's largest and most reliable hot tub, swim spa, and sauna service company. Since 1979, we've been working to meet the needs of every clients, regardless of the brand hot tub, sauna, or swim spa they own. We have a spa or service to suit any need, but we're also the only hot tub dealer in Oregon who is trade certified. We are the competent service department at Oregon Hot Tub, properly licensed in WA and OR.
Here's What We Have to Offer
Hot Tub, Spa Repair, Service, Maintenance
Do you need repair work done on your hot tub, swim spa, sauna, or pool? Our technicians are certified, licensed and bonded with over 38 years of experience repairing spa systems. Learn more on how we can help you get back into hot water.
As the only Trade Certified Service Center in Oregon for Hot Tubs, we're completely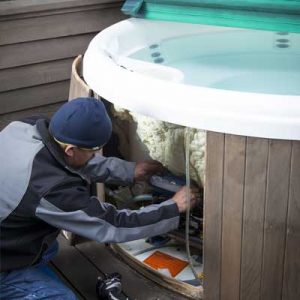 compliant with strict procedures and guidelines. Every one of our technicians are background checked, licensed and bonded for your protection, with the skills to keep us in business for many years. So relax, we'll be here to help when you need us most! 
Our guarantee: If you have the same exact issue occur within 30 days, we'll waive our call-out fee! Just pay parts and labor for any new issues, and yes, all parts have a 1-year warranty.
Hot Tub, Swim Spa Drain and Fill
Keep your investment running perfectly with help from AllSpa! Your hot tub, swim spa or sauna deserves the best attention with a variety of services to keep your water clean water, including drain and fill, Signature Spa care and regular package services.
Hot Tub Cleaning Service, Portable Spa Maintenance, Moving
Relocating a spa can be complicated. With an experienced team on the job, moving your hot tub in the safest, fastest way possible is easier than ever. That's why we're here, to provide five-star service to get your spa where it needs to be!
Hot Tub, Swim Spa Watercare
Keep your hot tub, swim spa or sauna clean all year round and never stress about forgetting to clean it. Try out our recurring cleaning and water care plans and eliminate guesswork behind soaking in clean water.
Services Offered
• Hot Tub, Spa Repair, Service, Maintenance
• Jacuzzi Repair, Service, Maintenance
• Hot Tub, Swim Spa Drain and Fill
• Hot Tub Cleaning Service, Portable Spa Maintenance
• On-Site Water Analysis
• Insurance Claims
• Repair Services
• Spa Service Use Training
• Maintenance Inspections
• Hot Tub and Swim Spa Relocation and Set-Up
• Portable Sauna Relocation and Set-Up
• Crane Moving Services
• Real Estate Inspections
• Construction Design Consulting
Learn More About Our Award-Winning Hot Tub, Swim Spa Repair, Service and Maintenance. Contact Us Here:
• Hot Tub and Swim Spa Repair Services
• Hot Tub and Swim Spa Cleaning and Maintenance Services
• Schedule a Service or Repair
• Hot Tub Drain and Fill
• Swim Spa Drain and Fill
• Hot Tub Moving Services
• Hot Tub Sale
About Otis Source: https://en.wikipedia.org/wiki/Otis,_Oregon
Otis is an unincorporated community in Lincoln County, Oregon, United States, a half mile north of Otis Junction on Oregon Route 18. It is near the Salmon River.
Otis post office was established in 1900 and was named after Otis Thompson, nephew of Archibald S. Thompson, the postmaster.[1]
U.S. Route 101 used to pass through Otis until a curvy and hilly section of road was rerouted in the 1960s.[2] Otis Junction is at the intersection of the former terminus of Oregon Route 18 and the former alignment of U.S. 101.
The Sitka Center for Art and Ecology has an Otis mailing address but is located nearer to the coast on Cascade Head.[3] The Otis ZIP code, 97368, also covers the community of Rose Lodge.[4] Today Otis and Otis Junction are considered synonymous.[citation needed]
Otis made the national headlines in 1999 and again in 2004, when it was announced that the town was for sale for $3 million.[5][6] The news stories describe the Otis Café and other amenities that are at Otis Junction; it is unclear if the 193 acres (0.78 km2) that were for sale included the land in Otis proper. Owner Vivian Lematta's grandfather bought the land from descendants of the Siletz Indians for $800 in 1910.[5] Lematta left Otis in 1957.[6] Included in the sale were the gas station and mini grocery store, a Pronto Pup corn dog stand, two houses, an empty 25-stall horse barn, a helicopter storage shed, a garage, a Grange hall, the Otis post office, the Otis Café, an auto-repair garage and 190 acres (0.77 km2) of farmland.[5] Part of the land was used for raising cattle and part was undergoing timber conservation.[5]
Coordinates: 45°01'28″N 123°56'43″W
https://goo.gl/maps/bW9XMAdZQPeE1n1D9

Visitor7, CC BY-SA 3.0, via Wikimedia Commons
For those looking for more information about Otis, Or, here are a few helpful links.
Things to do in Otis – https://www.facebook.com/places/Things-to-do-in-Otis-Oregon/103119066394350/
The Best of Otis – https://www.tripadvisor.com/Tourism-g52009-Otis_Oregon-Vacations.html
Otis, Or Map