Some of Our Hillsboro Swimming Pool Services Include: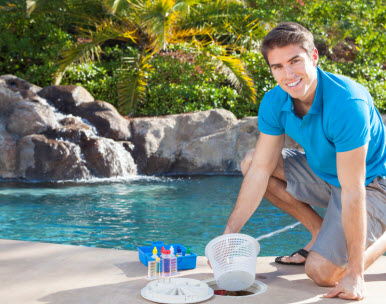 – Pool Opening and Closing Service
– Pool Filter Cleaning, Repair and Replacement
– Pool Pump Motor Repair, Installation, Replacement
– Pool Heater Repair, Installation, Replacement
– Pool Light Repair, Installation, Replacement
– Pool Salt System Cleaning, Repair, Replacement
Welcome to Oregon's largest and most trusted hot tub service, cleaning and maintenance company, AllSpa! We're locally owned and operated and proud to work with all brands of hot tubs, swim spas and saunas.
As a certified partner of Oregon Hot Tub, we're the only trade certified hot tub service center in Oregon.
Trusted Hot Tub and Pool Repair Hillsboro
What do you do if your hot tub or swimming pool needs service? Look no further than AllSpa for a reliable service team that can get it done right.
As the No.1 hot tub repair company in Oregon, we're the only trade certified service center in the state for Hot Tubs. Plus,
• An independent audit found us to be in full compliance with strict procedures and guidelines
• Each of our technicians are background checked, licensed and bonded
• We've been doing business since 1979
That's a record you can depend on when you need it most!
Reliable Water Pool Cleaning Services
When it's time to clean your hot tub, swim spa, sauna or pool, turn to AllSpa for results. We have a ton of great services to keep your water clean and healthy. Try our signature spa care and recurring cleaning services for convenience.
Hot Tub Drain and Fill Services
Why not give our services a try! If you purchase a one-time Hot Tub Drain and Fill service, we'll let you try it out for 14 days. If you decide you love it, we'll credit the cost of your service towards an annual care plan of your choice!
Recurring Cleaning
Imagine never having to think about making time to clean your hot tub, swim spa, sauna, or pool again. With our recurring cleaning care plans, we eliminate the hassle and guesswork of regular cleaning and care, so you can spend more time enjoying your investment.
Exciting Upgrades and Replacements
Now's the time to upgrade an old, outdated hot tub, swim spa or sauna with something new and exciting!
If you love your investment, but you're ready for something new, why not consider an upgrade? As a certified Oregon Hot Tub partner, we have a huge selection of the very best products to suit every need.
Want to Learn More About Our Award-Winning Swimming Pool Cleaning Repair and Maintenance Services? Contact Us Here:
• Swimming Pool Repair Services
• Swimming Pool Cleaning Services
• Contact Us About Service
• Schedule a Service or Repair
• Read AllSpa 5 Star Reviews
About Hillsboro Source: https://en.wikipedia.org/wiki/Hillsboro,_Oregon
Geography
Map of Hillsboro with eight planning areas designated in different colors. Includes major roadways and locations of schools.
Map of Hillsboro and neighborhoods as of February 2008
Hillsboro is located at 45°31′N 122°59′W.[7] The United States Census Bureau reports the city has a total area of 21.6 square miles (55.9 km2), all of which is land. In 2013, Hillsboro itself reported an area of 23.88 square miles (61.8 km2), equivalent to 15,283 acres (61.8 km2).[42] The city is located in the Tualatin Valley, and the Tualatin River forms part of the southern city limits. The city's terrain is fairly level, consistent with an agricultural past and the farms still in operation.[43][44] Hillsboro is about 17 miles (27 km) west of Portland and immediately west of Beaverton, at an elevation of 194 feet (59 m) above sea level.[7] In addition to the Tualatin River, streams include Dairy Creek, McKay Creek, Rock Creek, Dawson Creek, and Turner Creek. Neighboring communities in addition to Beaverton are Aloha, Cornelius, North Plains, Reedville, Scholls, and West Union.
Hillsboro's street system differs from many others in the county.[45] Most cities in Washington County use a numbering system and cardinal direction orientation based on a grid that begins at the Willamette River in downtown Portland, which was originally part of Washington County.[45] For example, the street names in Beaverton generally include Southwest (SW) prefixes because Beaverton lies in the southwest quadrant of the Portland grid. In Hillsboro, some county road names and addresses conform to the Portland grid instead of Hillsboro's internal cardinal direction grid,[46] and the city has been working to make addresses and streets within Hillsboro conform to the internal grid.[46][47]
The internal grid in Hillsboro centers on the downtown intersection of Main Street, which runs east–west, and First Avenue, which runs north–south. Most addresses within the city include a quadrant prefix: NW, NE, SW, or SE. Main Street is simply designated as East Main or West Main, and First Avenue is only North First or South First.[48] Addresses on the streets' south side and the avenues' east side have even numbers, while odd numbers are on the opposite side.[48] Hillsboro's street system contains 20 blocks per mile (12.5 blocks per kilometer).[48]
North–south through roadways are called avenues, while east–west roadways are called streets.[49] All cul-de-sacs are named as either places or courts.[49] Roads that curve can be named drives.[49] Non-city streets may not conform to these naming conventions.[46]
The city is divided into eight planning areas, each of which contains several neighborhoods.[50] The east planning area contains the Tanasbourne neighborhood and Oregon Health & Science University's West Campus.[50] The northeast planning area includes the Orenco, Orenco Station, Airport, and West Union neighborhoods.[50] Jackson School, Sunrise, and Glencoe neighborhoods lie in the northwest area,[50] and the Dennis, Garibaldi, and Connell neighborhoods are in the west area.[50] The central area includes the Downtown, Jackson Bottom, Henry, and Eastwood neighborhoods.[50] Blocks in the downtown core are 400 feet (120 m) long on each side.[51] The Minter Bridge, Rood Bridge, and River Road neighborhoods are in the south planning area;[50] the southeast area consists of the Reedville and Witch Hazel neighborhoods,[50] and the Brookwood planning area in the center of the city contains the Cedar, Bentley, and Brogden neighborhoods.[50]
Landmarks in Hillsboro include the Washington County Courthouse, the seat of county government.[52] Along the western edge of the city is Hillsboro Pioneer Cemetery, established in 1870, which serves as the final resting place of city pioneers and politicians.[53] Next to the airport is the Washington County Fair Complex, home to the annual county fair.[54] Located at Shute Park is the 25-foot (7.6 m) tall wood sculpture Chief Kno-Tah, donated to Hillsboro and dedicated in 1987 as part of Peter Wolf Toth's Trail of the Whispering Giants.[55][56][57][58]

By M.O. Stevens – Own work, CC BY-SA 3.0, Link
Hillsboro, OR Map

Directions from Hillsboro to AllSpa, 6205 NW Bethany Ct, Suite 109, Beaverton, OR 97006

Check Out a few of Our 5 Star Review for AllSpa Portland, Oregon:
Read Walter V.'s review of AllSpa – Hot Tub, Swim Spa, & Sauna Services on Yelp
For those looking for more information about Hillsboro, OR, here are a few helpful links.
https://www.hillsboromarkets.org/
https://www.hillsboropharmacy.net/
https://hillsborochamberor.com/welcome-to-hillsboro/about-hillsboro/
AllSpa
6205 NW Bethany Ct, Suite 109
Beaverton, OR 97006
☎ 503-941-9004
Swimming Pool Service, Cleaning, Maintenance Oregon
Swimming Pool Cleaning
Connect with Us on Facebook