Some of Our Garden Home Swimming Pool Services Include: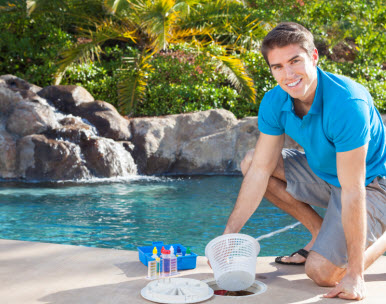 – Pool Opening and Closing Service
– Pool Filter Cleaning, Repair and Replacement
– Pool Pump Motor Repair, Installation, Replacement
– Pool Heater Repair, Installation, Replacement
– Pool Light Repair, Installation, Replacement
– Pool Salt System Cleaning, Repair, Replacement
AllSpa is Oregon's biggest and most reliable hot tub and pool cleaning and maintenance company! We're locally owned and operated and proud to service all brands of hot tubs, swim spas, and saunas.
We've partnered with Oregon Hot Tub! And that makes us the only hot tub service center in Oregon who is trade certified.
Reliable Pool Repair Garden Home
If you've ever found yourself wondering where to get trusted repair for your hot tub or pool, or even where the nearest service center is located, look no further! We're here with everything you need-the most trusted hot tub repair company in Oregon!
Here's what makes us the best:
We are the only Trade Certified Service Center in Oregon for Hot Tubs.
We're in complete compliance with strict procedures and guidelines, proven through independent audits
We make sure all our technicians are background checked, licensed and bonded
We've been in business since 1979.
Convenient Pool Cleaning
No one enjoys cleaning, but some of us are better at it than others! When your hot tub, swim spa, sauna, or pool is in need of some attention, we have a wide range of services to keep your investment looking and running perfectly. Check out our signature spa care and recurring cleaning services!
Hot Tub Draining and Filling
Ready to try a Hot Tub Drain and Fill service? Purchase a one-time service and in 14 days if you love it, we'll credit the cost towards a complete annual care plan of your choice.
Regular Cleaning
Let us help you keep your hot tub, swim spa, sauna or pool looking fantastic all year long! Take the stress and inconvenience out of cleaning with a fantastic recurring cleaning care plan.
Ready to Replace It?
It's always the right time to replace an old hot tub, swim spa or sauna!
If you've been dreaming of a bigger, better hot tub, swim spa or sauna, why not upgrade? As a certified partner of Oregon Hot Tub, we have the perfect choice to fit your every need.
Want to Learn More About Our Award-Winning Swimming Pool Cleaning Repair and Maintenance Services? Contact Us Here:
• Swimming Pool Repair Services
• Swimming Pool Cleaning Services
• Contact Us About Service
• Schedule a Service or Repair
• Read AllSpa 5 Star Reviews
About Garden Home Source: https://en.wikipedia.org/wiki/Garden_Home%E2%80%93Whitford,_Oregon
Garden Home-Whitford is a census-designated place (CDP)[2] consisting of the neighborhoods of Garden Home and the smaller Whitford area in Washington County, Oregon, United States. They are located in the southwest hills of Portland, near Beaverton. As of the 2000 census, the CDP population was 6,931.
Demographics
As of the census[1] of 2000, there were 6,931 people, 3,048 households, and 1,834 families residing in the CDP. The population density was 3,656.9 people per square mile (1,408.5/km²). There were 3,175 housing units at an average density of 1,675.2/sq mi (645.2/km²). The racial makeup of the CDP was 91.79% White, 3.17% Asian, 0.75% African American, 0.40% Native American, 0.16% Pacific Islander, 0.72% from other races, and 3.00% from two or more races. Hispanic or Latino people of any race were 3.20% of the population.
There were 3,048 households out of which 26.3% had children under the age of 18 living with them, 47.8% were married couples living together, 9.3% had a female householder with no husband present, and 39.8% were non-families. 30.6% of all households were made up of individuals and 7.2% had someone living alone who was 65 years of age or older. The average household size was 2.26 and the average family size was 2.83.
Sharis restaurant in the community
The population in the CDP is spread out with 21.1% under the age of 18, 6.5% from 18 to 24, 31.6% from 25 to 44, 27.7% from 45 to 64, and 13.1% who were 65 years of age or older. The median age was 40 years. For every 100 females there were 92.1 males. For every 100 females age 18 and over, there were 89.5 males.
The median income for a household in the CDP was $52,321, and the median income for a family was $60,703. Males had a median income of $45,220 versus $35,000 for females. The per capita income for the CDP was $28,681. About 2.5% of families and 5.1% of the population were below the poverty line, including 4.5% of those under age 18 and 2.7% of those age 65 or over.
Coordinates: 45°27′50″N 122°45′32″W
Map of Garden Home

Directions from Garden Home to AllSpa, 6205 NW Bethany Ct, Suite 109, Beaverton, OR 97006

Check Out a few of Our 5 Star Review for AllSpa Portland, Oregon:

For those looking for more information about Garden Home, OR, here are a few helpful links.
https://www.gardenhomedugout.com/
https://www.wccls.org/libraries/gardenhome
https://livability.com/or/garden-home-whitford
AllSpa
6205 NW Bethany Ct, Suite 109
Beaverton, OR 97006
☎ 503-941-9004
Swimming Pool Service, Cleaning, Maintenance Oregon
Swimming Pool Cleaning
Connect with Us on Facebook