Some of Our Tualtin Swimming Pool Services Include: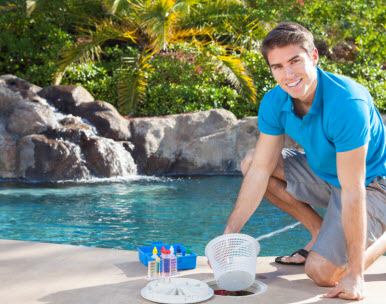 – Pool Opening and Closing Service
– Pool Filter Cleaning, Repair and Replacement
– Pool Pump Motor Repair, Installation, Replacement
– Pool Heater Repair, Installation, Replacement
– Pool Light Repair, Installation, Replacement
– Pool Salt System Cleaning, Repair, Replacement
A big hello from AllSpa, Oregon's largest and most trusted hot tub and pool service, cleaning and maintenance company! We're locally owned and operated and proud to work with all brands of hot tubs, swim spas and saunas.
As a certified partner of Oregon Hot Tub, we're trade certified-the only hot tub service center in Oregon who is!
Hot Tub and Pool Repair Tualatin
When your hot tub needs service, trust the expert team at AllSpa for reliable and timely work. We're the best hot tub service center in Oregon. Here's why:
• We've had an independent audit that found us in full compliance with all procedures and guidelines
• Our skilled technicians are background checked, licensed and bonded
• We've been happily serving our customer base since 1979
Swimming Pool Cleaning Company
When your hot tub, sauna, swim spa or pool is in need of a good cleaning, turn to AllSpa! We have a wide range of gold star services to choose from for keeping your water clean and clear. Consider our signature spa care and recurring cleaning services for ease and convenience.
Drain and Fill Services
Ready to give our services a try? Purchase a one-time Hot Tub Drain and Fill service and give it a go for 2 weeks. If you absolutely love it, we'll happily apply what you paid as credit towards an annual care plan of your choice!
Recurring Cleaning
Let us remove the task of cleaning your hot tub, swim spa, sauna or pool from your to-do list! Secure our recurring cleaning plan and eliminate the hassle and guesswork of regular cleaning and care. Isn't it time you spend more time enjoying your investment?
Upgrades and Replacements
Is it time to replace an old or outdated hot tub, swim spa or sauna? Looking for something new and exciting? Why not consider an upgrade? We're a certified Oregon Hot Tub partner, and that means we have the best selection of the finest products for every need.
Want to Learn More About Our Award-Winning Swimming Pool Cleaning Repair and Maintenance Services? Contact Us Here:
• Swimming Pool Repair Services
• Swimming Pool Cleaning Services
• Contact Us About Service
• Schedule a Service or Repair
• Read AllSpa 5 Star Reviews
About Tualatin Source: https://en.wikipedia.org/wiki/Tualatin,_Oregon
Economy
Tualatin is home to a majority of Bridgeport Village ("Bridgeport"), an upscale shopping area that opened in early 2005.[12] (The northern part of Bridgeport Village is in Tigard.) Built at the site of a former quarry, Bridgeport was designed to be reminiscent of an open-air European-style shopping experience. It features an 18-screen movie theater, several national and regional chain restaurants, and many chain retail stores.
Tualatin is also home to Nyberg Woods, a neighborhood and lifestyle center located at the conjunction of Interstate 5 and Nyberg road. The center contains stores such as Best Buy, Old Navy, Golfsmith, and Ulta. Nyberg Woods also features restaurants such as Famous Dave's, Panera Bread, Chipotle, Starbucks, and Five Guys.[13]
Tualatin also harbors Nyberg Rivers, which opened in the fall of 2014 and is the third major retail project to be developed by CenterCal Properties in Tualatin. Following the construction of Bridgeport Village and Nyberg Woods, Nyberg Rivers contains approximately 300,000 square feet of retail, restaurant, fitness, and entertainment space. Nyberg Rivers is located just off of Interstate 5 and is home to Cabela's, New Seasons Market, LA Fitness, and restaurants including Pieology, Red Robin, Sharky's, and Veri Bowl.[14]
There are many factories on the south side of town, including a large Lam Research plant that makes electrochemical deposition tools for manufacturing semiconductors.[15]
Knife manufacturers CRKT and KAI USA, which owns Kershaw and Zero Tolerance Knives, as well as Shun Cutlery[16] are located in Tualatin.[17] Al Mar Knives is headquartered in Tualatin, although manufacturing is done in Japan.
Oregon Scientific, a manufacturer of consumer electronics products, is headquartered in Tualatin.
From the 1960s through the 1980s, Tualatin was the home of Sunn Musical Equipment Company, a manufacturer of musical and sound reinforcement equipment.
Tualatin has been used as a filming location for Hollywood movies, including Thumbsucker, which was filmed at Tualatin High School.
Coordinates: 45°22′29″N 122°46′12″W https://goo.gl/maps/99RpzAbmPWts8zDDA

By M.O. Stevens – Own work, CC BY-SA 3.0, Link
For those looking for more information about Tualatin, OR, here are a few helpful links.
https://www.haydensgrill.com/
https://avantitualatin.com/
https://www.cibarandgrill.com/
AllSpa
6205 NW Bethany Ct, Suite 109
Beaverton, OR 97006
☎ 503-941-9004
Swimming Pool Service, Cleaning, Maintenance Oregon
Swimming Pool Cleaning
Connect with Us on Facebook
Map of Tualatin

Directions from Tualatin to AllSpa, 6205 NW Bethany Ct, Suite 109, Beaverton, OR 97006