Welcome to AllSpa! We're proud to be locally owned and operated, and one of the most respected repair, cleaning, and maintenance company in Oregon and Washington servicing all brands of hot tubs, swim spas, and saunas.
As a service partner of Oregon Hot Tub, we're also the only hot tub service center in Oregon who is trade certified.
Hot Tub, Swim Spa Repair and Service – Warranty Service, Inspections
Ever ask yourself, "How do I repair my hot tub?" or wondered where the closest hot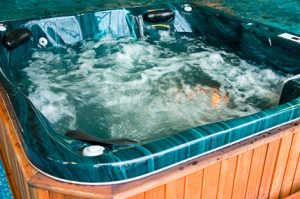 tub service center is located? We can help! Look no further than AllSpa, the best hot tub repair company around!
We are the only Trade Certified Service Center in Oregon for Hot Tubs.
AllSpa technicians are thoroughly background checked, licensed and bonded for your protection. And, an independent audit found that we comply with all procedures and guidelines.
Doing business since 1979, we'll always be here to help!
Hot Tub, Swim Spa Cleaning and Maintenance
One-Time Cleanings, Monthly and Annual Plans, Water Balancing. Looking for a clean hot tub, swim spa or sauna? Let our in-demand services keep you in clean water, including signature spa care and recurring cleaning services.
Hot Tub, Swim Spa Watercare
Ready for a smart way to keep your hot tub, swim spa or sauna clean all year round? Never forget this maintenance task again with a recurring cleaning and water care plan from AllSpa! We'll remove all the guesswork, so you can enjoy your investment!
Hot Tub, Swim Spa Drain and Fill
Buy a one-time hot tub drain and fill service and let us know what you think. If you love it, we'll be happy to credit what you paid towards an annual care plan of your choice within 14 days!
Services Offered
• Hot Tub, Spa Repair, Service, Maintenance
• Jacuzzi Repair, Service, Maintenance
• Hot Tub, Swim Spa Drain and Fill
• Hot Tub Cleaning Service, Portable Spa Maintenance
• On-Site Water Analysis
• Insurance Claims
• Repair Services
• Spa Service Use Training
• Maintenance Inspections
• Hot Tub and Swim Spa Relocation and Set-Up
• Portable Sauna Relocation and Set-Up
• Crane Moving Services
• Real Estate Inspections
• Construction Design Consulting
Learn More About Our Award-Winning Hot Tub, Swim Spa Repair, Service and Maintenance. Contact Us Here:
• Hot Tub and Swim Spa Repair Services
• Hot Tub and Swim Spa Cleaning and Maintenance Services
• Schedule a Service or Repair
• Hot Tub Drain and Fill
• Swim Spa Drain and Fill
• Hot Tub Moving Services
• Hot Tub Sale
About Sherwood Source: https://en.wikipedia.org/wiki/Sherwood,_Oregon
Sherwood is a city in Washington County, Oregon, United States. Located in the southeast corner of the county, it is a residential community in the Tualatin Valley, southwest of Portland. As of the 2010 census, Sherwood had a population of 18,194 residents. The city's population for 2019 was estimated to be 19,879 by the U.S. Census.[6] Sherwood was first incorporated in 1893 as a town. Originally named Smockville after its founder, James Christopher Smock, the town was given its current name by local businessman Robert Alexander in 1891, who likely named it after his hometown of Sherwood, Michigan.
Infrastructure and services
Sherwood is within the Tri-County Metropolitan Transportation District of Oregon (TriMet),[22] the Portland metropolitan area's primary transit agency. TriMet bus lines 93, 94 and 97 provide service to Sherwood; line 94 is an express route running through to downtown Portland.[23] Additionally, the Yamhill County Transit Area's routes 44, 45x and 46s connect Sherwood with Newberg, McMinnville, and other points in Yamhill County,[24] which are outside the boundaries of the TriMet district.
Fire protection and emergency medical services are provided through Tualatin Valley Fire and Rescue.[25]
Schools
The Sherwood Public Library, in downtown
Sherwood has four elementary schools (J. Clyde Hopkins, Middleton, Archer Glen, Edy Ridge), one middle school, Sherwood Middle School, and one high school, Sherwood High School, in the Sherwood School District. As of the 2017–2018 school year, there were between 500 and 600 students attending each of the four elementary schools, 490 students at Laurel Ridge Middle School, 686 at Sherwood Middle School, and 1,712 students enrolled at Sherwood High School.[26] The Sherwood School District also sponsors a program for at-risk youth in high school, and has an alternative school for teens having problems with the abuse of drugs or alcohol, and also caters to students in trouble with law enforcement. Within the confines of the city, there is also a private grade-school, a public charter k-8 school (Sherwood Charter School) as well as two private religious schools (St. Francis Catholic School and St. Paul Lutheran School).
Coordinates: 45°21'25″N 122°50'36″W – https://goo.gl/maps/GRGeBfwET9qdc35TA

M.O. Stevens, Public domain, via Wikimedia Commons

Here's more information about Sherwood
https://www.sherwoodoregon.gov/
https://pridedisposal.com/support/contact-us
https://www.clancyssherwood.com/