As Oregon and Washington's biggest and best hot tub, swim spa, and sauna service company, we've been happily serving our community since 1979. Our top priority is to meet the needs of all of our customers—whatever brand of hot tub, sauna, or swim spa they own.
With customer service prioritized, we're prepared with a service for every need. And, as the only hot tub dealer in Oregon who is trade certified, we guarantee a trusted, reliable service department. Of course, Oregon Hot Tub is properly licensed in Washington and Oregon.
Easy, No Hassle Bend Hot Tub Repairs
When a fast, competent repair is your number one goal, we have you covered. Forget about stressing and wondering where to go, or who to call—you've arrived at the best hot tub repair company in Oregon!
As the only Trade Certified Service Center in Oregon for Hot Tubs, we know you'll be satisfied with our team.
An independent audit ensures we comply with strict procedures and guidelines, with technicians who have all been background checked, licensed and bonded.
We've been doing business since 1979, and we're here today when you need us most!
Spot on Cleaning Services
How about letting us worry about cleaning your hot tub, so you can spend more time enjoying it? We're proud to offer the best selection of recurring cleaning services, including our Signature Spa Care package.
Hot Tub Drain and Fill – Hot tub completely drained, cleaned, and refilled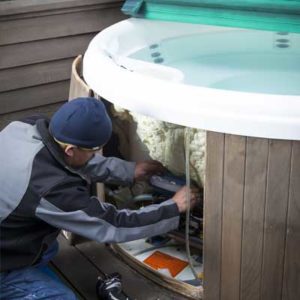 Swim Spa Drain and Fill – Swim Spa completely drained, cleaned, and refilled
Recurring Cleaning – A clean hot tub, swim spa, sauna, or pool is our job! We'll keep your investment clean 12 months out of the year, removing all the guesswork. Our recurring cleaning care plans are super convenient, and a smart way to always have a hot, ready spa on hand.
Trusted Moving
Moving is stressful enough without having to worry about how to get your hot tub, swim spa, or sauna there too. Luckily, we have years of experience moving these difficult machines. With safety and speed top of mind, we'll get your favorite item where you need it safe and sound.
It's what we do best! Five-star service to get your hot tub, swim spa, or sauna where it needs to be!
Bend, OR Map

Want to Learn More About Our Award-Winning Hot Tub Repair Services? Contact Us Here:
• Hot Tub and Swim Spa Repair Services
• Hot Tub and Swim Spa Cleaning Services
• Hot Tub Moving Services
• Hot Tub Sale
• Schedule a Service or Repair
Check Out a few of Our 5 Star Reviews for AllSpa Bend, Oregon:

After a phone call to All Spa requesting a service visit, Bobbie from the Bend shop showed up on time and quickly identified the problem and ordered the replacement part.
All Spa called a few days later and set up a time to install the replacement part, Bobbie showed up on time and installed the new pump, gave me several maintenance tips, was very congenial and professional and cleaned up before leaving.
A great experience, I am very pleased.
Thomas Green
For those looking for more information about Bend, OR, here are a few helpful links.
https://www.bendoregon.gov/
https://en.wikipedia.org/wiki/Bend,_Oregon
https://www.visitbend.com/