Since 1979, AllSpa has been serving the residents of Oregon and Washington as the largest and most reliable hot tub, swim spa, and sauna service company. We're happy to meet the needs of our customers, regardless of the brand hot tub, sauna, or swim spa they own.
In addition to providing exceptional service, we're also trade certified—the only hot tub dealer in Oregon who is! Trust our licensed service department to exceed your expectations again and again!
Get Your Portland Hot Tub Repaired
Why sit around wondering how to fix a broken hot tub or who to call to help. We're the best hot tub repair company in Oregon, guaranteed!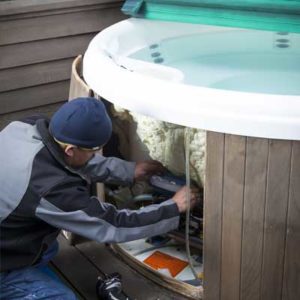 Why can we say that?
– We're the only Trade Certified Service Center in the area for Hot Tubs.
– We comply with all strict procedures and guidelines (independently audited).
– We put each of our technicians through a complete background check.
– We're all licensed, bonded and reliable.
And finally, we've been in business since 1979! Don't worry! We're here to help when you need us most!
Keep it Clean
Everyone knows that clean, sparkling water is the key to an exceptional hot tub experience. That's why we provide a wide range of services to help you keep your investment in tiptop shape with recurring cleaning services—including our best value—signature spa care.
Hot Tub Drain and Fill – Hot tub completely drained, cleaned, and refilled
Swim Spa Drain and Fill – Swim Spa completely drained, cleaned, and refilled
Recurring Cleaning – Keeping a clean hot tub, sauna or pool is essential for the best experience. Let us handle it! We can ensure your investment stays clean and ready to use year round. Never worry again. Our regular cleaning care plans take all the hassles away so you can just relax in clean water.
Have us Move it
Have you ever tried to relocate a hot tub, swim spa or sauna? Forget about it! Don't put yourself or your friends through this complicated ordeal. Let us handle the move and get peace of mind and confidence that your investment is being properly moved in the fastest, safest way possible.
Trust the team at Allspa—always ready with five-star service to get your hot tub, swim spa, or sauna where it needs to be!
Want to Learn More About Our Award-Winning Hot Tub Repair Services? Contact Us Here:
• Hot Tub and Swim Spa Repair Services
• Hot Tub and Swim Spa Cleaning Services
• Hot Tub Moving Services
• Hot Tub Sale
• Schedule a Service or Repair
Portland, OR Map

Check Out a few of Our 5 Star Reviews for AllSpa Portland, Oregon:

The staff was timely and provided great service.
He was on time, had a pleasant attitude, the work area was left clean, the hot tub was operating properly, and the technician had plenty of experience with hot tubs.
After talking with the technician, I was satisfied that I called the right company to service my 21 year old hot tub.
I strongly recommend them.
William Hart
For those looking for more information about Portland, OR, here are a few helpful links.
https://www.portlandoregon.gov/
https://www.bing.com/travelguide?q=Portland&l2sid=5658ef8a-9267-4851-b335-72bc82329a4e&form=TRGUML&qpvt=portland+oregon
https://www.bing.com/news/search?q=Portland+Oregon&qpvt=portland+oregon&FORM=EWRE