Some of Our Milwaukie Swimming Pool Services Include: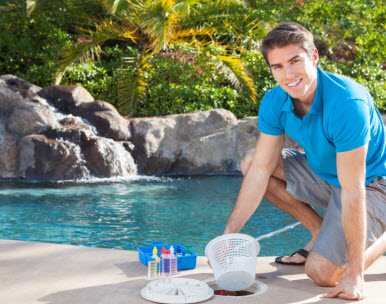 – Pool Opening and Closing Service
– Pool Filter Cleaning, Repair and Replacement
– Pool Pump Motor Repair, Installation, Replacement
– Pool Heater Repair, Installation, Replacement
– Pool Light Repair, Installation, Replacement
– Pool Salt System Cleaning, Repair, Replacement
Welcome to AllSpa, one of Oregon's largest and most reliable hot tub and swimming pool service, cleaning and maintenance company! We're locally owned and operated, happy to service all brands of hot tubs, swim spas and saunas.
Plus, we're partners with Oregon Hot Tub, and the only trade certified hot tub service center in Oregon.
Hot Tub and Milwaukie Pool Repair You Can Trust
Do you know what to do if your hot tub needs a repair? Trust the team at AllSpa to get it done right.
An independent audit found us to be in strict compliance with all procedures and guidelines. Our skilled service crew is bonded and insured, and they've all been thoroughly background checked. Since 1979, we've built a record of success that you can depend on!
Convenient Pool Cleaning Services
The best hot tub, swim spa or pool experience comes from clean, healthy water. At AllSpa, we offer a great selection of super convenient cleaning services to keep your water looking and feeling great. Try our signature spa care and recurring cleaning services for effortless maintenance.
Drain and Fill Services for Your Hot Tub
Think you might enjoy a Hot Tub Drain and Fill service? Purchase a one-time service and try it out for 14 days. If you love it, we'll happily credit the cost of your service towards an annual care plan of your choice!
Recurring Cleaning
Recurring cleaning services from AllSpa help you spend more time enjoying your hot tub, swim spa, sauna, or pool and less time cleaning it! With a recurring cleaning plan, we take the guesswork out of cleaning and care, so you can relax in total confidence.
Awesome Upgrades and Replacements
Is it time to replace an old, outdated hot tub, swim spa or sauna? Why not consider an exciting upgrade? As a certified partner of Oregon Hot Tub, we have tons of quality products to fit your needs and budget.
Want to Learn More About Our Award-Winning Hot Tub Repair Services? Contact Us Here:
• Hot Tub and Swim Spa Repair Services
• Hot Tub and Swim Spa Cleaning Services
• Hot Tub Moving Services
• Hot Tub Sale
• Schedule a Service or Repair
About Milwaukie Source: https://en.wikipedia.org/wiki/Milwaukie,_Oregon
Education
Milwaukie High School entrance
Milwaukie is served by the North Clackamas School District and most children attend one of ten public elementary schools, four public middle schools, Rex Putnam High School, Milwaukie High School, and New Urban High School. Since 1996, Milwaukie High School has annually hosted the nationally recognized[24] Living History Day. On this day thousands of veterans are welcomed into the school to help educate students about the past.
There is also a private Catholic high school, La Salle High School, named after St. Jean-Baptiste de la Salle, and the Portland Waldorf School, a private Waldorf school, which serves grades K–12.
The city is home to the Ledding Library, a public library that is part of the Library Information Network of Clackamas County.
The city has one college Clackamas Community College Harmony.[25]
Housing
From 2015-2016 Milwaukie saw a boom in real estate. It was named the ninth hottest real estate market in 2016 by realtor.com.[20] A big draw to the city was noticed right after the Orange-line from TriMet finished in 2015. A 1.4 billion dollar project connecting the close-in suburb right to the heart of downtown Portland. A year into the new Orange-line, pricing for homes raised up 12.2% and city officials said there are zero vacancies for retail storefronts in Milwaukie's downtown area.[21] In addition to the new Orange-line, Milwaukie finished a 2.2 million dollar project to the cites waterfront park. The city had a grand opening on May 1, 2015.[22]
Coordinates: 45°26′46″N 122°38′21″W
Map of Milwaukie

Directions from Milwaukie to AllSpa, 6205 NW Bethany Ct, Suite 109, Beaverton, OR 97006

For those looking for more information about Milwaukie, OR, here are a few helpful links.
https://milwaukiefamilyeyecare.com/
https://www.nclack.k12.or.us/mhs
https://milwaukiefarmersmarket.com/
AllSpa
6205 NW Bethany Ct, Suite 109
Beaverton, OR 97006
☎ 503-941-9004
Swimming Pool Service, Cleaning, Maintenance Oregon
Swimming Pool Cleaning
Connect with Us on Facebook