Some of Our Happy Valley Swimming Pool Services Include: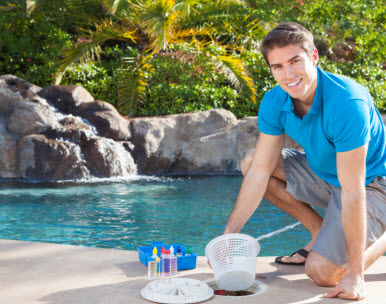 – Pool Opening and Closing Service
– Pool Filter Cleaning, Repair and Replacement
– Pool Pump Motor Repair, Installation, Replacement
– Pool Heater Repair, Installation, Replacement
– Pool Light Repair, Installation, Replacement
– Pool Salt System Cleaning, Repair, Replacement
Welcome to AllSpa-Oregon's largest hot tub and pool repair, cleaning and maintenance company in the state. We're locally owned and operated and happy to service all brands of hot tubs, swim spas, and saunas.
We're also the only hot tub service center in Oregon who is trade certified, and a proud service partner of Oregon Hot Tub.
Trusted, Competent Hot Tub and Pool Repair Happy Valley
If you've ever wondered how to get quality service for your hot tub, we can help! Our service team offers the most trusted, competent repair in Oregon!
Here are just a few reasons why:
– We are the only Trade Certified Service Center for hot tubs in Oregon.
– We've had an independent audit confirm our compliance with strict procedures and guidelines.
– Every technician gets a comprehensive background check and is licensed and bonded.
We've proudly been doing business since 1979, so relax, we're here to help when you need it most!
Reliable Hot Tub and Swimming Pool Cleaning Services
When it's time to clean your hot tub, swim spa, sauna, or pool, why not try one of our reliable cleaning services? We have a fantastic selection of in-demand services to keep your spa clean, including signature spa care and recurring cleaning services.
Drain and Fill Services
Take advantage of a one-time Drain and Fill service for your hot tub. If after 14 days you decide this is for you, we'll credit what you paid and apply it towards the cost of an annual care plan!
Recurring Cleaning
Keep your hot tub, swim spa, sauna, or pool clean all year round and never worry about forgetting to do it. Our recurring cleaning care plans remove all the guesswork and make it easy to stay in clean water.
Easy Upgrades and Replacements
Is it time to replace your old hot tub, swim spa or sauna?
If you're enjoying your investment, but you're ready for an upgrade, we have you covered! Our partnership with Oregon Hot Tub gives you a wide variety of excellent products to choose from.
Want to Learn More About Our Award-Winning Hot Tub Repair Services? Contact Us Here:
• Hot Tub and Swim Spa Repair Services
• Hot Tub and Swim Spa Cleaning Services
• Hot Tub Moving Services
• Hot Tub Sale
• Schedule a Service or Repair
About Happy Valley, OR Source: https://en.wikipedia.org/wiki/Happy_Valley,_Oregon
Demographics – 2010 census
As of the census[2] of 2010, there were 13,903 people, 4,408 households, and 3,724 families living in the city. The population density was 1,679.1 inhabitants per square mile (648.3/km2). There were 4,708 housing units at an average density of 568.6 per square mile (219.5/km2). The ethnic makeup of the city was 76.2% White, 1.1% African American, 0.5% Native American, 17.4% Asian, 0.2% Pacific Islander, 0.9% from other ethnicities, and 3.8% from two or more ethnicities. Hispanic or Latino of any ethnicity were 4.0% of the population.
There were 4,408 households of which 48.8% had children under the age of 18 living with them, 74.4% were married couples living together, 6.3% had a female householder with no husband present, 3.7% had a male householder with no wife present, and 15.5% were non-families. 11.0% of all households were made up of individuals and 3% had someone living alone who was 65 years of age or older. The average household size was 3.15 and the average family size was 3.40.
The median age in the city was 37 years. 30.2% of residents were under the age of 18; 6.8% were between the ages of 18 and 24; 27% were from 25 to 44; 27.9% were from 45 to 64; and 8.2% were 65 years of age or older. The gender makeup of the city was 49.7% male and 50.3% female.
Coordinates: 45°26′45″N 122°32′1″W
Education
Happy Valley is part of the North Clackamas School District. Clackamas High School, Beatrice Morrow Cannady Elementary, Happy Valley Middle School, Mount Scott Elementary, Oregon Trail Elementary, Rock Creek Middle School, Scouters Mountain Elementary, Spring Mountain Elementary and Verne A. Duncan Elementary serve the student population.[8]

By Esprqii – Own work, CC BY-SA 3.0, Link
Happy Valley, OR Map

Directions from Happy Valley to AllSpa, 6205 NW Bethany Ct, Suite 109, Beaverton, OR 97006

Check Out a 5 Star Review for AllSpa Oregon:
Read Moe K.'s review of AllSpa – Hot Tub, Swim Spa, & Sauna Services on Yelp
For those looking for more information about Happy Valley, OR, here are a few helpful links.
https://www.nclack.k12.or.us/happyvalleyms
https://www.neighborhoodscout.com/or/happy-valley
http://www.happyhollowpizza.com/
AllSpa
6205 NW Bethany Ct, Suite 109
Beaverton, OR 97006
☎ 503-941-9004
Swimming Pool Service, Cleaning, Maintenance Oregon
Swimming Pool Cleaning
Connect with Us on Facebook