Some of Our Oregon City Swimming Pool Services Include: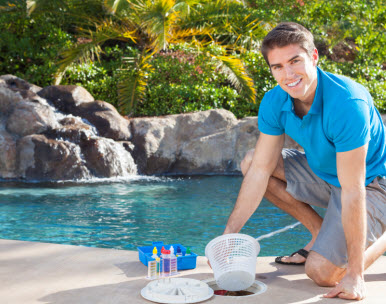 – Pool Opening and Closing Service
– Pool Filter Cleaning, Repair and Replacement
– Pool Pump Motor Repair, Installation, Replacement
– Pool Heater Repair, Installation, Replacement
– Pool Light Repair, Installation, Replacement
– Pool Salt System Cleaning, Repair, Replacement
We're one of Oregon's biggest and most competent hot tub and pool repair, cleaning, and maintenance company. Locally owned and operated, we're proud to service all leading brands of hot tubs, swim spas, swimming pools and saunas.
We've partnered with Oregon Hot Tub – and we're the only trade certified hot tub service center in the state!
Get Your Oregon City Pool Repaired Right
Why deal with a hot tub you can't use when AllSpa offers trusted, reliable repair? Getting the help you need is easier than ever. Here are just a few of the reasons why our customers call us the best hot tub repair company in Oregon!
We are the only Trade Certified Service Center in Oregon for Hot Tubs.
We have been independently audited and found to be in compliance with every procedure and guideline.
Our service technicians have been thoroughly background checked, licensed and bonded.
In business since 1979, we're here when you need us most.
Take Advantage of Convenient Hot Tub and Pool Cleaning Services
Enjoying your hot tub, swim spa, sauna, or pool means knowing that your water is clean and healthy. Keep your investment in great shape with one of our convenient cleaning services, including signature spa care and recurring cleaning services.
Drain and Fill Your Hot Tub
If you're not sure if a drain and fill service is for you, try us out! We'll give you a full 14 days after purchasing a one-time Hot Tub Drain and Fill service. If you decide you like it, we'll credit the cost towards an annual care plan of your choice!
Recurring Cleaning
The effortless way to ensure your hot tub, swim spa, sauna, or pool stays in tip top shape, smart owners take advantage of recurring cleaning services from AllSpa. Let us take the guesswork out of keeping your water clean.
Get an Upgrade
It's Always a Great Time to Replace an Old Hot Tub, Swim Spa or Sauna!
Have you been wanting to replace an old or outdated hot tub, swim spa, or sauna? Now is the perfect time! As a Trade Certified partner of Oregon Hot Tub, we have a fantastic selection of exciting products to choose from.
Want to Learn More About Our Award-Winning Hot Tub Repair Services? Contact Us Here:
• Hot Tub and Swim Spa Repair Services
• Hot Tub and Swim Spa Cleaning Services
• Hot Tub Moving Services
• Hot Tub Sale
• Schedule a Service or Repair
About Oregon City Source: https://en.wikipedia.org/wiki/Oregon_City,_Oregon
Oregon City is the county seat of Clackamas County, Oregon, United States, located on the Willamette River near the southern limits of the Portland metropolitan area. Established in 1829 by the Hudson's Bay Company, in 1844 it became the first U.S. city west of the Rocky Mountains to be incorporated.
As of the 2010 census, the city population was 31,859.
Geography
The town is divided into upper and lower areas. The lower area is on a bench next to the Willamette River. The upper area is atop a bluff composed of Canemah basalt, which flowed about 2.5 million years ago from a vent 7.5 miles (12 km) to the southeast in the Boring Lava Field.[13] For many years, Indian trails connected the two levels, but stairs were built in the 19th century. In 1915 the town built the water-powered Oregon City Municipal Elevator to connect the two parts, which was converted to electricity in the 1920s. In 1952, a new electric elevator was constructed with the specification that it was to be "as plain as possible and without ornament."[14]
According to the United States Census Bureau, the city has a total area of 9.29 square miles (24.06 km2), of which, 9.05 square miles (23.44 km2) is land and 0.24 square miles (0.62 km2) is water.[15] The major waterways of Oregon City include the Willamette River, which flows along the northwest side of the city, and the Clackamas River, which merges with the larger Willamette to the north of the city. The Willamette forms the boundary between Oregon City and West Linn; the Clackamas serves as the boundary between Oregon City and Gladstone.
Coordinates: 45°21′26″N 122°36′26″W

By Mark Goebel from Taos, New Mexico, USA – jo0748.JPG, CC BY 2.0, Link
Map of Oregon City

Directions from Oregon City to AllSpa, 6205 NW Bethany Ct, Suite 109, Beaverton, OR 97006

Check Out a 5 Star Review for AllSpa Oregon:

For those looking for more information about Oregon City, OR, here are a few helpful links.
https://www.bugattisrestaurant.com/
https://www.ocfpc.com/
https://oregoncitydentist.com/
AllSpa
6205 NW Bethany Ct, Suite 109
Beaverton, OR 97006
☎ 503-941-9004
Swimming Pool Service, Cleaning, Maintenance Oregon
Swimming Pool Cleaning
Connect with Us on Facebook