Some of Our West Linn Swimming Pool Services Include: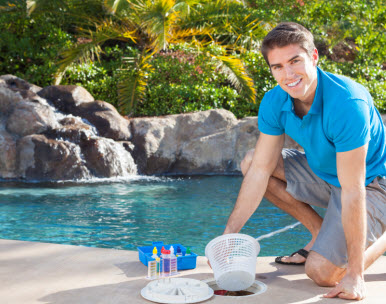 – Pool Opening and Closing Service
– Pool Filter Cleaning, Repair and Replacement
– Pool Pump Motor Repair, Installation, Replacement
– Pool Heater Repair, Installation, Replacement
– Pool Light Repair, Installation, Replacement
– Pool Salt System Cleaning, Repair, Replacement
AllSpa is Oregon's largest and most trusted repair, cleaning, and maintenance company, locally owned and operated. We proudly service all major brands of hot tubs, pools swim spas and saunas.
We've partnered with Oregon Hot Tub, making us the only trade certified hot tub service center in Oregon!
Get Your West Linn Pool Repaired
If you've ever wondered "How do I repair my hot tub?" or "Where's the closest hot tub service center?" we have you covered. Look no further than AllSpa, the best hot tub repair company in Oregon!
We are the only Trade Certified hot tub service center in Oregon.
We're in compliance with all procedures and guidelines
AllSpa technicians have been through background checks and are fully licensed and bonded
We started our business in 1979 and will continue to help you when you need it most!
West Linn Pool Cleaning Company
When it's time to clean your hot tub, swim spa, sauna or pool, turn to the experts at AllSpa for spot on cleaning services.
We have a service for every need including signature spa care and recurring cleaning services.
Drain and Fill Hot Tub Services
Did you know you can buy a one-time Hot Tub Drain and Fill service? Give us a try, and in 14 days if you love this service, we'll credit you the cost towards an annual care plan of your choice!
Recurring Cleaning
If you're looking for a more regular service, we also have recurring cleaning plans available. Now you can keep your hot tub, swim spa, sauna, or pool in perfect condition all year long. Never worry or forget about cleaning your investment again. Our reliable cleaning care plans make it easier than ever to stay in clean water.
Get an Upgrade
It's always the right time to replace an old Hot Tub, Swim Spa or Sauna!
Why keep an older hot tub, swim spa, or sauna when you're ready for an exciting upgrade? AllSpa is proud to partner with Oregon Hot Tub, bringing you the best selection of hot tubs, swim spas, and saunas.
Want to Learn More About Our Award-Winning Swimming Pool Cleaning Repair and Maintenance Services? Contact Us Here:
• Swimming Pool Repair Services
• Swimming Pool Cleaning Services
• Contact Us About Service
• Schedule a Service or Repair
• Read AllSpa 5 Star Reviews
About West Linn Source: https://en.wikipedia.org/wiki/West_Linn,_Oregon
West Linn is a city in Clackamas County, Oregon, United States. An affluent southern suburb within the Portland metropolitan area, West Linn has a history of early development, prompted by the opportunity to harvest energy from nearby Willamette Falls. It was named after U.S. Senator Lewis F. Linn of Ste. Genevieve, Missouri, who had advocated the American occupation of Oregon as a counterclaim to the British. As of the 2010 census, the city had a population of 25,109.
Geography
According to the United States Census Bureau, the city has a total area of 8.05 square miles (20.85 km2), of which, 7.39 square miles (19.14 km2) is land and 0.66 square miles (1.71 km2) is water.[11] The city is located between the Willamette and Tualatin rivers; it includes the former townsites/developments of Willamette, Bolton, Multnomah City, Sunset City, and West Oregon City. Willamette was incorporated in 1908, the City of West Linn was incorporated in 1913, and the two towns merged in 1916. Later annexations brought in the Cedaroak, Marylhurst and Hidden Springs neighborhoods. Infill created the Tanner Basin and Tannler neighborhoods.[citation needed]
The Nature Conservancy maintains the Camassia Natural Area in central West Linn as one of its conservancy preserves.[12] The 26-acre (11 ha)-area is located on a rocky plateau exposed by the Bretz Floods and now named after the camas which bloom there in spring; it hosts about 300 other species, including the white rock larkspur, a species located in only a half dozen other places in the world.[13] It supports Oregon white oak-madrone woodlands, a stand of quaking aspen, wet meadows, ponds, and vernal pools.[13]
The Mary S. Young State Recreation Area, located between Oregon Route 43 and the Willamette River, featuring a large off leash dog area, soccer fields and 5–8 miles worth of trails is located in West Linn.
West Linn is located in the area where the Willamette Meteorite was placed by the Missoula Floods.
Coordinates: 45°21′55″N 122°38′28″W

By Tesint at the English language Wikipedia, CC BY-SA 3.0, Link
Map of West Linn

Directions from West Linn to AllSpa, 6205 NW Bethany Ct, Suite 109, Beaverton, OR 97006
Check Out a 5 Star Review for AllSpa Oregon:

For those looking for more information about West Linn, OR, here are a few helpful links.
https://restaurant503.com/
https://thebarbersonline.com/location/west-linn/
https://westlinnhistory.org/West_Linn_Historical_Society/Home.html
AllSpa
6205 NW Bethany Ct, Suite 109
Beaverton, OR 97006
☎ 503-941-9004
Swimming Pool Service, Cleaning, Maintenance Oregon
Swimming Pool Cleaning
Connect with Us on Facebook